Fred Williams, Host of Dirt Every Day, takes out a GMC Sierra by Rancho Suspension and a Four Wheel Camper Hawk.  Don't forget Batman, Baxster, and Lulu.

Dirt Every Day is a Motor Trend Channel show that debuts every fourth Thursday on YouTube.  The mission is to explore off-road trucks, Jeeps, and other vehicles, and push them to their rock crawling, overland, and mud-slinging limits.  It's good fun if you like a little dirt in your teeth.
The Host of Dirt Every Day is Fred Williams.  To give you an idea where Fred is coming from, his bio on fourwheeler.com simply reads, "Fred drives a truck with big tires, he likes trucks with big tires, and he writes about, works on, and spends most of his time with trucks with big tires.  He also likes dirt, rocks, sand, and mud."  In case you missed it, Fred really likes big tires and dirt.
About four months ago, Fred took his three dogs out in a GMC Sierra and a Four Wheel Camper Hawk rig for Episode 26 of Dirt Every Day.  Fred was inspired by John Steinbeck's Travels With Charley, and decided to recreate the concept of Steinbeck's experience; only with two more dogs and a lot less time to spare.  This would be the video Cliff Notes of Travels With Batman, Baxster, and Lulu, Dirt Every Day style.
After the episode ran, we followed up with Fred and asked him for the back story.  We quickly learned that this wasn't Fred's first truck camping adventure, nor is it likely to be his last.
For a behind-the-scenes on how Episode 26 of Dirt Every Day came to be, we talked to Fred Williams, Host of Dirt Every Day.
TCM: How did you come to like, "trucks with big tires" as your Four Wheeler bio describes.  Where did that come from?
Fred: I grew up on a farm and was around tractors with big tires from day one.  Plus my older brothers and the guys who worked at the farm all drove trucks with big tires.  It just seemed like the cool thing to do.
TCM: How did you turn your interest in "trucks with big tires" into being the Editor in Chief of Petersen's 4-Wheel & Off-Road Magazine and the host of Dirt Every Day?  That's not exactly a career path kids learn from their guidance counselors.
Fred: I had a few Jeeps before I went to college and sold them to attend school.  I wasn't sure what I wanted to do after college and had a variety of jobs before I started doing some freelance work for Petersen's 4-Wheel & Off-Road Magazine.  Eventually, a position opened and I moved to Southern California to write about trucks full time.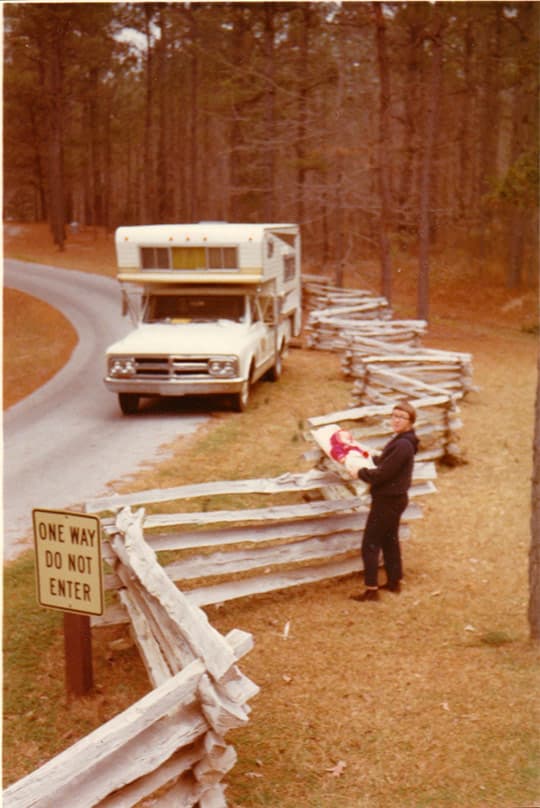 Above: Fred and his mom with their original GMC and truck camper
TCM: Tell us about the truck and camper rig your parents took you out in.  Do you remember the year, make, and model of the truck and camper?
Fred: I don't recall much of the truck and camper other than the truck was a late 60s GMC with a 351 V6.  Yes, a V6.  It was some special heavy-duty engine more at home in a dump truck, but my dad bought it and the camper to haul our family around on family vacations.  I have no idea about the camper's make and model, but I do recall climbing back and forth through the vent window as a little tyke.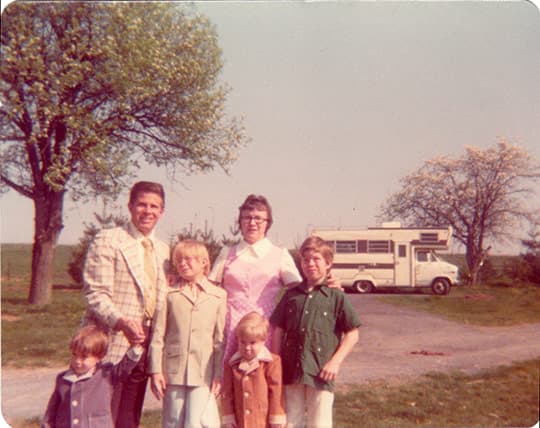 Above: Fred and his parents, three older brothers, and their Diamond motorhome
TCM: Where did you go and what kinds of experiences did you have in that rig?
Fred: I was the youngest of four boys so I don't remember much, but I do know we had fun in that truck camper.  I believe we visited Texas in it, from Pennsylvania.  I know there was a Grand Canyon trip and maybe a Redwood forest trip, but those may have occurred later in the motorhome we got next.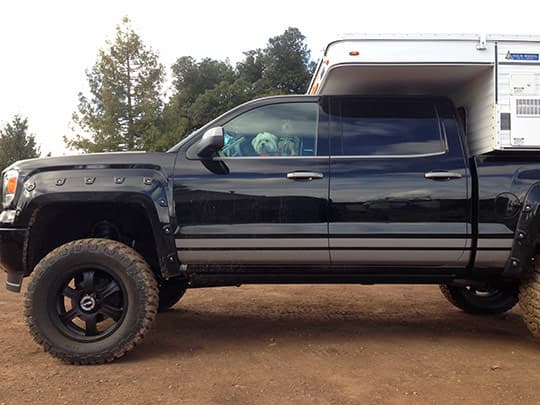 Above: Batman and Baxter in the GMC (in the window), just like John Steinbeck's Charley
TCM: What led you to take out a GMC Sierra 1500 and a Four Wheel Camper Hawk?
Fred: I had read the John Steinbeck book, Travels with Charley, and thought it would be fun to recreate something similar to John Steinbeck's experience.  I would have loved to spend months on the road, but a short trip was all I could afford to get away for.
It was a great trip.  Being an off-road guy I liked having a big lifted truck with a nimble camper.  The truck was actually from Rancho Suspension.  The fact that it was a GMC like the truck used in Travels with Charley (though much newer) worked out perfectly.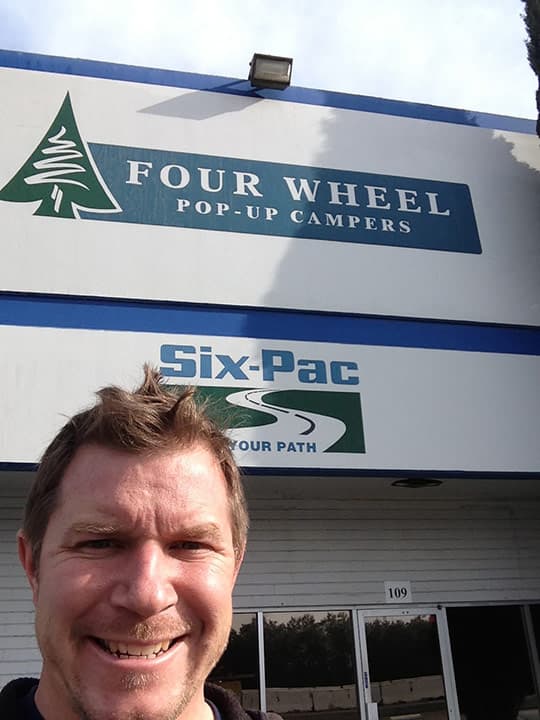 Above: Fred at the Four Wheel Camper factory in Woodland, California
TCM: Stan Kennedy at Four Wheel Campers gave you a walkthrough of the truck camper before you set out.  Were you able to quickly pick up everything you needed to know to operate the camper?
Fred: The Four Wheel Camper Hawk was actually quite simple to get used to.  I recall flubbing the order of opening and closing the six roof latches (you can't pop it up with the latches still latched!) but it became second nature by the end of my trip.  I did require a step stool since the truck was lifted to reach all the outside latches.
The pop-up roof is quite easy to pop up and put down by myself.  It takes some upper body strength, but it isn't difficult or confusing.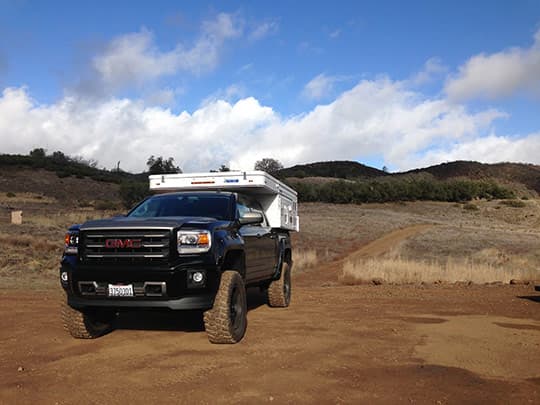 Above: The 2014 GMC Sierra and 2104 Four Wheel Camper Hawk during the video shoot
TCM: Once Four Wheel Campers had loaded the Hawk, did you notice a change in the way the GMC Sierra 1500 handled or performed?  Could you feel the size and weight of the camper in the truck bed?
Fred: The new 1500 with the new direct-injection V8 engine seemed to be fine with the added weight.  We also added air springs, but barely needed them with the Rancho Suspension.
The camper did add some top-weight, but you don't feel like a Weeble Wobble.  You'll get used to the camper quickly after a few hundred miles, even on dirt and windy mountain roads.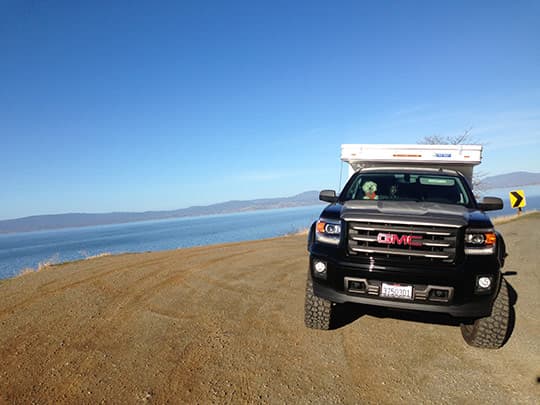 TCM: Where did you go with the rig?
Fred: We explored the Big Sur area and northern California.  Because I had a camera crew with me, we didn't get too far from civilization (they needed hotel rooms), but I had no doubt the truck could have gone deep woods with the Four Wheel Camper.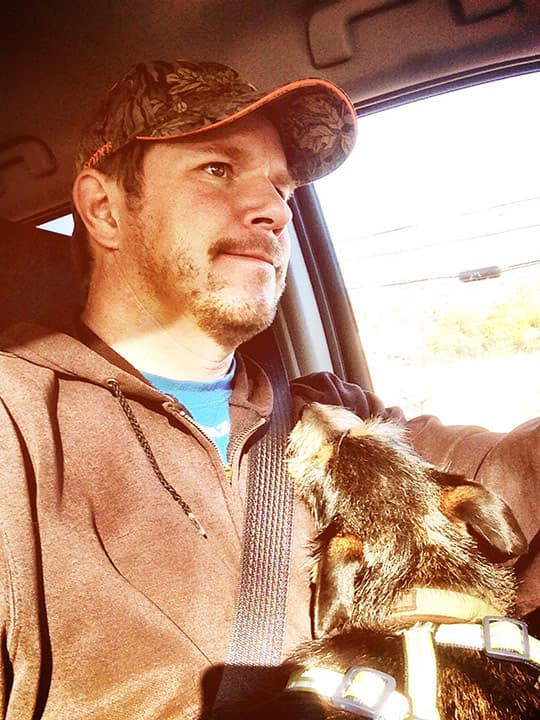 Above: Fred and Baxter
TCM: Were you comfortable inside the camper; standing up, sitting at the dinette, sleeping in the overcab, etc.?
Fred: The camper is very comfortable.  The first night I slept on the lower level because I had my dogs with me and I was worried the older one would fall off the overcab.
The issue I found was that the heater dumps all the heat right on the lower bed.  I would go from cold to boiling.  I spoke to Four Wheel Campers about it and they have some ideas to address this.  The other nights we slept in the top bed.  That was much more comfortable as there is more room to dissipate the heat.  Overall, I was very warm and comfortable in the Four Wheel Camper.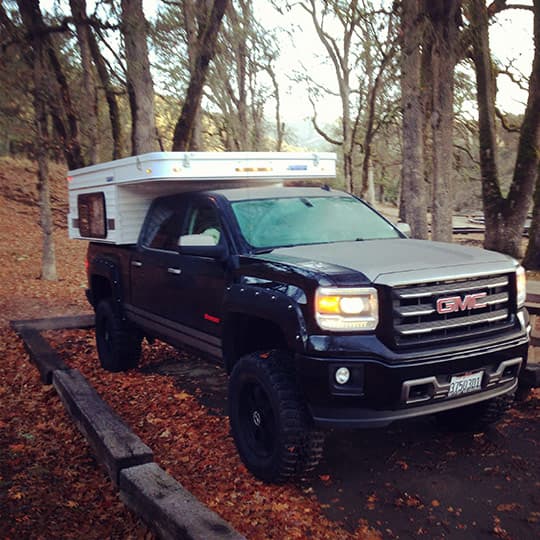 Above: The GMC Sierra and Four Wheel Camper Hawk
TCM: Where did you end up stopping to camp for the night?
Fred: We slept in the backwoods, a hotel parking lot, and at a campsite.  The camper did fine everywhere.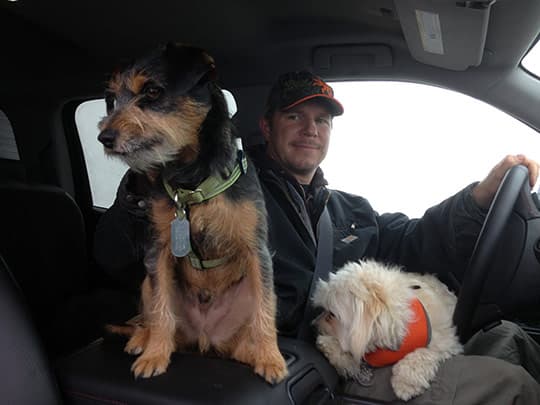 Above: Baxter, Fred, and Batman driving the GMC FWC rig
TCM: How did your three dogs – Batman, Baxter, and Lulu – handle being in the truck camper?
Fred: At home, the critters stay in my California king bed, so it was no issue having them on the mattress with me.  Lulu is pretty old so I was worried about her falling off the overcab bed.  Plus, you would be amazed with how much space such little dogs can take up.  When I slept in the overcab, I just put her toward the front.  They took a while to figure out where they were supposed to sleep, but they figured it all out eventually.
The camper is perfect for a couple, or a guy and three dogs, or a couple and three dogs, but it would have been tight with my camera crew in there, so they got a hotel.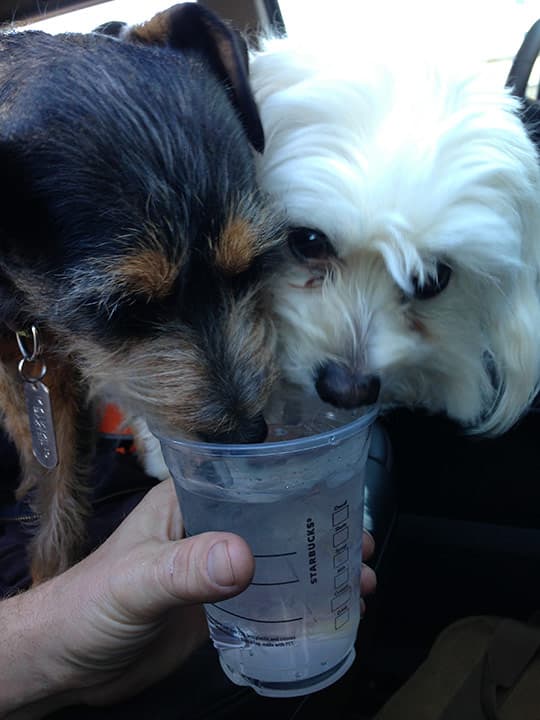 Above: Baxter and Batman keeping hydrated during the video shoot
TCM: Did we catch you giving Lulu a little beer about 8:50 into the video?
Fred: Ha!  That's Batman.  I was having a Black Butte Porter and he thought he wanted some.  After a sniff, he wasn't as interested.
TCM: The video you and your team made is fantastic.  What kind of crew did you have with you?
Fred: There are usually one or two camera guys with me.  When we're filming, I try to keep them comfortable, well-fed, and well lubricated (beer) at night.  They are the magic behind the show.  I just try and have fun and come up with ideas people will like to watch.
TCM: Now that you've spent a night or two in a modern truck and camper rig, is a cross-country truck camping adventure – like John Steinbeck's Travels With Charley – still on your bucket list?
Fred: Oh, I would do it in a heartbeat, if I could get away.  I actually have an older Dodge diesel (1990) and an unrestored Alaskan Camper that I would like to put together as a big basic bug-out truck and backwoods explorer.  Maybe I'll actually drive it to Alaska.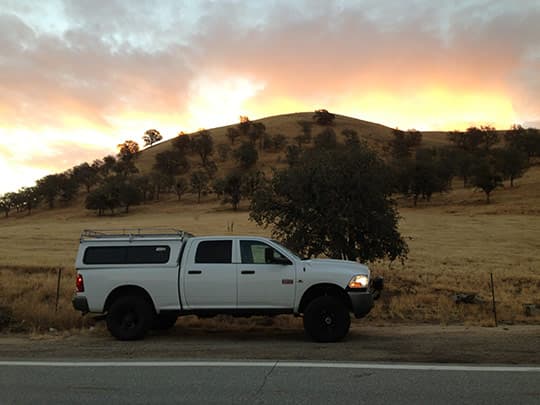 Above: The white Dodge, Fred's daily driver with a Caravan Camper shell
TCM: Is there anything else about your experience of taking out a truck and camper rig with your three dogs that you'd like to share?
Fred: I like the idea of sleeping in my vehicle.  I grew up traveling with my family and have slept in my 1964 Jeep Forward Control, in a 1984 Jeep, a Suburban, a Land Cruiser, and my current driver tow rig is a 2010 Dodge Ram 3500 with a Caravan Camper shell.
I am not sure what the absolute best travel vehicle is, but I did really enjoy the ability to take a Four Wheel Camper out for a long weekend.  I think I would need to try the one with the full bathroom if I had a lady friend with me, but you never know.
I also recently tested a James Baroud rooftop tent on a Jeep Wrangler with great results (watch for it on an upcoming episode of Dirt Every Day).  Bringing my dogs along was fun, and like any vehicle built for camping, it takes a few days to really get the hang of where everything belongs and will ride best, how to store the step stool, where to put the dog food, where your coffee cup and slippers want to live, etc.  I know that trip was a great way for me to get out of dodge and really relax and think about some stuff I'd been stressing about, even if it was kind of still work for me.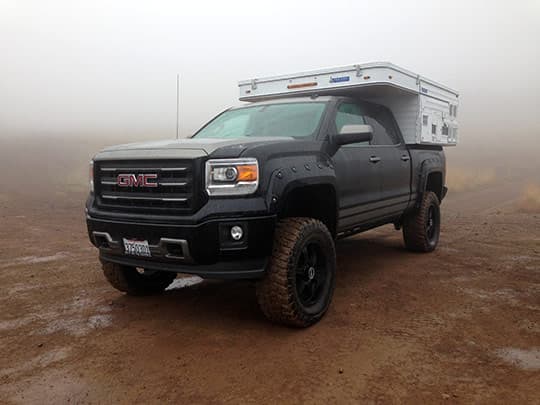 Maybe next time I'll be less restricted by time and can just go until I run out of half my money.  Then I know I'll have enough left over to turn around and start heading home!
To visit the Four Wheel website, go to fourwheelcampers.com. Click here for a free Four Wheel brochure.