After getting his first Hallmark camper, Matthew Bernier decided to take on a quick winter crossing of Engineer Pass.  Two days later, he emerged on the other side.

Reading Matthew Bernier's interview, you can almost hear his mind at work.
"Why not buy multiple ski passes and spend seventy days a year at Vail?"
"Why not cross Colorado's infamously challenging Engineer Pass in the winter?"
"Why not take your wife, two kids, and two dogs camping in a pop-up truck camper?"
We get the feeling that there's been a lot of, "Why not" moments in Matthew's life.  This is a guy who likes to think big, and make things happen.  Maybe we all need to think a little more like Matthew and ask, "Why not" when things get in the way of our dreams.
Why not?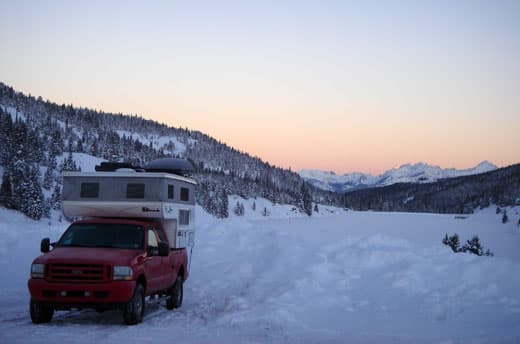 Above: Matthew and Jennifer's Hallmark Milner at Vail Pass
TCM: How did you get into truck camping?
Matthew: When I first moved to Colorado I skied seventy days a year.  I wanted to live in the mountains, but couldn't afford a place there.  That's when I started looking at truck campers and bought my first Hallmark.
Many of the winter photographs I sent you are from Vail Pass.  My friends liked to say my second address was, "1 Vail Pass".  It's true.  I had a house at the highest elevation in Vail, my truck camper!  Lucky for me, Vail Pass allows overnight parking.
A season pass costs between $300 and $400 per year.  I would buy a season pass to Vail, Copper, and Winter Park and stay on Vail Pass.  There's a cell tower nearby which allowed me to check my snow and ski reports on my computer and cell phone.  It was perfect.

TCM: How did you decide on a Hallmark for winter camping?
Matthew: Friends of mine had a Hallmark already and lived up in Aspen.  When I saw their Hallmark rig and truck camping lifestyle, I realized that was definitely what I wanted to do.
Even though it's a pop-up, my camper is very well insulated.  I've been in temperatures as low as twenty and thirty below.  I would be in a T-shirt and shorts inside the camper.
TCM: We camped in temperatures near freezing in a Hallmark and found we were plenty warm.  Of course we burned some propane, but that experience showed us that a pop-up camper can be used in cold temperatures.  You've now had two Hallmarks.  Tell us about your first one.
Matthew: In 2004, I got my first Hallmark.  At the time, I had to borrow money to buy that camper.  They are more expensive than some other pop-up truck campers, but the quality is insane and the customer service is even better.  I've never purchased anything where the customer service has been this good.  I also like the fact that they are built in Colorado by a family run business.
TCM: Tell us about your first trip with your Hallmark.