There are many locations available on the internet which provide more information on these topics than I possibly can here.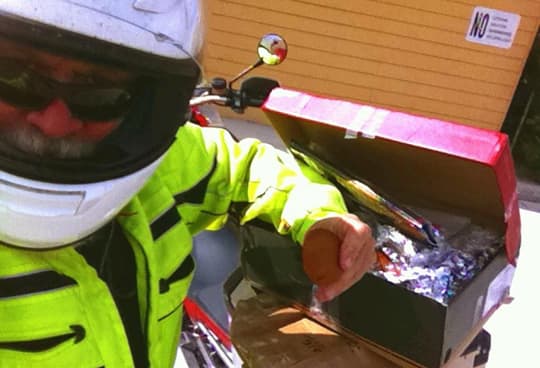 Above: Bryan loves care packages that are delivered via General Delivery.  Here's a box of cookies from his sister.
Some full-time RVers ask a friend or family member to collect their mail and forward it to them.  The United States Post Office has the most available distributed locations around the country.  You are able to receive packages and mail at many of these locations with a few exceptions.  This is done by sending these mailings by General Delivery.
It is important to determine which post offices accept general delivery beforehand.  I won't go into a lot of detail but, in large towns where there is more than one post office, general delivery is delivered to the main post office.  To avoid this confusion, I just use small town post offices.
United Parcel Service (UPS) has many Will Call offices throughout the country which are easy to use.  I had most of my solar panel components delivered to various UPS locations, as needed.  UPS locations are not as numerous as the US Post Office and have service center hours different at varying locations.  Be sure to check operating hours, before driving to a UPS location.
Federal Express (FedEx) requires an actual address for initial delivery.  After that, sent items are held in the nearest FedEx location.  When I need to use FedEx, I usually find someone who will accept a delivery for me.  Sometimes it's a business, like a pool and supply store in Alamogordo, New Mexico.  Isn't America wonderful?
I use a mail forwarding service in South Dakota.  They email me when I receive mail there and, as it accumulates, I can determine when I would like my mail forwarded to me, and where.  They also handle my vehicle registration.
This is where determining what type of full-time RVer you are matters.  As I am a full-time RVer, without a stick home or property, I am able to register my vehicle where I choose with certain conditions met.
Maintaining property and registering your vehicle in another state, other than where you own property, can create issues.  What can dictate this is the amount of time one actually has their RV in that state, or not.  Before making a decision, one should become familiar with the rules governing vehicle registration in their state.
Voting, driver's licenses, and motor vehicle insurance can all be done in this way too.
With health insurance, it is important to have a health plan that is not geographically specific and will serve you, as needed, as you travel.  Just be aware how your health care actually works.  Some health care policies are not workable outside of your prescribed area.  I have had two hospitalizations during my full-time experience and each time my health care provider reacted differently.  This portion of your full-time decision needs to be seriously vetted.
Online banking, ATMs, check cashing and bill paying
So many things have improved in recent years.  The ability to have direct deposits, transfer funds from one account to another, as well as taking a picture of a check and immediately depositing it a thousand miles from your hometown bank, is just marvelous.
Having a bank that provides online banking can be a great assist.  Having a bank that is available in many states is also a big assist.  All my bill paying is done online, what little I have.  One thing about full-time RVing is that you eliminate so many of those monthly bills.  For me, I have my credit card, insurance (vehicles, property, and life), cell and Internet provider, and satellite television provider.  This in itself simplifies life, thus a great relief by being a full-timer.
It is easy to keep track of accounts and investments, even while touring remote locations, due to the increasing availability of the internet.  Many of the places I visited four years ago that did not have cell phone and internet coverage, now do.
Many folks use cash or have a bit on hand, which is helpful for tipping and laundromats.  In some ways I am the dinosaur my kids claim I am, as I have never had an ATM card.  With the increased fees and difficulty in finding available machines, especially in remote locations, I am still able to acquire cash.  I do this by writing a personal check at many locations or at a bank.  Having a nationwide bank, like Wells Fargo, is a big help.
Places like Lowes, Home Depot, Costco, Kroger Stores, Walmart, Safeway, Albertsons, and many more will accept a personal check.  Some of them will provide cash back when writing more than the amount purchased.  What a country!  No fees, looking around for an ATM machine, or worrying about one's person safety while using one.
Take It Slow