Full-time RVing is not a never-ending vacation, as some might be thinking.  While it is exciting having the scenery ever-changing, you still have life's mundane tasks to do, as if you were in a stick house with a normal life.
Another important consideration would be traveling with someone else, be it a spouse or significant other, and/or children.  If others will be joining you, their daily space and storage requirements, including clothing and belongings, must be taken into account.
My Time Before Full-Timing (TBFT) showed that I enjoyed being in more confined areas to live, sleep, and work.  Transitioning to a small area, such as a truck camper, was not a challenge.  It still isn't.
The repeated chores and realities of home ownership (including mowing the grass, working, water and power bills, mortgage and property taxes, etc.) kept me from doing the things I really enjoyed.  Not having those responsibilities is a relief.
In the summer of 2008, I retired and sold my 3,800 square foot house.  I then either sold or gave away much of my material possessions, as well as storing a few items.  I temporarily moved into a 500 square foot studio apartment.  I knew it was going to take some time to put a project, like mine, together.  I had no idea how long it would eventually take.
Leaving Family and Friends Behind
My dad once told me that raising kids to be independent is a two-edged sword.  You desire them to be independent, make good decisions, and live their lives the way they choose.  However, in doing so, you find you're not needed as much as you once were.
I appreciated that lesson as I moved out of state, married and raised my own two children the same independent way.  It was important to expose them to many things during their childhood.  As my children grew and eventually began their own families, I found there was less time for them to spend with me.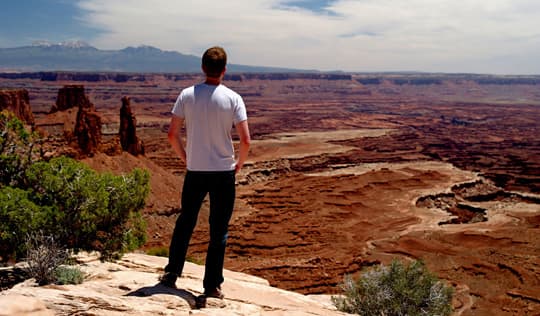 Above: Kent Appleby in Canyonlands National Park, Needles District, Colorado River, Utah
Leaving my family and starting my travels was difficult, but now I can stop by to visit and stay longer, and easier, than if I had been working and took a vacation to visit.  The biggest plus is that both of my kids find different locations to meet me.  We have met at Yellowstone, Tallgrass Prairie, Canyonlands, Mount Rainier, and White Sands National Monument.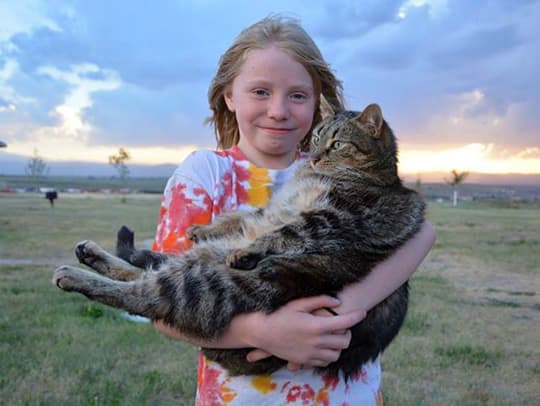 Above: Visiting historical sites with his granddaughter, Annabel Appleby who is holding Harley White
When we do meet, we get each other's full attention without home life's distractions, like texting and social networking.  Maybe I have something to do with picking places where these modern conveniences are not as easily available?  As for my grandkids, they are now joining me on short trips, traveling with Grandpa.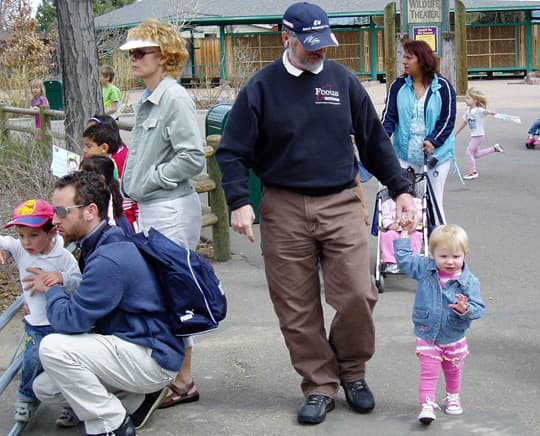 Above: Bryan at the zoo with his granddaughter, Annabel Appleby
Missing friends?  Hardly.  It has been great traveling around the country, meeting up with my friends to go skiing, backpacking, and hiking.  I have even met up with friends at the car auctions in Scottsdale, caught a show in Las Vegas, and attended the California Poppy Festival in Lancaster, California, with friends arriving from Los Angeles.  Being away from family and friends can be difficult, but planning and meeting them can sure make the absence less overwhelming.  Solutions, not obstacles.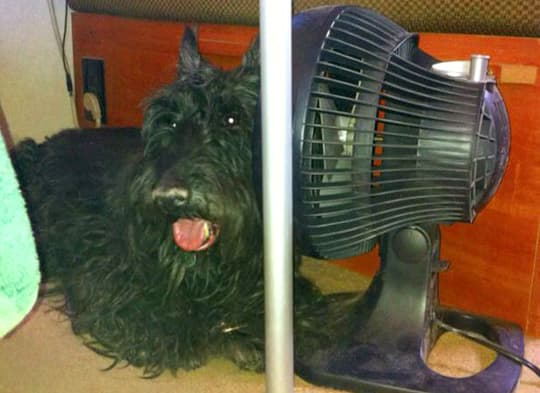 Above: Bryan's Scottish Terrior, Keiss, keeping cool in the camper.  Keiss is named after a town in Scotland.  It is an Appleby family tradition to name Scotties after towns in Scotland.
Receiving Mail, Vehicle Registration, Voting, Insurance, and Packages