Ray: The snow continued for two to three days.  Fortunately, we were in the rig and warm.   There was a concrete outhouse with a vault toilet at Mahogany Flat Campground.  We considered sleeping in there because the winds were blowing so hard, but we didn't.
Our furnace wanted to run constantly even when we put it on the lowest setting.  We turned it on and off as needed to conserve propane.  The furnace is big enough for the camper and kept us warm.  We just didn't want to use up all the propane.  We didn't know when we were getting out.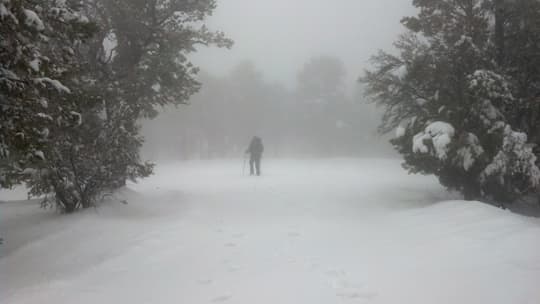 Above: And the snow continued…
Another challenge during the storm was keeping the snow off the roof and solar panel.  Even though it was cloudy most of the time, we wanted to keep the solar panel clear to collect as much daylight solar power as possible.  Since we don't carry a generator, we also ran the truck for power.
At one point I covered the roof with a tarp, let it snow a few inches, and then pulled the tarp off with the snow.  That worked well, and was much easier than pushing the snow off a slippery roof.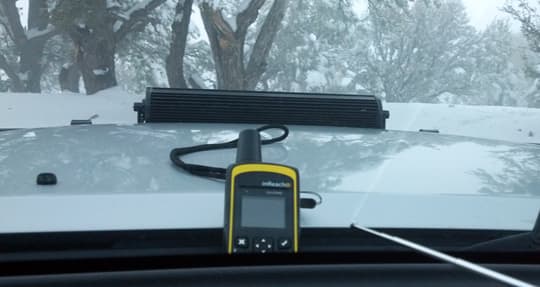 Above: The Delorme inReach satellite communicator was used because they had no cell service.  They reached the park service and made arrangements to meet below the snow line in two days
We stayed in the camper for six days, and then decided to reach out using our Delorme inReach satellite communicator.  The Delorme saved our butts up there.  We got in touch with a dispatcher at Death Valley National Park, and arranged for a ranger to pick us up at Charcoal Kilns.  Thanks to the Delorme inReach, we walked two miles to Charcoal Kilns instead of thirty-five miles back to civilization.
The ranger gave us a ride to Furnace Creek where the owner gave us a break on the rental of an otherwise expensive Jeep.  From there, we headed to Las Vegas to buy an extra 100 foot winch rope and tire chains.  In Vegas we rented a Jeep Compass for a week, and returned the expensive Jeep rental from Furnace Creek.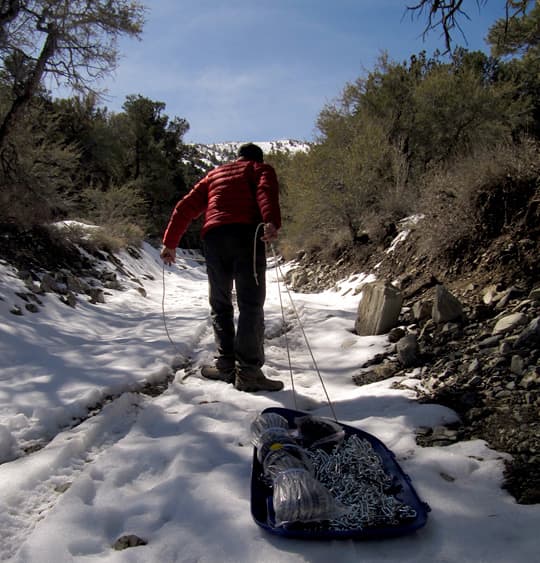 Above: On the way back to the camper, hauling chains, and a winch rope for two miles
Resupplied, we went back to the camper, and prepared to winch ourselves down the mountain if we had to.  After waiting for the snow to melt down, we put tire chains on our truck, and drove it down on it's own power.
Kay: Our rig was up there for a total nine days.  Once we got down the mountain, some of the roads were washed out from the rain they received while we were getting snow.
Ray: You just don't think of Death Valley as getting snow, but it does.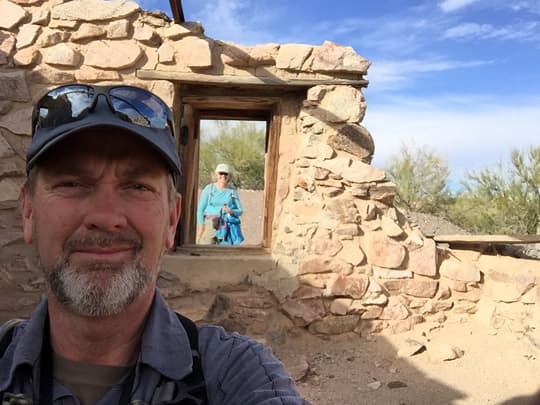 Above: Kay and Ray at the Victoria Mine Ruins, Organ Pipe Cactus National Park, Arizona
TCM: That's an incredible story, and an experience I bet you don't want to repeat.  All in all, it sounds like you guys were pretty lucky.  Tell us how you came to live, full-time, in a Four Wheel Camper.
Ray: We are in our early 50s.  We're not retired.  We had a farm in Kentucky, sold the farm, and bought the camper.  We live in the camper full-time, and hope to be on tour for two years, or more.  So far, it's been sixteen months.
Kay: The Four Wheel Camper is our home.  We wanted to do while this while we are young and healthy enough to do it, instead of waiting until we retired.  It's more like a sabbatical from work, for now.  We will be going back to work, but we don't have a restart date.