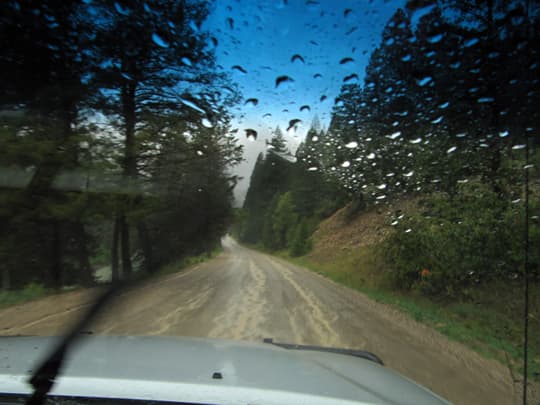 Above: Traveling on Grey's River Road Loop, Wyoming
We liked the pop-up truck camper concept for the lower center of gravity, and lower overall height for off-road travel.  The lower profile also helps with fuel milage.  To sum it up, a Four Wheel Camper pop-up is a streamlined package solution.
After a couple of years of comparing the different models, and phone consultations with Four Wheel Campers, we visited the factory and purchased their Eagle model.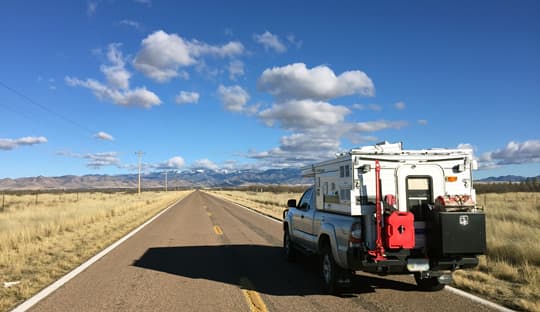 Above: Their Four Wheel Eagle with additional rear bumper storage and fuel storage
TCM: Once you had your rig together, did you modify the truck or camper?
Ray: We installed heavier shocks and added air bags for better stability and ride.  We also added an ARB protective front bumper with a winch, and a rear CBI Off Road Fab steel bumper.
The rear bumper features swing-out arms so that we can haul extra fuel.  We have an Aluminess storage box for recovery gear and outside items.  I have used the four gallons of extra fuel several times.  It helps that you can buy fuel when it's cheaper, but really it's more about being way out somewhere and not having enough fuel.
Before we got the extended rear bumper, I backed into a tree and did some damage to the camper.  The bumper now gives us extra protection.  Overall, the extra protection and fuel gives us peace of mind.  We've never used the winch, but we came close once.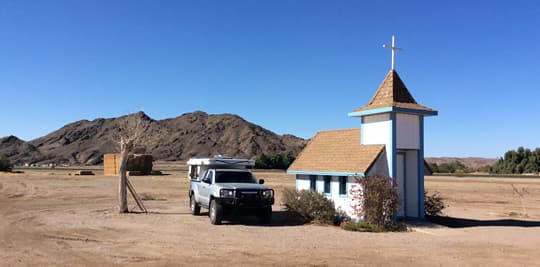 Above: Hobbit Church in Arizona
TCM: Came close?
Ray: Around the first of March last year we drove up to Mahogany Flat Campground, a four-wheel drive primitive campground, at about 8,100 feet.  There's a two mile road going up there from Charcoal Kilns on a four-wheel drive steep road.  We were going to hike to Telescope Peak, the highest peak in Death Valley, at 11,000 feet.
Above: Pictures from day 2 of being stuck in the snow
The next morning we woke up to snow and winds approaching 50 miles per hour.  We were stuck up there, and the temperatures were in the 20s.  The wind was so bad it sounded like we were inside a paper bag and someone was shaking it.  It was an unexpected snow storm.
The storm produced a foot of snow.  We were trapped and couldn't come back down.  That's when we anticipated using the winch.
Kay: We checked the weather forecast when we went up on Thursday, and they were calling for rain on Friday.  The storm came early.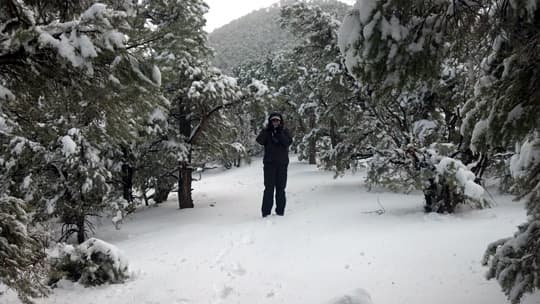 Above: Taking pictures of each other in the snow