Above: Dispersed campsite they stayed at the night before driving the Burr Trail
TCM: That was lucky.  It looks like you got off-the-grid quite a bit on your trip back.  The Burr Trail looks amazing!
Karen: The Burr Trail is definitely the most scenic way to travel between Bullfrog and Boulder, Utah.  We started at the Bullfrog end and camped the night before on nearby BLM land.  Even though it's an easy drive, we spent an entire day on the 67.4 mile trail and could easily have spent more time exploring the area.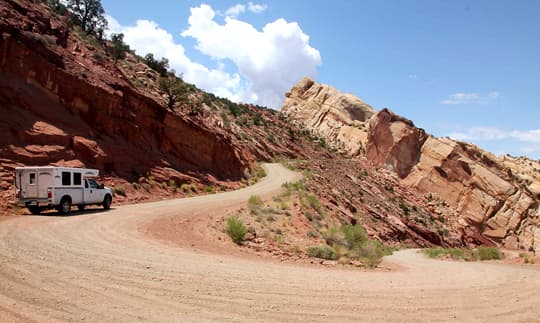 Above: A switchback on the Burr Trail, Utah
There were some cliff-side areas.  I'm actually afraid of cliffs.  At one point I got out of the truck and walked the switchbacks.  I do that often when there are cliffs.  That's how I get through those cliff-side roads.
The Burr Trail was dry when we were there, making for simple driving.  If it rains, the Burr Trail could be impassable.  The rangers recommend waiting until the road dries out before driving.
Above: The Burr Trail, Utah (click to enlarge)
Before we go on an off-road trip, I call the rangers and tell them where we're going.  I ask them if there is anything that we need to know.  The rangers are always happy to help, and they'll let you know about the conditions and dispersed camping opportunities.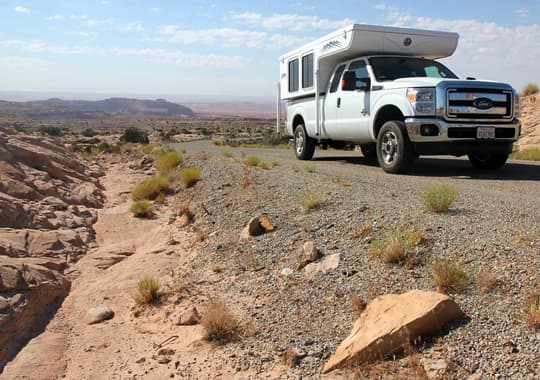 Above: The Burr Trail, Utah
We also visited the gigantic hot spring swimming pool at Glenwood Springs on our way home.  It's an absolutely wonderful place to hang out, especially at night.
Above: Bogan Flats Campground near Marble, Colorado
We also enjoyed Marble, Colorado.  It's an incredible place south of Glenwood Springs.  If you're into rocks, like I am, it's a great town.  There are giant slabs of marble lying around town, and Marble's only restaurant serves delicious barbecue.  The restaurant had a bin out front and asked for a donation if you wanted a piece of marble.  I put in a few dollars and got a little slab of rock.  The Marble Institute at the edge of town has several week long marble sculpting workshops every summer.  Novices and seasoned sculptors work side by side, releasing the inner spirit from giant slabs of marble.
We also camped in a casino parking lot on our trip back west.  I just Googled, "boondocking casinos" and found one that allowed camping.  It was in Sparks, Nevada, near Reno.  I called the casino to confirm.  That was our first time camping at a casino.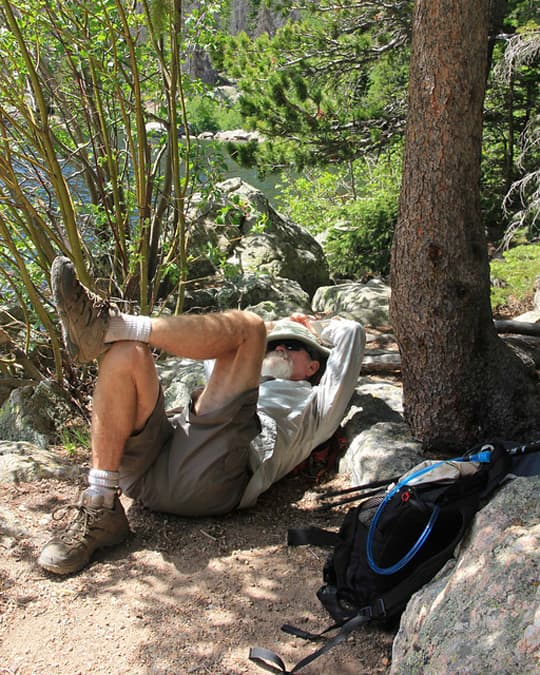 Above: Jerry taking a nap at Bear Lake, Rocky Mountain National Park, Colorado
TCM: You mentioned earlier in this interview that you, "completed a multi-year, coast-to-coast hike in 2012".  Do you mean you walked across the United States?
Karen: In February of 2010, my husband and I took Amtrak to the East Coast and started our coast-to-coast hike.  We hiked the American Discovery Trail from Cape Henlopen State Park in Delaware on the Atlantic to Point Reyes National Seashore, north of San Francisco on the Pacific.  We hiked through large cities and small towns, grasslands, national forests, and deserts.  We have an online journal for each year of our trip at www.trailjournals.com/karenandjerry .