At first we were going to buy a Ford F150 with the heavy-duty payload package.  Then we did the math, adding up the weight of the camper, water, batteries, propane, our stuff, and my potential rock finds.  That ruled out the Ford F150.
We also preferred a diesel truck.  We understood that a diesel engine would add a lot of weight to the truck and reduce the available payload, but we wanted the power and efficiency a diesel truck provides.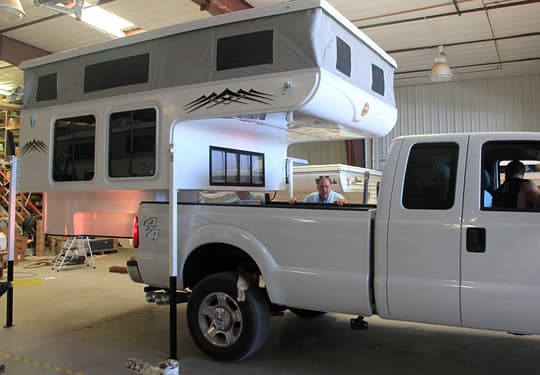 Above: Their Hallmark K2 and Ford F-350 joining at the Hallmark factory
Finally, it became clear that going from a three-quarter ton to a one-ton truck was not a big difference in price and offered a substantial amount of payload capacity.  When we brought our Ford F350 truck to the Hallmark factory in Denver, Bill Ward, Owner of Hallmark, told us we did a great job picking our truck.
TCM: What model Hallmark did you choose, and how did you have it optioned?
Karen: We got a 2013 Hallmark K2.  We debated on getting the cassette toilet option, and we are 100% glad we did.  If we have to use the toilet at night, we don't have to go outside.  That's especially important when urban camping and driveway camping.  It's super convenient.  Plus it's an extra seat near the door, which is really useful for removing muddy shoes.  If anyone is debating the cassette toilet option, we're totally glad we got one.
We are also glad we didn't opt for the instant hot water heater.  When we're going to use the outside shower, we just heat the water while we're eating dinner.  It's warm by the time we're done.  The camper works well with a standard propane hot water heater.
We also love our 12-volt compressor refrigerator and solar panel.  The compressor refrigerator lets us arrive at a camp site and simply park without the intermediate step of insuring that we are level enough for the refrigerator to work.  And we have never run low on power despite multiple consecutive nights of dry camping.  We appreciate the convenience of transferring food from our garden and our house refrigerator to the camper refrigerator before a trip.  And we love eating healthy, familiar foods on the road.
We were originally concerned that the furnace might not make it warm enough in a pop-up camper.  In reality, we have to turn the furnace off because it gets too warm in the camper.  No one should worry about not being warm enough in a Hallmark.
We considered the north-south sleeping option, but we don't find we are inconvenienced with the east-west sleeping.  It's nice to have the cabover not be as long.
We are really happy with our camper.  We love the pop-up windows that go all the way around and the amount of storage space we have.  In the cabover sleeping area, we are high above the ground and can see everything.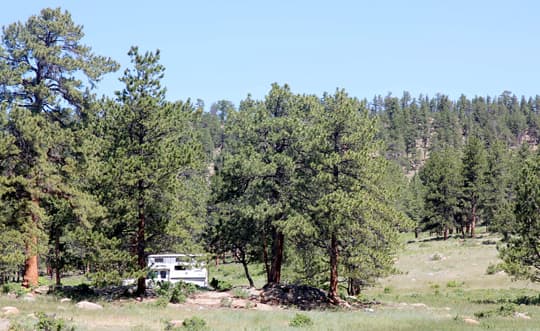 Above: Site 139 at Moraine Park Campground in Rocky Mountain National Park, Colorado
TCM: Tell us about picking up your camper and your trip back to California.
Karen: We drove the truck out from California and spent a day at Hallmark getting the camper installed.  Matt did a complete walk-through showing us every camper system and how it operates.  That night we camped at Boyd Lake State Park, which is close to Hallmark.  Everything went well.
The next day we were very fortunate to get a wonderful campsite at Rocky Mountain National Park.  A cancellation came up, and I think we got the best campsite in the campground.  We stayed in the park for three nights and then made our way home.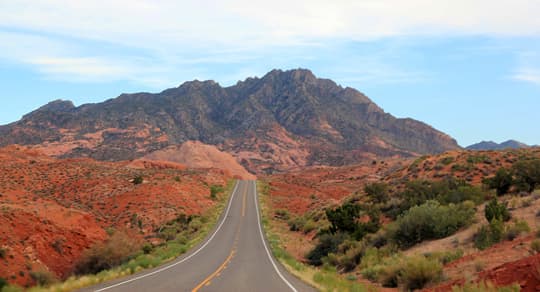 Above: The road to Bullfrog Marina, Utah