After hiking across the United States with her husband, Karen Clark discovered the comfort of a Hallmark K2 and the power of a Ford F350 beast.  Rock on.

The idea of driving across the country is the often the stuff of dreams.  For many, it's the ultimate road trip; an adventure of unlimited discovery and bucket list possibilities.
It seems incredible that the first people to drive across the United States did so over 111 years ago.  In 1903, Horatio Nelson Jackson, Sewall Crocker, and a goggle-wearing bulldog named "Bud" took a two-cylinder, twenty horse power Winton touring car from San Francisco to New York City.
Their car, nicknamed "Vermont" after Horatio's home state, didn't feature a roof, or a windshield.  The expedition reads like an endless series of flat tires, break downs, mishaps, and misdirections – but they made it.  Next time you find yourself complaining about something that happens on the road, think of Horatio, Sewall, and Bud driving on dirt roads, exposed to the weather, with nothing between them and the oncoming wind for over three-thousand miles.  Of course Bud probably loved every minute of it.
With a similar spirit of determination, another brave couple set out across the United States 107 years later.  In February of 2010, Karen and Jerry Clark set out from Cape Logan State Park in Delaware to hike the 5,058 mile American Discovery Trail.  They completed the system of trails and roads in sections finishing at Point Rayes National Seashore in California in 2012.
During their stroll across the states, the Clarks saw more campers than they could shake a hiking stick at.  That led them to their next adventure, a 2013 Hallmark K2 pop-up truck camper aptly named "Comfort", and a 2013 Ford F350 even more aptly named, "Beast".  Their next cross-country trip will forgo the far-reaching foot work, and follow the motorized inspiration set by Horatio, Sewall, and Bud.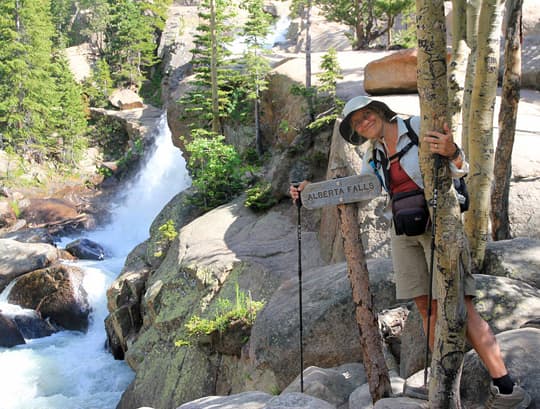 Above: Karen at Alberta Falls, Rocky Mountain National Park, Colorado
TCM: How did you get into truck camping?
Karen: My husband, Jerry, and I completed a multi-year, coast-to-coast hike in 2012.  We were backpacking on that trip, sleeping in a tent with three-quarter length pads, and cooking on a tiny backpacking stove on the dirt.
As we walked across the country, we saw lots of campers driving by.  One day Jerry saw a Komfort brand camper and said, "There goes comfort".  He was referring to the heater, stove, refrigerator, fresh water, and bed they had in their camper.
When we completed our cross-country hike, we wanted to go back and see the places we missed.  We wanted to explore dirt roads, BLM, and national forest lands, but we didn't want to rough it any more.  We wanted comfort.  We also wanted lots of windows, a stove, a refrigerator, a heater, and a bed.  That's what led us to a Hallmark pop-up truck camper.  It had everything we wanted in a camper.
TCM: Obviously you wanted a pop-up truck camper to go off-road, but what led you to purchase a Hallmark?
Karen: When I was conducting my research, I looked at the pictures in the Truck Camper Magazine Buyers Guide and fell in love with the way Hallmarks look.  The whole camper has a great feel about it.  We love it.
TCM: Hallmark sells their truck campers factory direct.  You guys live in California.  Tell us about your experience working with Hallmark long distance.
Karen: Before I contacted Hallmark, I did a lot of online research and read quite a few articles on Truck Camper Magazine.  From everything I saw, people were very satisfied with their Hallmark campers.
Then I talked to Matt Ward at Hallmark and felt very comfortable with the Hallmark team.  Soon after we flew out to Denver from Oakland, visited the Hallmark factory, and spent the night in town.  The next day we ordered our camper.
I did a ton of research on matching a truck and camper.  Because I am a nurse, I am very safety oriented.  I wanted the weight of the camper, plus us and our gear, to be well within the payload capacity of the truck.  I wanted to feel confident that the truck would stop correctly when the brakes were applied.  I feel strongly about that.
Speaking of payload, I collect rocks on BLM lands.  The BLM allows people to collect up to twenty-five pounds of rocks per day for personal use.  I didn't want to worry that my rock collecting would put us over the payload capacity of our truck.