Washington DC residents David and Jenney Kiel took their travel trailer to Utah and discovered two things.  First, pop-up truck campers rule.  And second, they had to toss the trailer!

After twenty-nine years in the Navy it was time to transition to civilian life.  Before starting a new career, we took a month long vacation to Utah where we quickly realized the limitations imposed by our twenty-two foot travel trailer.
Circumnavigating the Grand Staircase-Escalante National Monument, we were forced to camp outside the monument at the larger campgrounds.  We easily spent a quarter of each day driving to and from trailheads to hike.  We missed some of the classic spots like, Hole in the Rock, Neon Canyon and, White Pockets because of our trailer.  Missing Neon Canyon was probably the biggest disappointment.  After ten miles of two lane highway, twenty miles of dirt road and ten more miles of a four wheel drive road to get to the trail head, we didn't have time to make the rough hike to the Golden Cathedral of Neon Canyon.  Most of the rest of our Utah trip was devoted to more accessible, iconic, crowded locations.  This experience showed us that we needed another camping option, but we weren't exactly sure what.
Above Left: The hike to Neon Canyon, over an hour drive from our campground suitable for our trailer, then scrambling down 800 feet of slick rock and across four plus miles of poorly marked, nearly none existent trail.  We just didn't have time to complete the day hike.  This was one of the deciding moments when we realized we needed a better camping system to get to the harder more remote locations.  Above Middle and Right: Some of the less remote, and more crowded, but still iconic locations on our Utah trip; Monument Valley and Goblin State Park, Utah
In college, my wife and I started backpacking and car camping.  By the second kid we had graduated to a tent trailer.  After several more up-sizes, we ended up with the twenty-two foot travel trailer.  We had planned on keeping that trailer for a long time, but this trip changed that.
The more we thought about it, the less the travel trailer made sense.  Getting less than 10 mpg on the highway at 55 mph was a significant negative.  The considerable costs and limitations of the required large campsites and storage lot (we live in Washington DC) certainly didn't help.
If we were looking for another good reason, pulling the truck and trailer around the infamous (and often insane) Washington DC beltway was it.  Clearly the travel trailer had to go.
Getting back to our trip to Utah, we started seeing lightweight pop-up truck campers that could work on our Toyota Tundra.  When we saw these same camper rigs at the ends of some of the longest, roughest roads in the Grand Staircase-Escalante National Monument area, we were smitten.
Once back home, we started our research, and sold our trailer.  Within seven months we placed an order for a custom Phoenix Camper.  This is the story what followed, what we learned, and how we know truck campers rule.
Fast forward to a week before our Phoenix Camper was scheduled for pick-up.  We were thinking about how we would park the camper on the street in front of our house and fill the camper with water.  In one of those, "A-ha" moments, we realized that we needed the water fill on the right side of the rig, or we would need a much longer hose.  We called Robby and Cari Rowe, Co-Owners of Phoenix Campers and made the request.  "No problem, no charge", Robby replied.  Even though our camper was nearly complete, Robby and Cari made it happen.
Less than a week later, we left DC and did the mad dash across I-70 in our Tundra, averaging 15.5 mpg on the way out.  We arrived in Denver on a Thursday for the pickup.  Robby and Cari Rowe were amazing that day.  After being in a minor car accident that morning, they arrived only a few minutes late, and walked us through everything about our new camper.  Then they helped us load it, gave us tips, and set us on our way.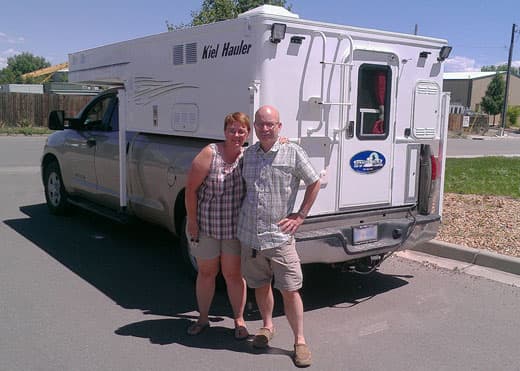 Above: Pick-up day with the brand our new truck camper
Our maiden voyage was a short trip north through Wyoming to Devils Tower National Monument.  From there we headed to the Black Hills and Badlands of South Dakota.  Then another mad dash back to DC.
Even with just that short amount of time, we quickly learned the joys of traveling with a pop-up truck camper.  We really appreciated the minimal fuel mileage impact and the higher average highway speeds on the interstate.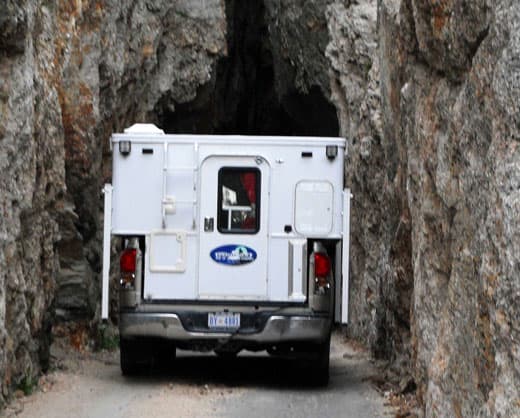 We loved the ability to travel down narrow roads such as the Peter Norbeck Scenic Byway in the heart of the Black Hills and not worry about the tunnels.
Dropping out of the Black Hills on the way to the Badlands, we made a quick stop at the famous (or infamous depending on your perspective on what constitutes as a tacky tourist trap) Wall Drug.  In the days before air conditioning, Wall Drug was an oasis in an otherwise hot, dry, and endless sea of prairie grass.  Today it's just a tourist trap.  Parking with the truck camper rig was a snap.
Our time in the Badlands showed us two more benefits of truck camping; keeping the camper at the trailhead while hiking, and easy boondocking.