Washington DC residents David and Jenney Kiel took their travel trailer to Utah and discovered two things.  First, pop-up truck campers rule.  And second, they had to toss the trailer!

After twenty-nine years in the Navy it was time to transition to civilian life.  Before starting a new career, we took a month long vacation to Utah where we quickly realized the limitations imposed by our twenty-two foot travel trailer.
Circumnavigating the Grand Staircase-Escalante National Monument, we were forced to camp outside the monument at the larger campgrounds.  We easily spent a quarter of each day driving to and from trailheads to hike.  We missed some of the classic spots like, Hole in the Rock, Neon Canyon and, White Pockets because of our trailer.  Missing Neon Canyon was probably the biggest disappointment.  After ten miles of two lane highway, twenty miles of dirt road and ten more miles of a four wheel drive road to get to the trail head, we didn't have time to make the rough hike to the Golden Cathedral of Neon Canyon.  Most of the rest of our Utah trip was devoted to more accessible, iconic, crowded locations.  This experience showed us that we needed another camping option, but we weren't exactly sure what.
Above Left: The hike to Neon Canyon, over an hour drive from our campground suitable for our trailer, then scrambling down 800 feet of slick rock and across four plus miles of poorly marked, nearly none existent trail.  We just didn't have time to complete the day hike.  This was one of the deciding moments when we realized we needed a better camping system to get to the harder more remote locations.  Above Middle and Right: Some of the less remote, and more crowded, but still iconic locations on our Utah trip; Monument Valley and Goblin State Park, Utah
In college, my wife and I started backpacking and car camping.  By the second kid we had graduated to a tent trailer.  After several more up-sizes, we ended up with the twenty-two foot travel trailer.  We had planned on keeping that trailer for a long time, but this trip changed that.
The more we thought about it, the less the travel trailer made sense.  Getting less than 10 mpg on the highway at 55 mph was a significant negative.  The considerable costs and limitations of the required large campsites and storage lot (we live in Washington DC) certainly didn't help.
If we were looking for another good reason, pulling the truck and trailer around the infamous (and often insane) Washington DC beltway was it.  Clearly the travel trailer had to go.
Getting back to our trip to Utah, we started seeing lightweight pop-up truck campers that could work on our Toyota Tundra.  When we saw these same camper rigs at the ends of some of the longest, roughest roads in the Grand Staircase-Escalante National Monument area, we were smitten.
Once back home, we started our research, and sold our trailer.  Within seven months we placed an order for a custom Phoenix Camper.  This is the story what followed, what we learned, and how we know truck campers rule.
Fast forward to a week before our Phoenix Camper was scheduled for pick-up.  We were thinking about how we would park the camper on the street in front of our house and fill the camper with water.  In one of those, "A-ha" moments, we realized that we needed the water fill on the right side of the rig, or we would need a much longer hose.  We called Robby and Cari Rowe, Co-Owners of Phoenix Campers and made the request.  "No problem, no charge", Robby replied.  Even though our camper was nearly complete, Robby and Cari made it happen.
Less than a week later, we left DC and did the mad dash across I-70 in our Tundra, averaging 15.5 mpg on the way out.  We arrived in Denver on a Thursday for the pickup.  Robby and Cari Rowe were amazing that day.  After being in a minor car accident that morning, they arrived only a few minutes late, and walked us through everything about our new camper.  Then they helped us load it, gave us tips, and set us on our way.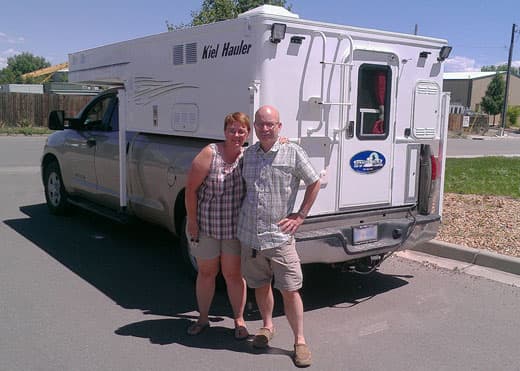 Above: Pick-up day with the brand our new truck camper
Our maiden voyage was a short trip north through Wyoming to Devils Tower National Monument.  From there we headed to the Black Hills and Badlands of South Dakota.  Then another mad dash back to DC.
Even with just that short amount of time, we quickly learned the joys of traveling with a pop-up truck camper.  We really appreciated the minimal fuel mileage impact and the higher average highway speeds on the interstate.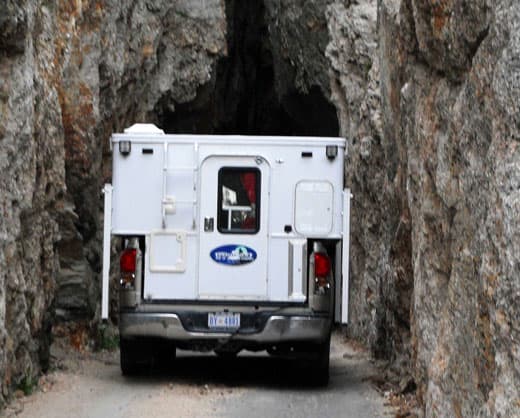 We loved the ability to travel down narrow roads such as the Peter Norbeck Scenic Byway in the heart of the Black Hills and not worry about the tunnels.
Dropping out of the Black Hills on the way to the Badlands, we made a quick stop at the famous (or infamous depending on your perspective on what constitutes as a tacky tourist trap) Wall Drug.  In the days before air conditioning, Wall Drug was an oasis in an otherwise hot, dry, and endless sea of prairie grass.  Today it's just a tourist trap.  Parking with the truck camper rig was a snap.
Our time in the Badlands showed us two more benefits of truck camping; keeping the camper at the trailhead while hiking, and easy boondocking.
We got caught in a horrible hailstorm on one long hike over the steep Saddle Pass Trail and around Castle Trail and Medicine Root Trail.  Drenched and cold, we slid, and I mean literally slid on our butts, down the steep Saddle Pass Trail.  We were covered in sticky Badlands mud by the time we got back to the trailhead, but the camper made it a breeze to clean up and change clothes before getting into the truck.  Our empathy grew for the family behind us with two little kids who gave up, turned around, and got back into their van covered in wet, sticky Badlands mud.
Above: Sunset over the Badlands along the Door Trail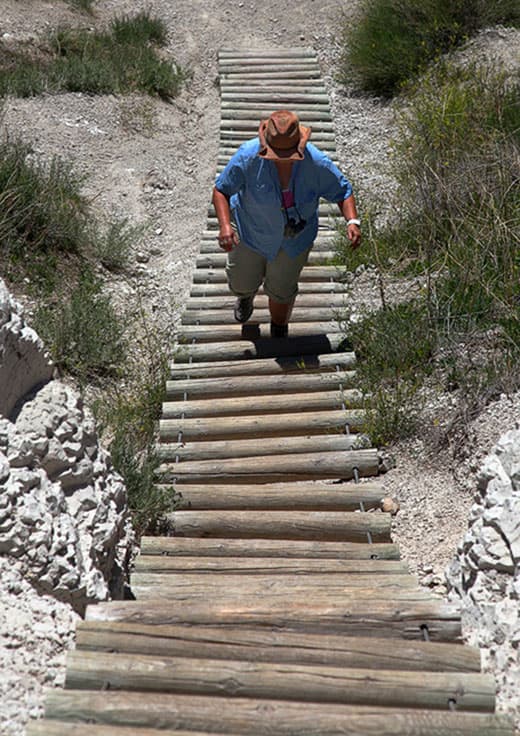 Above: Climbing the Log Ladder along the Notch Trail
The Badlands also offered our first chance to boondock in our new Phoenix Camper.  On the north side of the park is Buffalo Gap National Grassland.  You can camp nearly anywhere along the numerous trails that criss-cross the rolling plains of the grassland. We picked a peaceful spot miles off the road just north of Badlands where we could still see the tortured landscape of the Badlands off in the distance.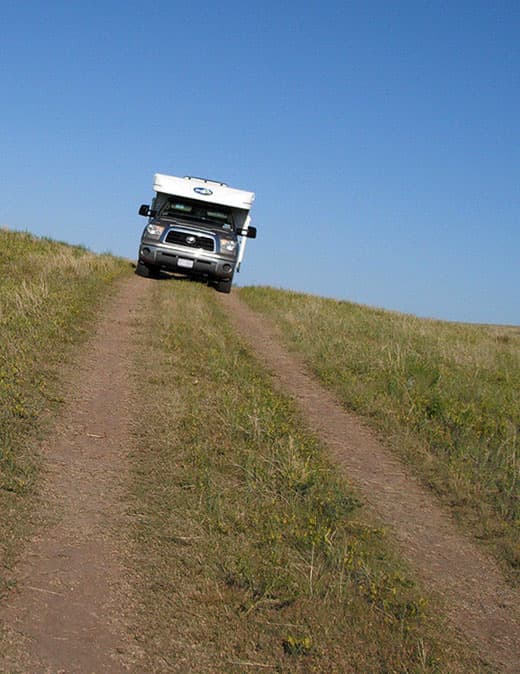 Above: The trail to our first boondocking overnight in Buffalo Gap National Grasslands just out side the park
After a brilliant sunset over a lonely ranch, the sky filled with endless stars.  We spent a great night, with our Heki Skylight wide open, looking for shooting stars.
The next morning it was time for the long drive home along I-90 (14.0 mpg).  Not a big impact on gas mileage compared to the trip out with no truck camper.  Pop-up truck campers rule when it comes to gas mileage.
Back in Washington DC, we made a couple of quick camper mods.  Being an avid digital photographer, I added a DC outlet outside to let me work on my computer while keeping it charged.
We also noticed some fore-and-aft "porpoising" on concrete highways at highway speeds and at very slow speeds going over speed bumps in our neighborhood.  I believe it was caused by our north-south cabover pushing the center of gravity forward and the rear tie-downs connecting to the truck at a shallow angle.  If my theory is correct, this allowed the back of the camper to bounce when the rear tires "jump" over sharp road bumps.

Above: Side shot of the foam in between the truck and the camper
To address this issue, Robby Rowe suggested adding a rubber ducky which is an inflatable inner tube under the cabover to act as a shock absorber.  I read on the internet how you had to constantly adjust the pressure as you changed elevations with the rubber duckies, so we decided to use a piece of exterior open cell foam instead of the inner tube.  To prevent paint damage to the truck Robby also suggested putting a layer of 3M Clear Bra paint protection film between the foam and the top of our truck.  This solved the fore-and-aft porpoising for about $60 bucks.  Now our truck camper handles great at any speed and on any twisty mountain road.
After several more quick weekend trips, we decided we wouldn't waste time taking the camper off the truck at campsites.  It's too much work for to little gain.  After the breakfast dishes are stowed, we can pop down and be driving away in less than four minutes.
Next we removed the Happijacs to save an additional 180 pounds and further improve air resistance and fuel mileage.  We also took the tailgate completely off.  Per our request, Robby designed the camper to allow the tailgate to close with the camper installed.  Living in the city, and parking the rig on the street, we thought a locked tailgate would provide extra security.  Since then, we realized that is unnecessary.  Now we wish we would have designed the camper to extend beyond the truck bed four inches.  This would have made our wet bath a bit less cramped.
With the Phoenix Camper, our camping time has more than doubled.  We can decide to go, pack our clothes and food, top off with fresh water, and be on our way in less than thirty minutes.  Taking advantage of HOV lanes we can be in the heart of Monongahela National forest in less than four hours!  With the trailer it used to take us more than five.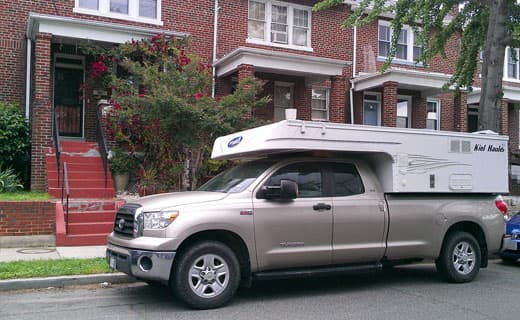 Above: Parked on our street in Washington DC
After nearly a year, these city slickers and new truck campers are sold.  Pop-up truck campers are easy to park on tight residential streets and avoid costly storage and DMV registration fees.  They are easy to pack on short notice and escape the city.  They are much better on gas mileage than 5th wheels and travel trailers.  Most importantly, they allow easy access to more campsites, easy boondocking in remote locations, and, thanks to custom design from Phoenix Campers, very comfortable.
Truck campers rule!