Bob: I initially started my photography in 1968 when we were in Panama.  I always took pictures with a 35 millimeter film camera.  When I retired in 2000, I was able to pursue my photography interest full time.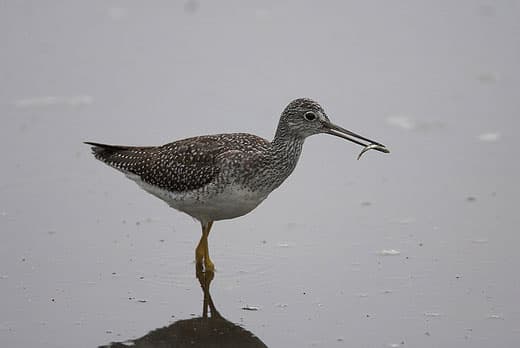 Above: Lesser Yellowlegs, Kahtai Lagoon, Port Townsend, Washington
All of my truck camper travels are photography oriented.  We go to wildlife refugees and national parks.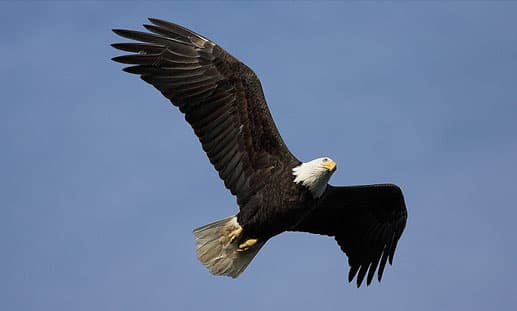 Above: Bald Eagle, Point Wilson, Port Townsend, Washington
With the camper, I am able to take all of my gear and stay out during the year doing photography.  Our daily pursuit is to find a combination of suitable places for painting and photography.
LEFT: Denali National Park, Alaska MIDDLE: Dalton Highway, Alaska RIGHT: Kootenai River north of Bonners Ferry, Washington
The camper makes my photography and my wife's painting much better because we can reach remote areas, camp for extended periods, and we're self-sufficient.  We don't have to look for campgrounds.  Having that kind of flexibility to find bears feeding on salmon, or nesting birds has made a huge impact.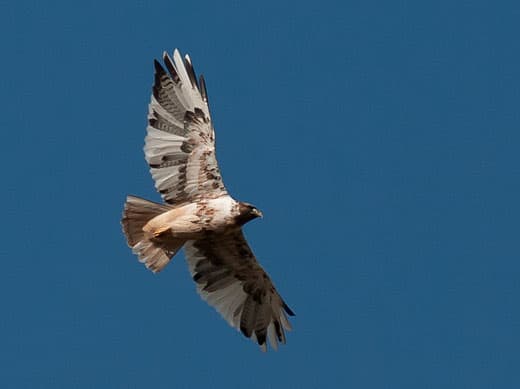 Above: Leucistic Red-tailed Hawk, Ferndale, Washington
TCM: What's a typical day for you like when you're out in your truck camper and taking photographs?
Bob: I'm an early riser.  In the morning, I'll pull the blinds up to look out and see what kind of day it is.  I'll eat, have my chai, prepare my equipment, check the batteries, get extra batteries, and go out walking for up to four hours.  In the morning, I'll take a smaller camera rig and no tripod.  Sometimes I'll take lunch.  I always take a day pack with water and a few other essentials.  My wife is a later riser.  She gets up, has coffee, gets her easel out, and looks for a painting subject.
I usually get back around lunch time.  I download or put images into files.  If the computer is low on batteries, I have a quiet generator with a platform on the back.  Hallmark put in extra 12v and 110 outlets for me.  While the generator is running, I am downloading 300 to 400 images which takes twenty to thirty minutes with my sixteen megapixel camera.  Then, I back up my files on the hard drive so I have two copies.
I'll go out again in the afternoon.  Usually I'll switch to a 17-35 millimeter lens for scenic photography.  Sometimes I'll sit in my chair, have a cool beverage, and see what birds come around.  In the evening I go out again, and look for scenery and wildlife.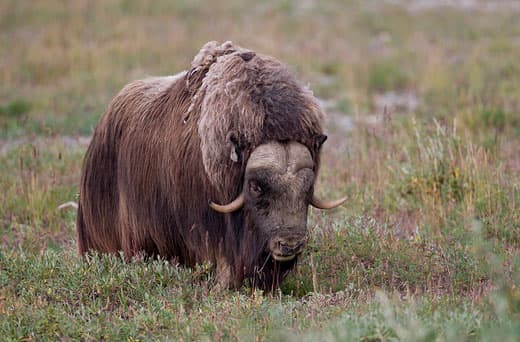 Above: Musk Ox, Dalton Highway, south of Deadhorse, Alaska
TCM: Sounds like fun.  Have you had any close encounters with wildlife during your photography adventures?
Bob: We went to Alaska looking for musk ox.  There was beautiful light in August in Alaska with the golden late evening light lasting for hours.  It was gorgeous.  When we found the musk ox, we parked off the road and took pictures.  Later we fixed dinner and looked out window with musk ox about two hundred yards away.  Where else can you take a camper out and see wild musk ox?  That's the advantage of truck campers.
In Hyder, Alaska I have seen grizzly and black bears fifty to one hundred feet away catching salmon.  About twenty-five miles up the road was Salmon Glacier, which is the fifth largest glacier in North America.