Donald: We maintained the stout structural integrity of our camper cabover with our continuous, one-piece, fiberglass construction that runs from the top of the cabover to the bulkhead versus going to a two or three piece front that allows for potential leaks.
We still employ our same proven construction techniques used on the old profile but achieve the different shape utilizing different shaped contour-ribs and foam.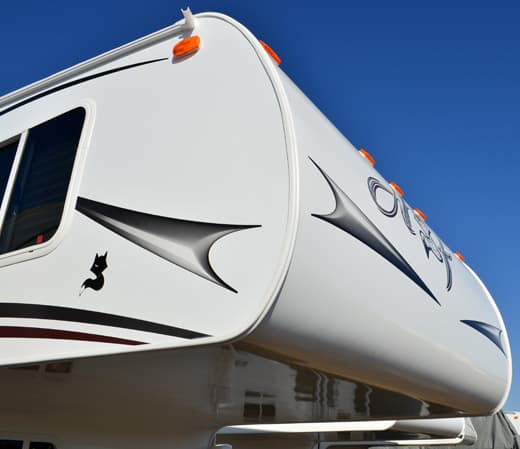 Above: The new profile close up
TCM: Did the new front nose effect the center of gravity or weight of your campers?
Donald: Our campers have always been balance-tested to determine each model's specific center of gravity (COG) given make and options.  The new profile, on average, has not made a significant change in the COG.  The new profile has also not affected the weight of our campers in a significant way.
Above: A new 2014 Arctic Fox right off the production line
TCM: Does the new front nose come with a higher MSRP for Arctic Fox truck campers?
Donald: While there is obviously an increased cost in making this change, there is no price increase at this time.  Northwood always strives to make our products better to best benefit our customers.  To that end, if we innovate something that we know will enhance the end-user's RV experience, we are going to make that change as soon as we can even if it means absorbing some cost.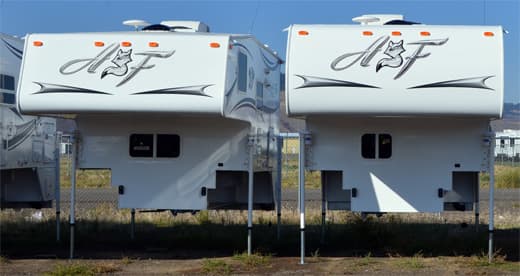 Above Left to Right: 2013 Arctic Fox and new 2014 Arctic Fox cabover nose
TCM: When will Arctic Fox truck campers featuring this new nose be available?
Donald: The first 2014 Arctic Fox truck campers featuring the new front nose started rolling off our Production Line at the end of September.
For more information on Arctic Fox campers, please visit their website at northwoodmfg.com/truck-campers/arctic-fox-camper.  Click here to request an Arctic Fox brochure.