Above: The 52.75-inch wide floor with slide-outs extended – click to enlarge
Randy: The 1062 features a 52.75-inch wide floor from the dinette face to the galley face.  That's 15-inches more floor width than the 1052.  You could square dance in the 1062!

Above: Frameless windows are standard in the 1062, with a bigger dinette picture window and an added window in the slide room rear – click to enlarge
TCM: We are fully expecting photographic proof of that last claim.  Are there any other updates on the 1062 that differentiate it from the outgoing 1052?
Gary: We have eliminated the sliding windows and moved to frameless thermal pane torque windows.  We also increased the width and height of the entry door for easier and more comfortable entry.
Randy: We added a rear end-wall window and increased the sidewall window to a large 56" by 22" full-view torque window for increased natural interior light and exterior view.  The height of the galley window has gone from 15-inches to 18-inches, and we went from a fixed picture window to a full-view torque window, adding both additional light and cross-ventilation.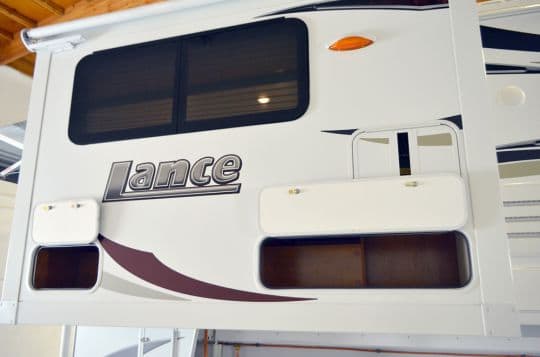 Above: The new exterior centralized storage compartment – click to enlarge
TCM: When we were at Lance Campers this past May, you were prototyping the 1062.  Since this is a relatively modest structural update to an existing floor plan, what were you testing during the prototype phase?
Randy: We were primarily testing the new lateral truss design for the 12-inch basement height.  We were also integrating a new basement pull-out tray and an exterior centralized storage compartment, two big features that were not available on the 1052.
Prototyping is a very important part of the process of designing a new production ready Lance Camper.  Every new camper we produce is built and tested as a prototype.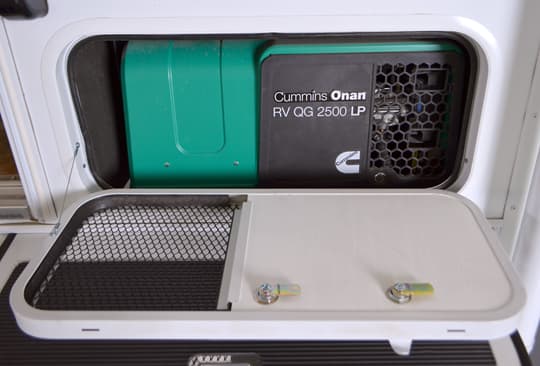 Above: A built-in Onan generator is an option in the 1062
TCM: Were there any new materials, components, appliances, or processes used in the development of the Lance 1062?
Gary: The materials, construction processes, and appliances are unchanged from the 1052.  We're still using our one piece molded counter top and inner spring mattresses.  We were already using the best generator, refrigerator, water heater, and furnace.  Any changes to those features would have been a downgrade.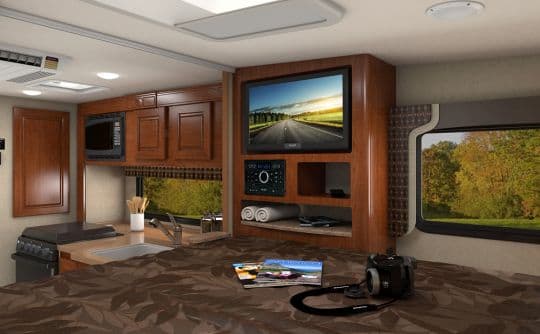 Above: A digital rendering of the cabover and app-based stereo system – click to enlarge
One feature that is new and improved is the app-based stereo system.  Through Bluetooth on your smartphone, you can control the volume of the interior and exterior speakers.

Above: The Happijac Secure-Trac (left) and the Lippert Schwintek (right) slide mechanisms on the 1062 – click to enlarge
TCM: What slide mechanisms does the Lance 1062 use?