Another big update for 2014 is the availability of the Fox Landing as an option for Wolf Creek campers.  It's exactly the same Fox Landing that's available on Arctic Fox campers.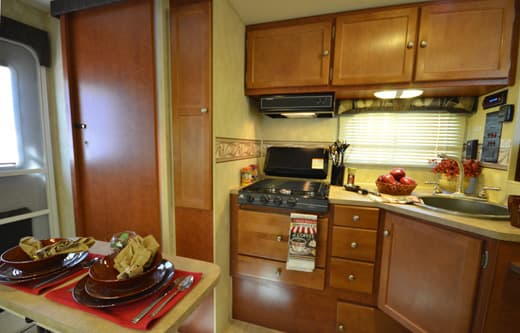 Above: The Command Center systems monitor is on the right side of the galley in the 2014 Wolf Creek 850
TCM: We personally know Arctic Fox truck camper owners who decided to buy an Arctic Fox partially because they wanted the Fox Landing.  Is the new Command Center systems monitor in the Wolf Creek line the same that's been announced for the Arctic Fox line?
Donald: Yes, the Wolf Creek Command Center is the same as what's featured in the Arctic Fox line.  The Command Center assembles on one panel, the battery monitor, tank level monitor, water pump switch, D.S.I. and hot water heater switch, and various light switches.  Customer feedback on the Command Center has been very positive.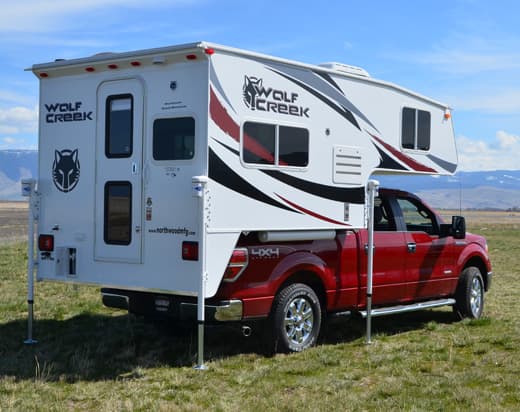 Above: The 2014 Wolf Creek 850
TCM: In your Wolf Creek brochure there a reference to "corona-treated fiberglass".  What is corona-treated fiberglass?
Donald: Corona-treatment is another level of quality control we have added to our lamination process to ensure the long-term strength and longevity of the lamination bond on all of our RV products.
Technically, corona-treatment prepares the surface of the fiberglass using low temperature corona discharge plasma that modifies the surface for improved and increased adhesion.
We have added corona-treatment to several existing layers of lamination quality control including the rigorous maintenance of humidity levels in our separate lamination building.  We take all levels of quality very seriously at Northwood.

Above: The new Northwood Manufacturing fabrics for 2014
TCM: Having seen your lamination and quality control teams in action, we can attest to that.  Are there any new Wolf Creek interior fabrics for 2014?
Donald: For 2014 we have all-new fabrics for Wolf Creek.  They are Shimmering Sands, Crystal Onyx, Early Autumn, and Flagstone Mosaic.  They share the same decors with our Arctic Fox campers.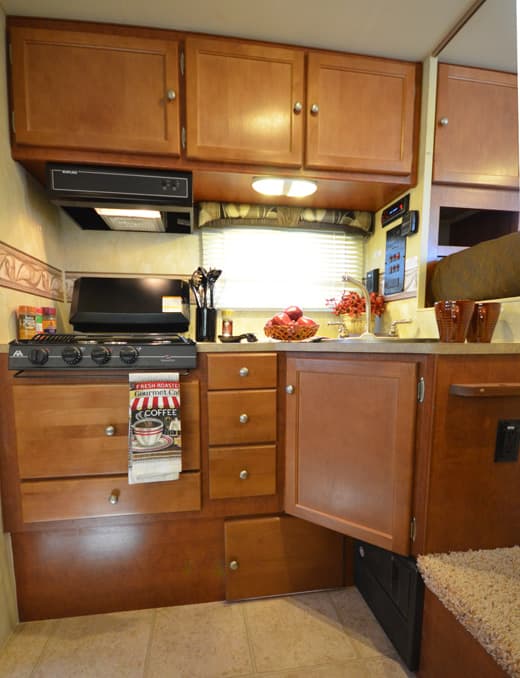 Above: 2014 Wolf Creek's interior cabinetry color; Gallery Wood
TCM: Any updates to the Wolf Creek carpeting, counter tops, and cabinetry for 2014?
Donald: The only change there is the elimination of the slider overhead cabinets in favor of cabinet doors.  We think the cabinet doors are more user friendly.
All Northwood products, including Wolf Creek, use the same interior cabinetry color; Gallery Wood.  It's a warm chocolate tone with a nice grain.  We use brushed nickel hardware and accents.