Second, dry baths in truck campers take up a lot of space.  If we had gone with a dry bath in the116DS, we would not have been able to feature a sofa or recliner theater seating.  This camper needed a sofa or it would not be as popular, and I think folks are really going to love the recliner theater seating.
Above: The rear kitchen slide and mini-peninsula in the 116DS
TCM: The mini-peninsula is another unique facet of the 116DS.  Where did that idea come from?
Greg: When we were designing this camper, we wanted as much floor space as possible, and room for a sofa.  That criteria led us to put the kitchen in the rear of the camper.
The idea for the peninsula came from our Eagle Cap 1165.  Having the mini-peninsula opened up the kitchen, gave the camper more storage, and made the kitchen more ergonomic to use.  Making it a smaller peninsula avoided taking up valuable floor space.  Another benefit of this floor plan is that you can get into the unit with all the slides in the in position.
Above: The 116DS side entry door open with the rear slide-out in
TCM: That's interesting because the floor plan doesn't look like you could get past the refrigerator with the rear slide in.
Greg: It doesn't look like you could get in from the floor plan.  I can confirm that you can indeed get into the camper and reach the bathroom with both slides in.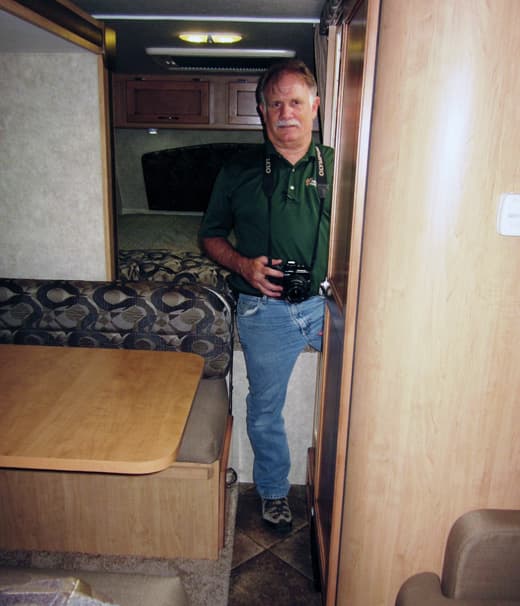 Above: Jim DeBord, National Sales Representative, shows how it's possible to reach the bathroom in the 116DS with the slide-outs in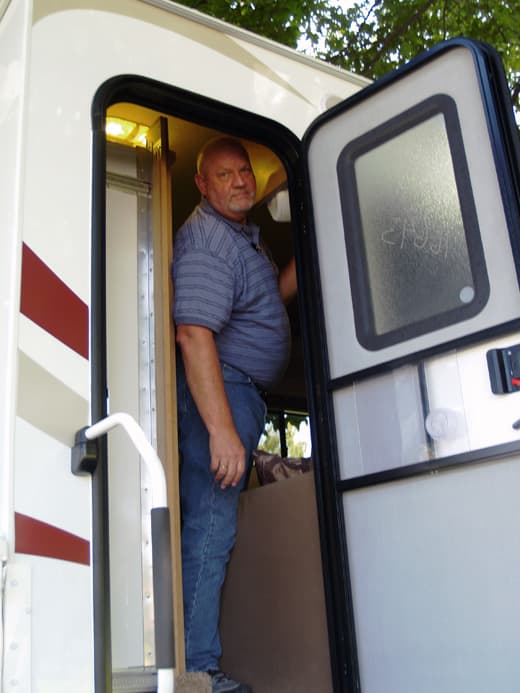 Above: Greg Tucknies squeezes past the sofa to enter the 2014 Adventurer 116DS with the rear slide-out in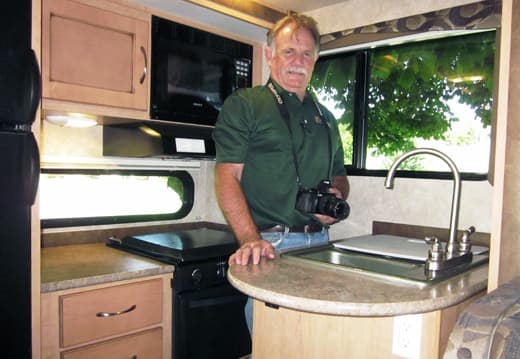 Above: Jim DeBord accesses the mini-peninsula with the rear slide-out in
In the picture you see that Jim can stand between the kitchen and the peninsula with the slides closed.  Even the refrigerator is accessible with the slides in.  There's a lot about this camper that you can't see in the floor plan.
TCM: Going down the road, with the refrigerator on the back wall, is there any concern about the refrigerator's pilot possibly blowing out?
Greg: There's a baffle enclosure around the pilot in the refrigerator, so that shouldn't be an issue.
Above: Assembling the above the rails basement in the 2014 Adventurer 116DS
TCM: Is the floor of the 116DS above the truck rails?