TCM: Please submit certified weight tickets for all of them as soon as possible.
Robby: Our next small Geo-Den installs in a few weeks, and I will get a weight slip on that one.  There are some medium ones coming up early Fall, but I don't see a large Geo-Den on the schedule until any time before December at this point.
TCM: Is there anything else that you would like to share about the new Geo-Den?

Robby: I feel like this is the direction that people want to go in for truck mounted sleeping units.  I'm also anticipating that this camper will be perfect when the first electric trucks become available.   This is the truck camper that you can use.  I'd love to see that in the future.  I want to be the company in tune with that movement.
Another important part of the Geo-Den is that it won't change the drive-ability of your vehicle at all.  You put it on and go.  We've come up with a universal shape that's going to look and work well with all trucks. It does not angle as much as any vehicle does, but it does emulate the shape and improves the aerodynamics.
I didn't want it to come out and be uncomfortable inside. You need a certain amount of size to do that.  Also you have to fit it to the size of a human being.  The Geo-Den is the minimum size to have comfort and convenience without compromising the vehicle's performance.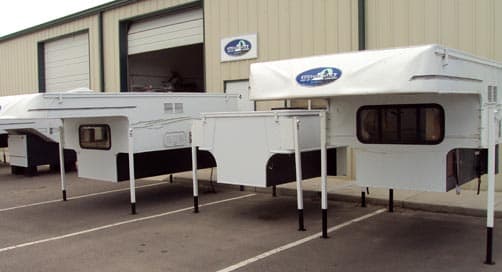 ABOVE: The Geo-Den at the Coyote RV factory

 TCM: How's Phoenix doing right now?
Robby: We're sold out through mid-August.
TCM: That's great news.  Let us know when you build the Geo-Den large.  We would like to see some pictures of that camper.
Robby: You'll be the first to get them.