TCM: It's one thing to have a vision, it's another to actually build it.  How did you make the Geo-Den more efficient?
Robby: The Geo-Den is very well insulated and has LED lighting throughout.  It also uses an extremely efficient and safe catalytic furnace that no one else in the RV industry is using.  The company who makes the furnace makes them specifically for the Geo-Den for the limited space we have available.
TCM: Interesting, but does it keep the camper warm?
Robby: Yes.  You will wake up warm and toasty with this new heater.
TCM: Where did the name "Geo-Den" come from?
Robby: The word "Geo" means Earth.  Coyote is our company name, and coyotes live in a "Den".  So Geo-Den is like an Earth friendly den.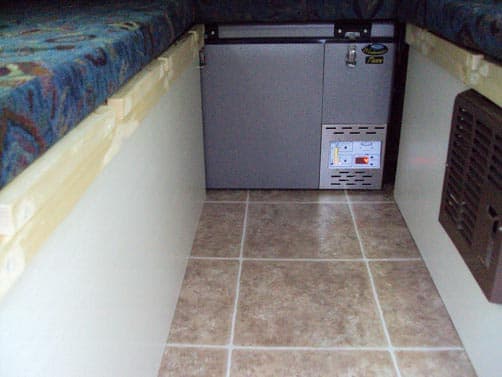 ABOVE: Interior floor of the Geo-Den
TCM: Got it.  Can someone get the Geo-Den with different floor plans?
Robby: The Geo-Den only works with one layout.  There's really no way to rearrange how everything fits.
TCM: But Phoenix Campers specializes in custom campers.  Can customers custom order anything for the Geo-Den?
Robby: Not much.  You can get a custom paint job or take amenities out.  For example, some customers will probably want a shell version of the Geo-Den, without any amenities inside.
TCM: What does the Geo-Den weigh?
Robby: Not much, again.  I was happy to weigh a fully appointed small version of the Geo-Den and it weighed 570 pounds dry.  That is one of the most of the exciting things about this camper.  You can set the Geo-Den on any truck and have it handle nicely.  Some people are hyper sensitive about camper weight and truck matching.  If you think your truck can't handle a truck camper, take a look at the Geo-Den.
TOP ROW: Medium Geo-Den on a short bed Chevy Colorado, MIDDLE ROW: Medium Geo-Den on a Chevy half-ton, BOTTOM ROW: Small Geo-Den with a Toyota Tacoma

TCM: You said the Geo-Den you weighed was a small version?
Robby: Yes, you can order the Geo-Den as a small, medium, or large.  The one that we photographed on the Ford Ranger short bed is the small Geo-Den.  The one on the short bed Chevy half-ton is the medium Geo-Den.  The large Geo-Den is for an eight foot bed and we don't have pictures of one yet.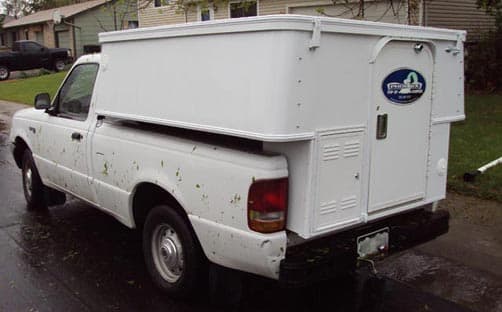 ABOVE: The small Geo-Den on the Ranger has a body that's seventy-five inches long.