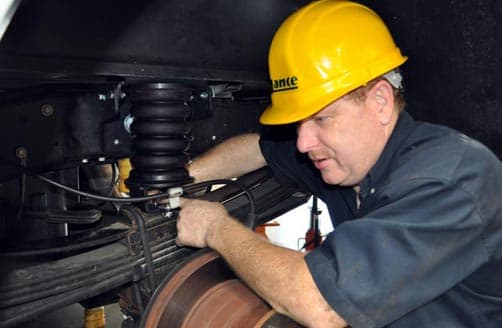 Mark used the front hole on the frame bracket and inserted the metal tab into the center hole and torqued the attaching nut to thirty foot pounds (see photo above).
Mark then secured the frame bracket to the side of the chassis frame with a 3/4-16 x 1 3/4" hex bolt, two 3/4" washers, one 3/4" lock washer, and one 3/4" hex nut which were loosely attached to the frame bracket.  He tightened the assembly to 270 foot pounds of torque.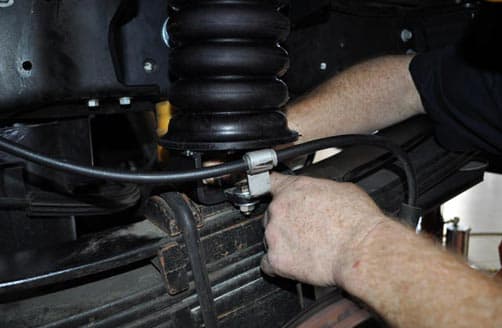 For the next step, Mark lowered the truck until the lower mounting blocks engaged the factory spring center bolt (see photo above).  Once the factory spring center bolt was engaged, Mark securely tightened the lower mounting block to the factory spring pack with a 12mm washer and 12mm stover nut.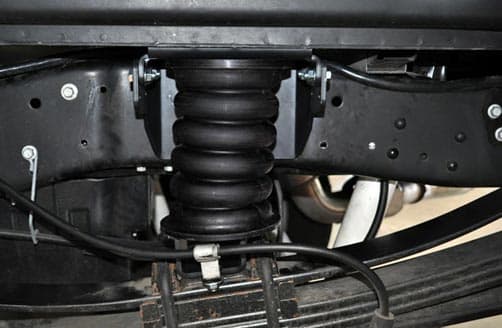 At this point, Mark attached the emergency brake cable bracket to the tab on the bottom mounting block with a 3/8"-16x 1" bolt, 3/8" washer, and 3/8" stover nut from the SumoSprings kit (see photo above).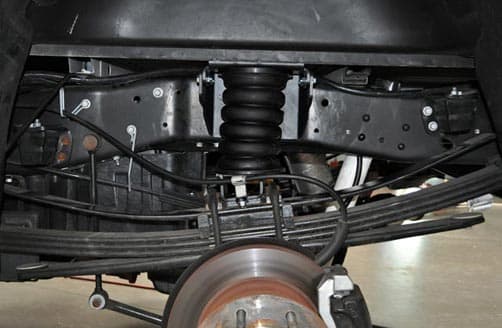 Mark completed the installation by reinstalling the rear wheels and lowering the truck to the ground.  With the SumoSprings installed, Mark also installed a set of Super SwayStops (see photo above and below).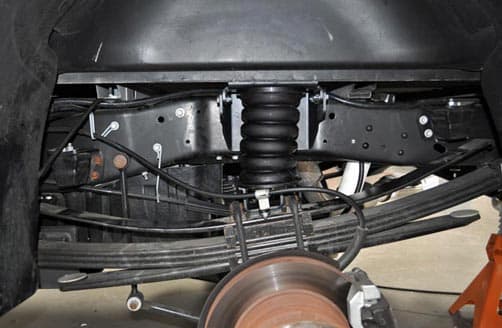 Gerry added that the last step in a SumoSpring installation or the installation of any SuperSprings product is filling out and mailing in your warranty card.
The whole installation took under an hour.  Mike stated that the installation would have taken about fifteen minutes less if the rear wheels had not been removed for photography.  With the SumoSprings installed, the F350 was about a half-inch taller at the rear wheels.
For more information about SuperSprings, visit their website at www.supersprings.com.