Truck Camper Magazine rolls out four all-new truck camper T-shirts with no-holds-barred camping design and attitude.  Wear these shirts and show your truck camping spirit!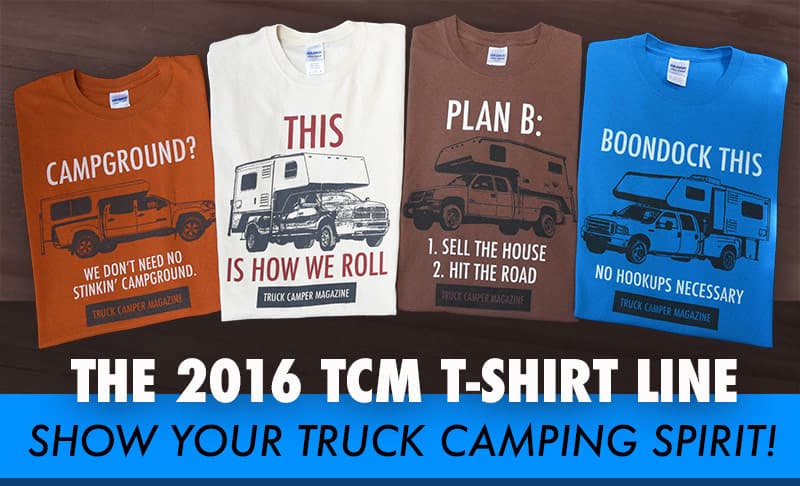 CLICK HERE TO ORDER A TCM T-SHIRT
Two years ago, Angela and I went to the Airstream factory in Ohio for a tour.  In the waiting area they had a small store full of fun T-shirts that celebrated the Airstream way of life.  Naturally we took notes and started dreaming up a line of truck camping T-shirts with serious truck camper attitude, energy, and spirit.
Fast forward about 20-months and I still had not gotten around to designing the T-shirts.  Finally Angela says, "If you don't design some truck camper T-shirts, we're going to the 2016 rallies naked!"  I thought about this for a minute, winced, and got to work.  We're not that kind of magazine.
T-Shirt Design and Development
During the development of our new T-shirt line, we experimented with dozens of shirt types, colors, and designs to get to exactly the right combination.  If Truck Camper Magazine was going to do T-shirts, they had to be fun, bold, and high-quality.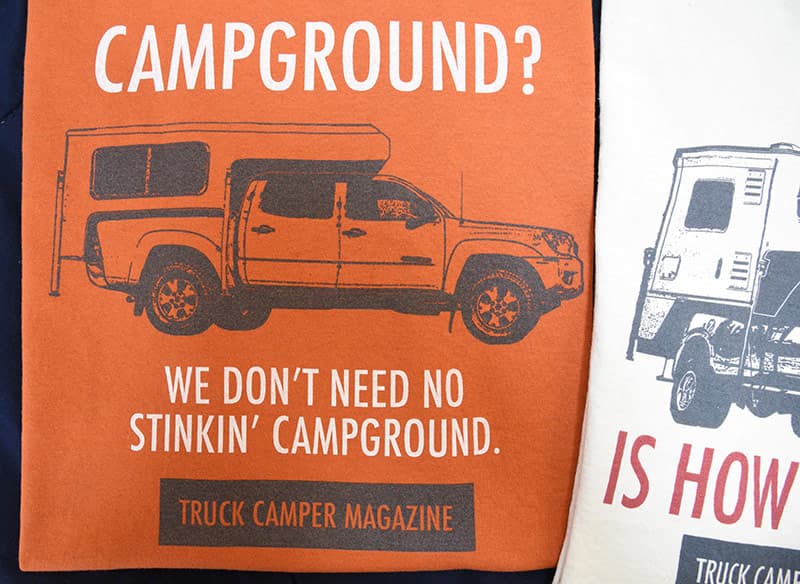 To properly test the quality of the T-shirts and printing, we washed and dried all of the shirts and designs multiple times and wore the shirts during actual truck camping conditions (pavement, off-road, boondocking, etc.).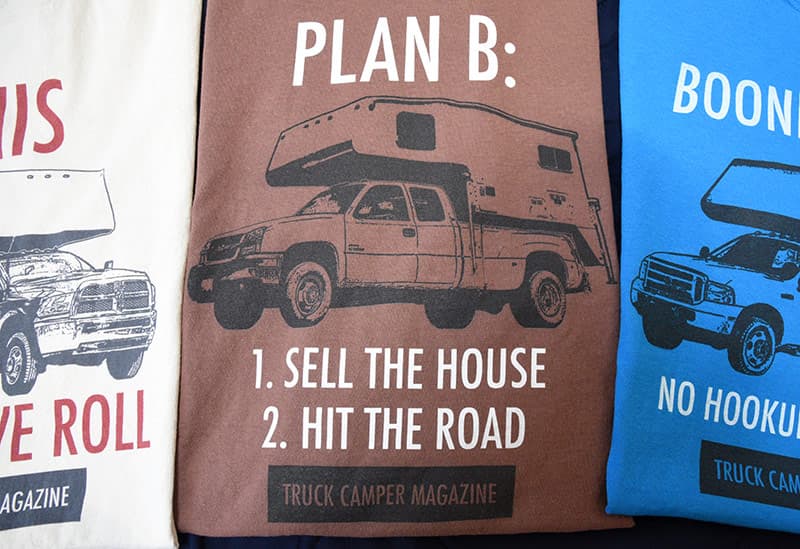 In all, the shirts were washed, dried, and worn dozens of times with minimal fade and wear.  The print and shirt quality is outstanding.  Even better, all of the T-shirts are printed in the USA, 100% cotton, and pre-shrunk to maintain your selected size.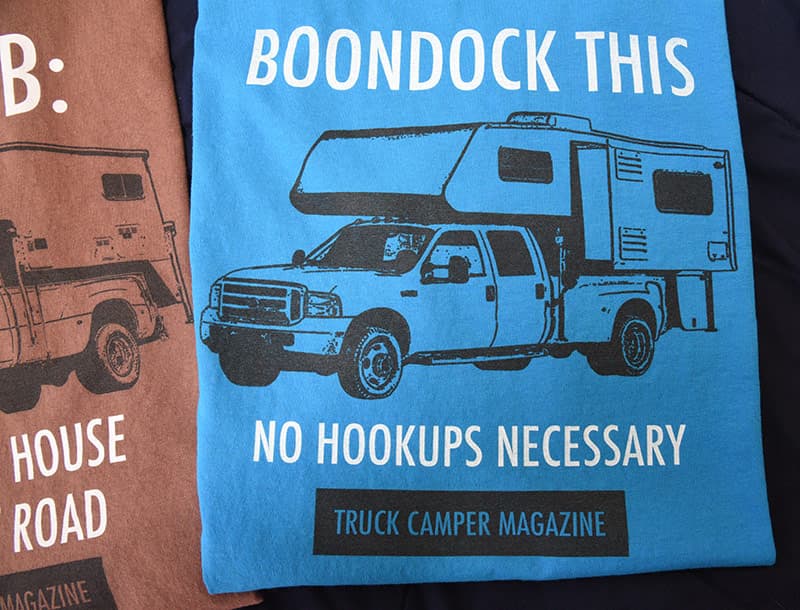 Once we were satisfied, we brought the final T-shirt prototypes to a half-dozen truck camper gatherings for feedback from fellow truck campers.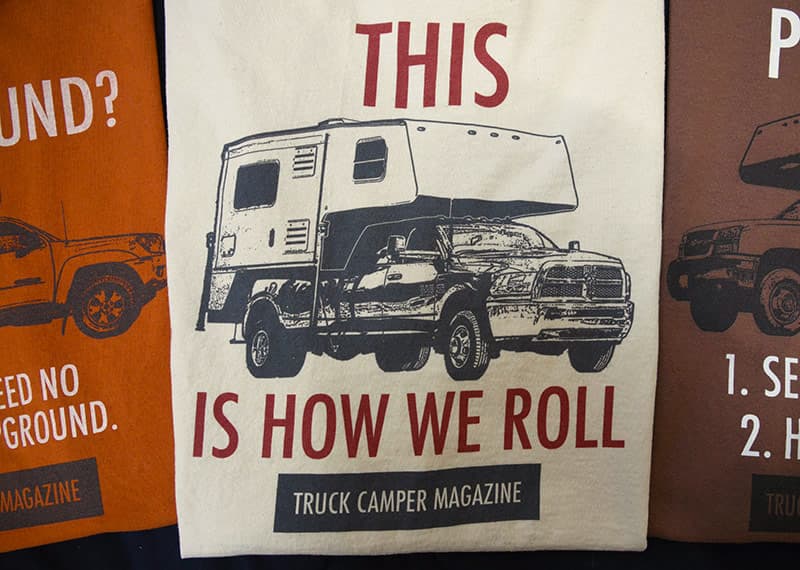 The response to the quality and concept was overwhelmingly positive.  Most of what we heard was, "That's awesome!" and, "I want that one!"
T-Shirts Printed By The Printful
Since we cannot go truck camping with a T-shirt printer, warehouse, and fulfillment center, we have selected The Printful as our premium on-demand T-shirt printer and distributor.  When you place your order, The Printful prints your shirt and ships it directly to you from their California headquarters.
We have used a similar on-demand print service, Lulu.com, for our annual Truck Camper Magazine calendars for almost a decade.  We have researched many on-demand T-shirt companies and selected The Printful for their state-of-the-art direct-to-garment print quality.
Every T-shirt pictured in this article was printed by The Printful and then washed and dried prior to photography.  The shirt and print quality is fantastic.
How To Order A T-Shirt
CLICK HERE TO ORDER A TCM T-SHIRT
To make sure ordering was fast, easy, and secure, we worked as hard on the T-shirt ordering system as we did the T-shirt designs.
To order a T-shirt, simply go to the Truck Camper Magazine T-shirt Store and click on a T-shirt design you want.  A new window will open prompting you to select a T-shirt size from a drop-down menu.  Once you have selected your preferred size, click "Buy Now".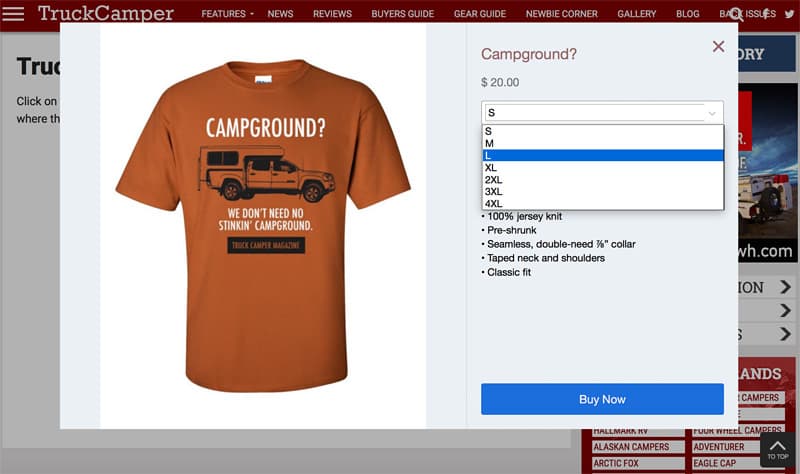 After you have clicked "Buy Now", a cart will open showing your selections.  You can then select other T-shirts from the Truck Camper Magazine T-shirt store, or proceed to Checkout in the lower right corner of the cart.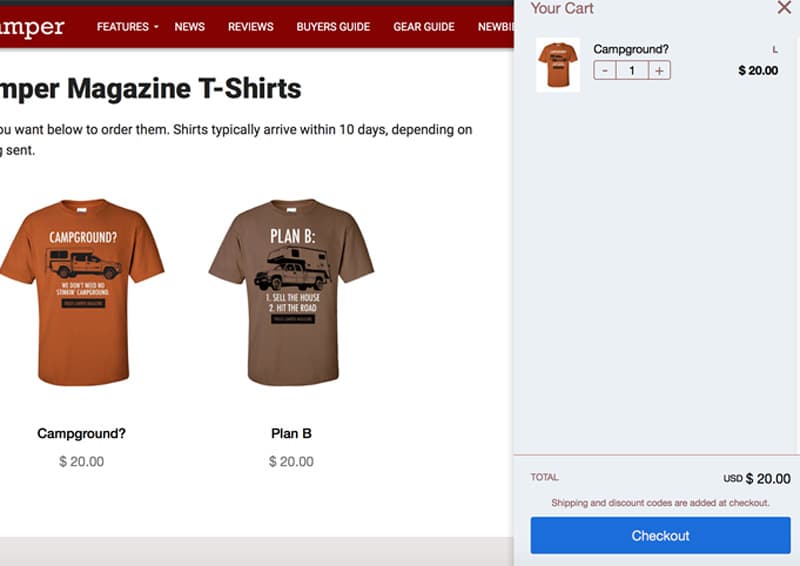 Note the plus and minus symbols top right.  To delete a shirt from your Cart, click on the minus (-) symbol.  To order more than one of a particular design, click the (+) symbol.  It's that easy.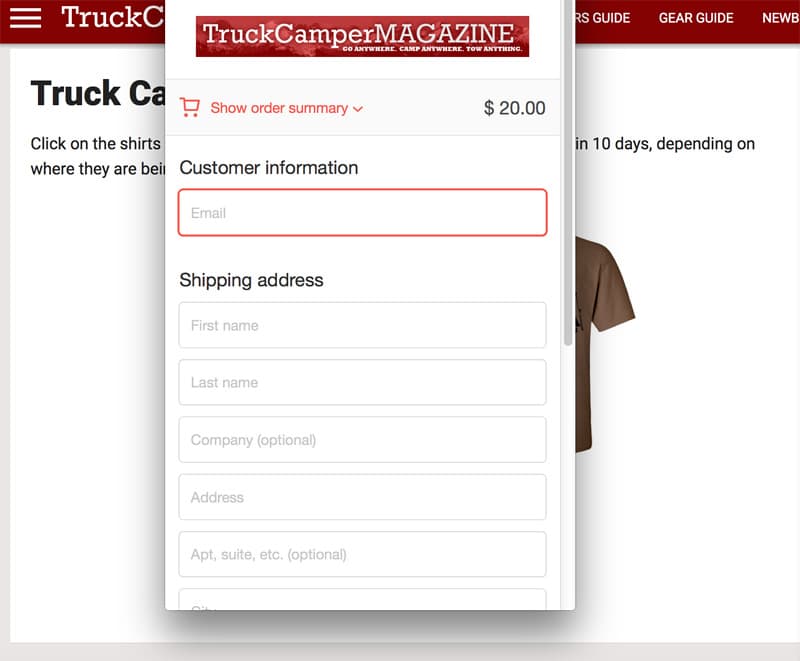 Shipping Information

USA shipping and handling is $5.00 (USPS) for the first T-shirt and $0.75 cents for each additional T-shirt.  United States orders are shipped within 3-5 days and arrive in the within 7-10 days after printing.
Canada shipping and handling is $8.00 USD for the first T-shirt and $1.00 for each additional T-shirt.  Canadian orders will ship within 3-5 days, and will take 10 days to 2 weeks for delivery.  Tracking is not available for Canadian orders.
Worldwide shipping and handling is $10.00 USD for the first T-shirt and $1.00 for each additional T-shirt.  Worldwide orders will ship within 3-5 days, and will take 10 days to 3 weeks for delivery.  Tracking is not available for Worldwide orders.
Shipments outside of the USA may incur customs fees, depending on destination country.  The fee may vary depending on your order value, country limits, and other factors.  You are responsible for these fees.
T-Shirt Return Policy
If you receive a misprinted, damaged, or defective T-shirt, please submit your claim to us within 30 days after the product has arrived.  This does not apply to T-shirt size or color.
If your package is lost in transit, please submit your claim within 30 days of the estimated delivery date.  Past 30 days, there are no refunds or exchanges available.
Size Tip: Truck Camper Magazine T-shirts are printed on Gildan Ultra Cotton T-shirts, a very popular T-shirt brand and type.  Chances are you have a Gildan Ultra Cotton T-shirt in your collection.  If so, you can use one of your own T-shirts to check size.  All shirts are unisex.
Claims and returns should be directed to Angela at Truck Camper Magazine.  She will help in making sure that Printful gets your message and things are straightened out:
You can email her at [email protected]
Recommended Washing Instructions
Proper washing is one of the most important things that you can do to keep your new T-shirt looking its best.  To get the best possible wear out of your T-shirt, wash it inside out on a delicate cycle.  Use a safe, non-harsh laundry detergent.  Do not bleach and do not wash whites with colors.  Washing in cooler water and drying on low heat is also recommended.

More To Come
We are extremely excited about the new T-shirt line.  If all goes well, we will be releasing more T-shirt designs in the near future.  Angela and I are already wearing them wherever we go, and love showing our truck camper spirit.  It's about time.