Rex: Right now there are Liberties at Five Star in Denver, at Truck Camper Warehouse in New Hampshire, S.C.A.T.T. Recreation in Sacramento, as well as our dealer in Edmonton.  In late February they'll be in Wisconsin.  Lots of our dealers have them on order.  I don't think we've been this busy at this time any time in our history.
TCM: Will there be a revised Liberty at the Springfield RV Show in February?
Rex: Yes, there will be a Liberty, American Hero, and an Igloo with the new flat roof.  The flat roof makes the camper interior appear larger.  We're going to have at least eight campers in the Springfield show.  All of the campers will be really fresh.  I'm excited about that!
The Liberty will be going to the Denver, Colorado RV shows in January and March.  It will also be at the RV Show in Edmonton.  Northstar will be in some of the major RV shows, but you're not going to see us in every little nook and cranny show.  We'll make sure all the RV shows Northstar is attending are listed in Truck Camper Magazine's RV Shows & Rallies page.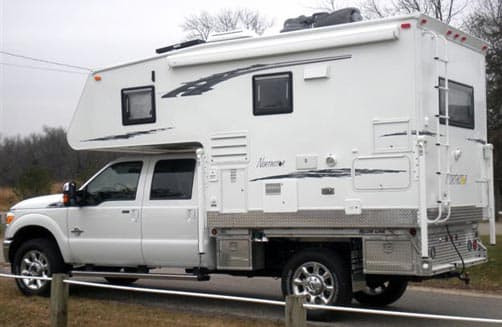 Above: The Northstar American Hero
TCM: How are things going with your latest camper, the American Hero?
Rex: People like it.  We have built enough to where we feel we have the model completely tweaked out.  It has excellent storage and placement of equipment.  We have some American Hero campers being built on the line right now.
We can also build flat bed pop-up truck campers.  I noticed in your 2012 TCM Ultimate Camper Survey that some people are interested in flat bed pop-up campers.  While I'm not yet ready to put flat bed pop-up campers on our website, if people are interested in them, call me and we'll make it happen.
TCM: What should we be looking forward to from Northstar in 2012?
Rex: I'll have a couple small, little things at the Springfield, Massachusetts RV Show that we are thinking about incorporating across the line.  They are ideas from our customers.  Right now I'd rather not say what they are, but they make sense and are quite practical.  You'll have to come out and see.
The new doors, countertops, and table material is made just forty miles from us by the company that does Winnebago's doors, countertops, and table materials.  Since we are located in Iowa, we can take full advantage of what this company has to offer.  They have a new factory and the sky is the limit for making new items for us to try.
TCM: Is there anything else that you'd like to add to your interview about the Liberty?
Rex: The biggest challenge we face in the next year will be the interiors of our bathrooms.  We're working on some exciting changes now.
We're very excited about the new Liberty.  We're still making some small tweaks and changes, but that's true of the rest of our camper line as well.  We always make small changes and tweaks to improve our products.  Northstar will keep doing what we're doing, and doing it well.