Bill Penney was also a big part of the Liberty.  He was instrumental keeping me on track.  He'd say, "No you don't need that" or "don't forget this" or "that's fine" or "I can live with that".  I'd call back with measurements or ideas.  We get abstract viewpoints and let them percolate for two to three days.  In the meantime we talk to guys on our production line and look at the code books.  That's how the birth of the Liberty came about.
Above: Interior details of the Northstar Liberty

TCM: Tell us about the process of designing this camper.
Rex: Northstar's goal is for our campers to be four things; durable, warm, functional, and practical.  First and foremost those things have to be in every camper we build.
I think the Liberty model started off as a small basement model where we were walking around above the wheel wells of the truck.  At first, we were going to put a big grey and fresh water tank inside the floor.
Rory and I talked and studied some of the basement model campers that we like in the market place.  We didn't want to increase overall height and the center of gravity.  Taller height is taller center of gravity, which increases wind weight.  So we wound up eliminating the basement.
We also decided that it was essential that the front pop-out window lined up with the truck window so a pet or pets can go back and forth between the camper and the truck.  Many truck camper owners have pets, so this was important to us.
Another goal in designing this camper was staying low profile.  The Liberty needed to be compatible to the Ford F-150 and other similar half ton trucks.
We were thinking of putting the refrigerator in the overcab, but that too, would increase the overall height.  In Northstar truck campers, we have innerspring mattresses that are 6.5 inches thick.  I don't want foam that's only four inches thick because I want people to sleep comfortably.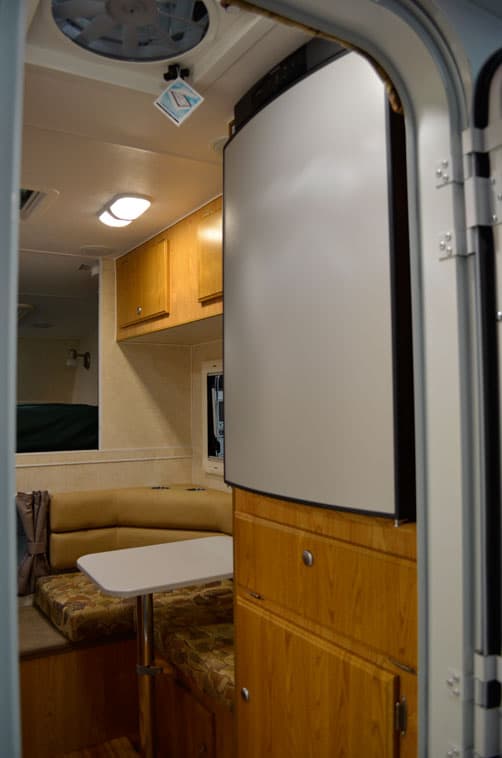 If you put a refrigerator in the overcab, the door has to swing over the mattress.  Well, once your bedding is on, it would be difficult unless we put the refrigerator higher and that would make the camper higher, which would make the center of gravity go up.  Mounted on a truck, the Liberty would have looked like a monkey on a football with the overall height.
As we built it, the center of gravity on the Liberty is only twenty-four inches from the front of the floor.
When planning this camper, Bill Penney, owner of Truck Camper Warehouse, told me that we had to take our 8.5 models and shorten them up.  He said that would make the perfect little camper.  That percolated with me for a few days and, a few chicken scratches and measurements later, Bill's camper idea made great sense.  Instead of creating everything fresh, we were able to shorten our 8.5 Arrow that we've been building for thirty years.  We've got it down.
There's a lot to be said for using a design we know inside and out.  For example, if a customer calls and says, "My back left camper jack doesn't work.  Can you help me?"  We know to say, "Take the drawer off near the furnace and look back at the rear wall.  You'll see the jack controller there.  Pull the cover off and you'll find the fuse for the rear left jack is blown.  Replace it and you're good to go."
Our familiarity with our products helps us service our customers better.  It also helps us to build better campers.  We don't want to introduce a new camper every year because we would quickly lose our familiarity with the product and the skill of servicing the customer.  This is the kind of thinking that goes into everything we do at Northstar.
TCM: What trucks did you have in mind for the Liberty?
Rex: I think the Liberties will go over quite well with the Ford Eco-Boost.  It has a strong payload on it.  The three-quarter tons will be nice for horse people or towing.
When our dealers put together truck camper packages they look at each individual truck.  They make sure they have air bags, correct tires, and watch what equipment is going into each camper to keep the overall weight down.  The biggest thing that needs to be stated is that it doesn't matter what half ton truck you own; with a truck camper, you're overloaded.  Do the math.
We have to methodically work with the customer.  All of our dealers are skilled.  Northstar dealers are wonderful and we make sure that they have the same philosophy that we do.  We are not going to hoodwink anyone.  Anyway, our buying customer won't be hoodwinked.
TCM: Were any Northstar models discontinued when you debuted the Liberty?