Another nice feature of the Adventurer 86FB are the solar reflective windows, an Adventurer trademark.  Solar reflective windows will reflect a high percent of UV radiation to keep the interior cooler and provides more privacy.  Thermal pane solar reflective windows are an option.
In the cabover area, there's a sliding double-door wardrobe which has tons of storage.  Like your 90FWS now, the 86FB features a Dream Dinette set up that eliminates the center post or outside table leg that takes away legroom.  It's also easier to make into a sleeping area since the table simply glides down a track attached to the sidewall and into position.  The dinette is angled to allow for a wider walking area between the galley and dinette area and the bedroom and bath area in the camper.  In the mid-section near the cabover there's an overhead skylight that opens up the area and gives a lot of natural light.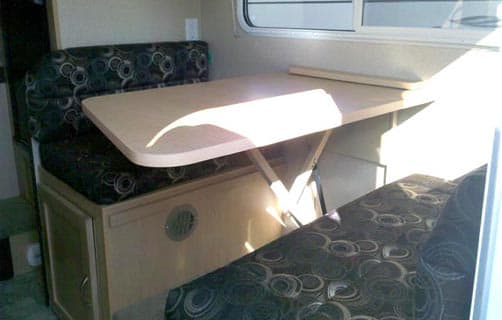 TCM: The Dream Dinette is really nice and it's popping up in more and more camper models.  What is the reported dry weight for the 86FB?
Burk: 2,312 pounds is the base dry weight.
TCM: What is the MSRP for the 86FB?
Burk: $18,830 without freight and including standard features, which is very competitive with travel trailers.
TCM: Is there anything we didn't ask that you want included?  Maybe you have another update on Eagle Cap?
Burk: As for Eagle Cap it is now in production and the first units, Eagle Cap 850s, are coming off-line this next week.  Stay tuned for the debut exclusive of the "New Eagle Cap" truck campers!
And one last note, with a heavy heart, I want to let you know that Friday, April first was my last day at Adventurer LP.  My full-time attention is now required in a business venture in which I am involved here in my adopted hometown of Yakima, Washington.  I have joined with a partner in an auto care services company.
Although I will no longer be directly connected to the RV Industry on a daily basis, I will remain forever connected and interested in what's going on in this dynamic industry that I have been a part of for many years.  Through my tenure at companies in both the wholesale and retail sides of the RV business, I have been extremely fortunate to have worked with many great mentors and professionals that have become great lifelong friends.  To all, thank you!
I am indebted to the team at Adventurer LP for providing a positive and supportive work environment.  The team here is one of the best, and will continue to innovate and provide recreational vehicles central to the success of our dealer partners and of great value to the consumer.
Greg Tucknies will now be the contact for all sales and marketing related issues.  Most of you know Greg.  He has been involved in the RV Industry at both the retail and wholesale levels for many years and joined our team at the end of 2010.  He is a very welcome addition, has a great passion for success, and will do what it takes to help the team at Adventurer and Eagle Cap attain their sales goals with new and innovative products in the future.
TCM: We'll certainly miss working with you Burk.  And good luck in your new venture!  We have already begun working with Greg and look forward to debuting the new Eagle Cap 850.  Thank you Burk!
Burk: You're welcome.  And I'll keep in touch.