TCM: It certainly is.  How did that work out?
Dave: It went seamless.  It's more beneficial to build prototypes when you're developing a new line.  When you have an existing line, you shouldn't have to build prototypes if you've done your engineering right.
The 980RDS is a nice camper.  It has a lot of storage that the 93FDS didn't have and a lot of counter space.  We think it will be a strong selling camper for us.
TCM: Is the 980RDS an aluminum or wood framed camper?
Burk: It's tubular aluminum frame with wood core in certain areas for additional strength.  There is also strip steel laminated into the structure for additional attachment points.
TCM: Tell us about the Service Center on the 980RDS.

Burk: When you look at most truck campers, you have multiple doors on the exterior.  More holes on the exterior means less structural integrity and more seals to maintain.
In our Service Center, there is a permanently attached power cord that retracts and extends from its own storage compartment, an outside shower, black water tank flush, city water connection, fresh tank fill, and small multiple utility ports all in one location. The Service Center is on the driver's side in an area that is easy to get to.
We even created a sealed opening in the bottom of the service center where you can pull the fresh water hose, power cord, and park cable connection line through so it's actually coming out of the bottom of the wing of the camper extending out over the top of the truck bed rail.  It's very convenient and eliminates cords, hoses, etc. from protruding away from the camper sidewall, which creates a clean exterior look and is better insulated.
TCM: Is that something that you brought over from your years of building high-end Class A motorhomes with Western RV?
Burk: Yes.  We used to have a similar style of service center on our Alpine Coach and Alpenlite fifth wheels.
TCM: What is the reported dry weight for the 980RDS?

Burk: 3,258 pounds dry without options.
TCM: Was that weight a target that you hit, or does the camper weigh what it weighs?

Burk: We targeted to hit in the low 3,000 pound range.  We knew that from past experience building floor plans in this size category.  We thought it would be about 3,300 pounds.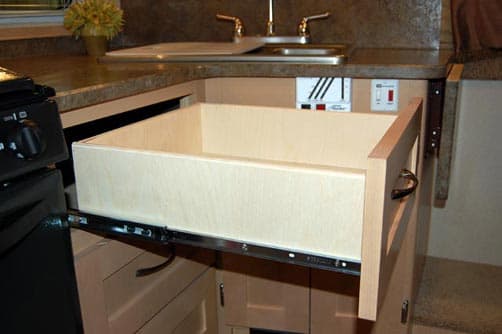 TCM: The floorplan for the 980RDS is very similar to other campers in the marketplace.  What sets the 980RDS apart?
Burk: It is a very popular floor plan in our industry.  What our 980RDS offers is lower weight, more standard features, a lower price, and some unique features such as the new Service Center.  We also have lots of storage on the exterior, a fiberglass front cap, and solar reflective thermal pane windows.
Above Right: Also added for 2011 in all Adventurer campers; the gas prop door holder
On the interior, we have solid maple cabinet doors and drawer fronts.  There is no particle board or OSB (orientated strand board) in the camper.  The drawers have full extension ball bearing roller guides.  The wet bath has a full fiberglass shower stall and full skylight roof.  The 980RDS slide-out is very deep and will accommodate four full-size adults.  It features a Dream Dinette table suspended off the sidewall that eliminates a traditional table post and gives you much more legroom.
TCM: Is the 980RDS and its new features a sign of what's to come from Adventurer?
Burk: The 980RDS is a partial redesign focused on added storage and convenience of use.  Some things from the 980RDS will be incorporated into future campers.