Above: This is the retainer plate Hellwig includes with the springs.  The retainer plate prevents the leaves from splaying out and provides the mounting point for the factory emergency brake cable.
TCM: Is the Hellwig Tacoma Spring Pack completely made on site at Hellwig in Visalia, California?
Melanie: Yes, the springs are manufactured here at Hellwig Products in California.  We have several steel mills in the United States that we use.  Most of our steel comes from the Chicago area.
TCM: What trucks will the Hellwig Tacoma Spring Pack fit?
Melanie: The Tacoma Spring Pack fits the 2007- 2012 Toyota Tacomas.  For now, it is just a Tacoma product and it just fits those years of trucks.
TCM: Will it fit the 2013 Tacoma?
Melanie: It may fit the 2013s, if they have the same design.  We are looking into that now.
TCM: Will the Hellwig Tacoma Spring Pack work with campers and applications other than with Four Wheel Campers?
Melanie: Yes, the Hellwig Tacoma Spring Pack will help Tacoma owners who use their vehicle with heavy loads.  Anyone who tows or hauls with a Tacoma would also benefit from the Hellwig Tacoma Spring Pack.  The primary benefits include improved performance while towing, steering, and stopping.  The Hellwig Tacoma Spring Pack also levels your truck so your headlights are pointed in the right direction.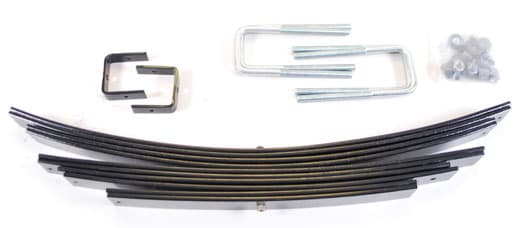 Above: This picture shows all the pieces of the kit.  It also highlights the three different progressive stages in the leaves.  As the vehicle sags, more and more leaves are picked up to increase the stiffness.
TCM: Hellwig Products has a lifetime warranty on their springs.  If in the unlikely chance that there is a warranty claim, how is it handled by Hellwig?
Melanie: Kevin Parriera is our full time tech support.  Contact him and explain your situation and he will help you.  It's quite difficult to damage one of our spring products.  Most of the phone calls to Kevin relate to improper installations.  If a leaf does fail, we would send out a replacement for the leaf that failed.  We will take care of it.
We are very excited about the Hellwig Tacoma Spring Pack and want to thank Tom Hanagan and Four Wheel Campers for bringing the need to our attention and working with us to make it a reality.  Tom continues to give us wonderful feedback and we really appreciate that he gets out there and really uses his products.  We admire his passion and dedication to Four Wheel Campers and look forward to future collaborations.
Four Wheel Campers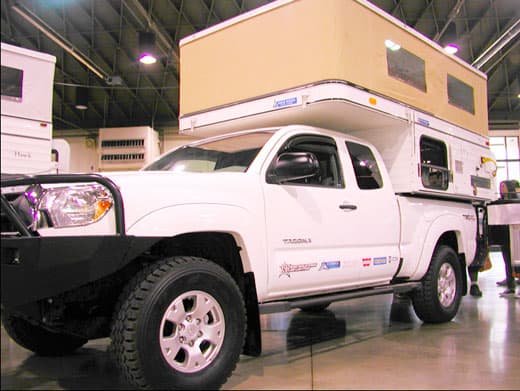 Above: Four Wheel Camper's show rig with Hellwig's Tacoma Spring Pack installed
TCM: Tell us where the initial concept for the Hellwig Tacoma Spring Pack came from.
Tom: The concept for a Tacoma spring system got started after we bought a Toyota Tacoma for a company truck.  We outfitted the new truck to be a true overland vehicle complete with Aluminess bumpers, Warn winch, Icon shocks, DeMello sliders, and Toyo tires.