TCM: You can combine Coosa with wood and/or aluminum?
Matt: Yes.  The ability of Coosa to be combined with wood or aluminum is a very important advantage of Coosa.  For the Coosa Cuchara we built, the important structural elements of the camper were Coosa, but the interior was a beautiful natural wood. We believe most customers who opt for Coosa will order campers with this Coosa-wood hybrid approach.
TCM: You mentioned earlier that Hallmark still prefers wood framing.  Now that you offer aluminum and Coosa framing, why does Hallmark prefer wood framing?
Matt: We are strong believers in the benefits of wood and have customers with decades old wood framed Hallmarks still going strong.  TCM recently ran a story with Calendar Contest winner Jim McCoy.  His Hallmark LaVeta is twenty-two years old.  That's not unusual.  If you take care of it, a wood frame Hallmark will last for decades.
Coosa is an excellent option for anyone who either prefers to not use wood, or will be storing or using their camper in environments that are not appropriate for wood. For example, if you regularly use or store the camper near the ocean, or the often damp climate of the Northwest, it would be better to use Coosa for the floor and frame.  Salt water in the air and constant dampness are not good for some wood products.
Some folks also need to avoid wood because of wood eating ants and other insects.  For those customers, Coosa is highly recommended.  For those customers who want an aluminum framed camper, aluminum is also available.  Our goal is to offer the best options based on where our customers live in the world; wood, aluminum, or Coosa.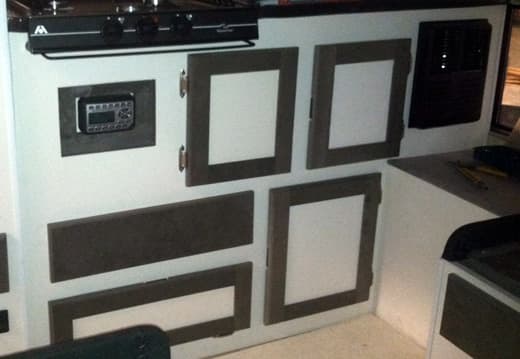 TCM: In the pictures of the 100% Coosa Milner, the color of the Coosa appears to be battleship grey.  Can you get Coosa in different colors or finishes?
Matt: The 100% Coosa Milner is really a demonstration camper for Hallmark. With this demonstration camper, we wanted to prove to ourselves that Coosa is a viable material. We expect most customers will want a hybrid camper with a Coosa structure, and natural wood cabinets and drawers. We offer our customers the options, and they choose how they want their camper built.
TCM: Coosa comes in several types.  What type of Coosa are you using?
Matt: We use Bluewater 26, Coosa's strongest product. We order Coosa directly from the manufacturer in Alabama. We're very excited that it's made in the USA, just like Hallmark. Depending on the build, we use different size panels from half inch all the way up to one and a half inches.
TCM: Are you considering using other types of Coosa or other composites in the future?
Matt: For now, our big focus is using Coosa for the floors, sidewalls, drawers, and cabinets. For the 100% Coosa camper, we even used Coosa for the roof structure. Anywhere there is wood or aluminum in a camper, Coosa can be used.
TCM: Is Coosa available for any Hallmark camper?  For example, can I order a K2 Coosa, or a LaVeta Coosa?
Matt: Yes.  Every Hallmark model is now available as a Coosa model.
Above: The overhead cabinets feature LED lighting

TCM: What is the cost difference?
Matt: Coosa is an expensive product, especially compared to any wood it replaces. Coosa also takes us more time to work with, which also adds to the cost.  To put this in perspective, a 4x8x3/4 wood panel costs $22.50.  The same size panel in Coosa costs $170.00.  It's a significant difference and the main reason why the Coosa models cost more.
A Coosa floor, frame, and walls adds $4,000 to any Hallmark model.  That Coosa camper will have wood interior cabinetry and is what we expect most Coosa customers will order.  We can do a Coosa camper with 100% Coosa like the Milner in the photographs.  Any level of Coosa can be built on a case by base basis. For example, if you only want a Coosa floor, we can do that.
Above: A nearly finished (top) and a finished Coosa camper (bottom)