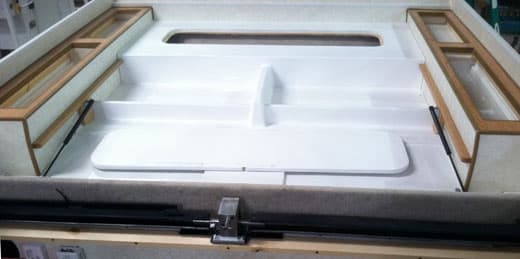 Above photos: The North-South configuration gives you more storage in the overcab
TCM: Why is Hallmark debuting a North-South cabover option?
Matt: There are many advantages to a North-South cabover including more storage, more room, and not having to climb over your spouse to get out of bed.  Our composite sidewalls make this the strongest North-South pop-up truck camper available.
Of course there are some disadvantages to a North-South cabover compared to our traditional East-West design.  A North-South cabover is not as strong as the design places more stress on the fulcrum point of the cabover.  A North-South cabover also adds more weight and mass to the camper.
TCM: So you will continue to offer both East-West and North-South cabovers?
Matt: Yes.  North-South will be a paid option.  East-West will continue to be our standard build.
TCM: Speaking of options, can you order a North-South cabover with wood, aluminum, or Coosa composite framing material?
Matt: Yes, but it's important to point out that the molded exterior fiberglass walls are what gives our campers their strength.  The material behind those molded panels, whether it be wood, aluminum, or Coosa, is primarily for interior features and cabinetry.
With the molded composite structure we use now, the wall is pre-formed and has an inner core material.  This means the only possible failure would be a complete break.  Since our molded walls are about four times stronger than a vacuum laminated wall, chances for failure are slim to none.
Above: Some unique custom Hallmark interiors from 2013.
TCM: We hear that Hallmark is attending the Overland Expo from May 17 – 19th, 2013.
Matt: Yes, we are.  We will have aluminum, wood, and coosa inner walls at the Expo for you to see as well as a North-South cabover configuration.  So, please come out and see us at the show.
The Evolution of Hallmark
Hallmark RV does not announce a big list of updates to their campers every year.  Design and material updates happen at Hallmark when they are ready, and are often subtle and evolutionary.
When this article was coming together, we were discussing these changes and how they were adding up.  Our thought was, had Hallmark debuted all of these changes as once, they would have made quite an impact.  Instead, the changes came slowly, over time, with little fanfare.
So what would happen if these updates were presented rapid-fire as if Hallmark did indeed debut them all at once?  That would also present the new North-South cabover in its proper context; as the most recent evolution of Hallmark.  Let's do it.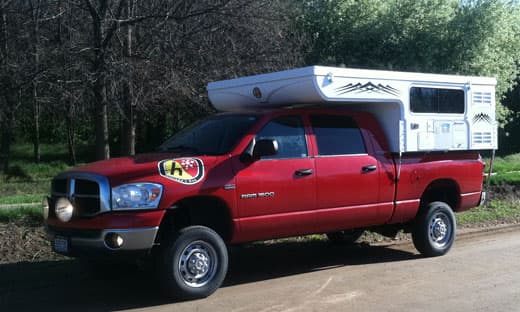 Something happened a few years ago that began to change the game at Hallmark.  They started to challenge their materials starting with molded fiberglass panels for their camper exteriors.