Every truck camper make, model, specification and MSRP has been updated for 2022.  Weights, capacities and MSRPs have all been adjusted for the new model year.  Looking for a new truck camper or gear?  Start here.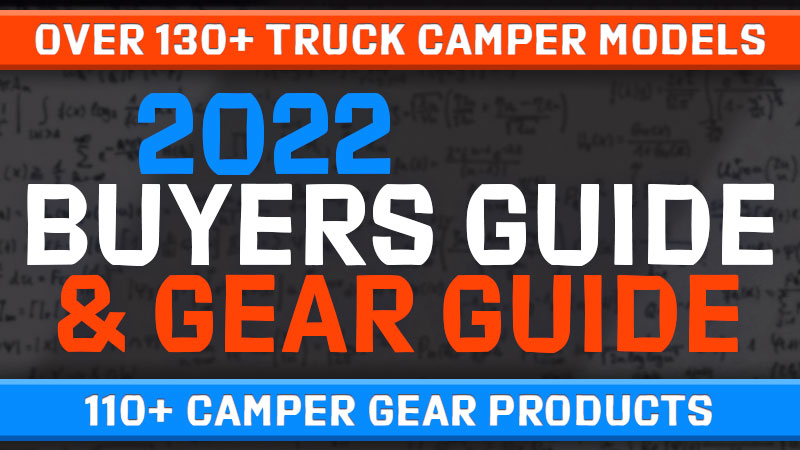 CLICK HERE FOR THE 2022 TRUCK CAMPER BUYERS GUIDE
CLICK HERE FOR THE 2021 TRUCK CAMPER GEAR GUIDE
Over the past two months, we have coordinated with truck camper manufacturers and gear companies to update and create the 2022 TCM Buyers Guide and 2022 TCM Gear Guide.  Brand by brand, model by model, and capacity by capacity, the specifications, details, and MSRPs have been updated and verified by the companies themselves.
Obvious as it may seem, the fact that we have a current truck camper buyers guide and gear guide is the direct result of not having one when we first started researching truck campers.  Way back in 2004, Angela and I had piles of brochures and a wild-west of websites and internet forums to help us make a camper choice.  I distinctly remember thinking, "Why isn't there one place for all this information?"  And that, my fellow truck campers, was the spark of the humble electrons before you.
More Essential Truck Camper Research
If you're researching a truck and camper purchase, start with, The Best Truck Camper, Picking The Perfect Truck Camper, and then How To Match A Truck and Camper.  Then use the Buyers Guide, Camper Chooser, and Reviews to make your choices.
If you're buying a used camper, don't miss 6 Tips For Buying Used Campers and How To Inspect A Used Camper.  Both are essential reading for a used camper purchase.