Out with the old and updated to new, the 2021 Truck Camper Buyers Guide and Gear Guide is ready.  Every make and model has been verified directly by the manufacturers and represents the current specifications and capacities.  Looking for a new truck camper or gear?  Start here.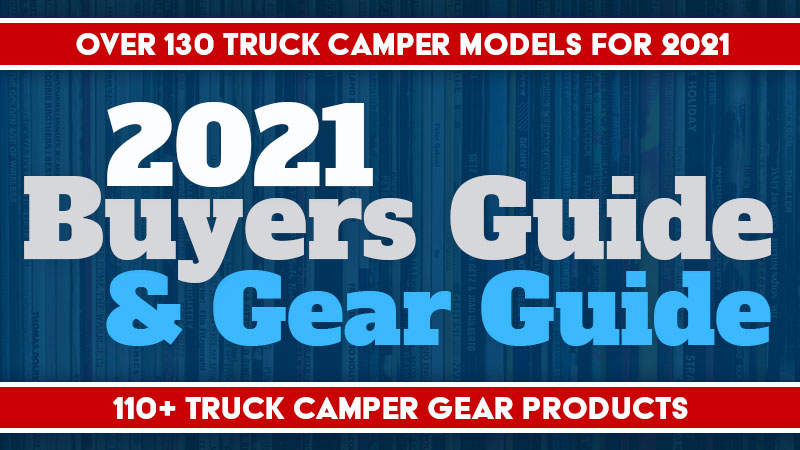 CLICK HERE FOR THE 2021 TRUCK CAMPER BUYERS GUIDE
CLICK HERE FOR THE 2021 TRUCK CAMPER GEAR GUIDE
It's amazing – and a bit scary – how much data we can see in Google Analytics.  For example, since we launched the Truck Camper Buyers Guide in March of 2010, the section has enjoyed over 5.7-million pageviews.  Five-point-seven-million!
On average, folks spent 1 minute and 35 seconds on each Buyers Guide page.  With a little math, that comes out to 17.1-years of precious human existence researching truck campers on TCM.  That's insane!  And really cool.
So why are so many people spending so much time on the Buyers Guide?  It's simple.  No really, it's simple.  Searching and finding information on our Buyers Guide is the fastest and easiest way to research truck campers on earth.  Until you enter The Matrix, this is it.
Over the past month, we have worked with the manufacturers to meticulously update the 2021 Truck Camper Buyers Guide and Gear Guide.  Every truck camper and gear make, model, specification, and capacity has been checked and verified by the design and leadership teams.
More Essential Truck Camper Research
If you're researching a truck and camper purchase, start with, The Best Truck Camper, Picking The Perfect Truck Camper, and then How To Match A Truck and Camper.  Then use the Buyers Guide, Camper Chooser, and Reviews to make your choices.
If you're buying a used camper, don't miss 6 Tips For Buying Used Campers and How To Inspect A Used Camper.  Both are essential reading for a used camper purchase.