TCM: Many of the 2017 Wolf Creek interior updates are identical to the 2017 Arctic Fox updates.  For readers who aren't familiar the differences between these two Northwood truck camper lines, how would you distinguish the two brands?
Donald: It's not in the feature content.  We are making the difference in the construction.  The Arctic Fox line has thicker sidewalls with more insulation.  It's the difference between Chevy and Cadillac.  Both are high quality and loaded with features, but you're not going to make a Chevy into a Cadillac.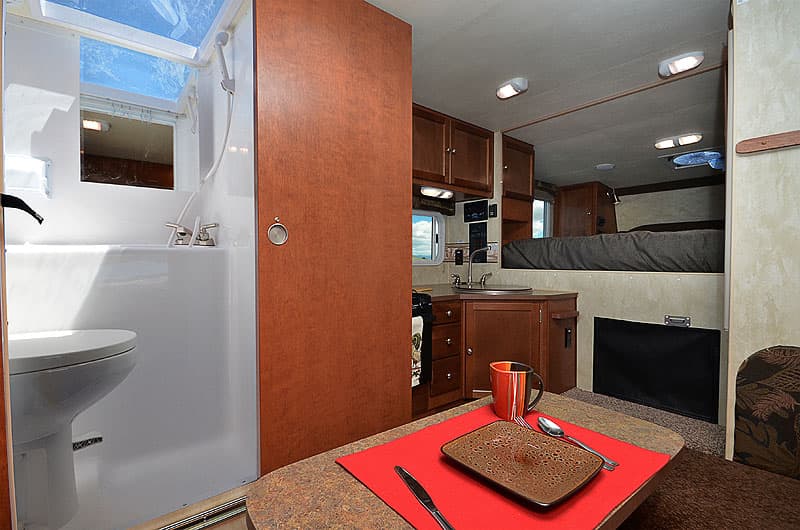 Above: Porcelain toilets are new for 2017 Wolf Creek campers
There are Arctic Fox features that have been added to 2017 Wolf Creek campers including the magnetic luggage door catches, all-LED interior lighting, porcelain toilets, and 12-volt and USB charging centers in the cabovers.  We also added an electric awning on the rear, and the Kenwood stereo to the Wolf Pack.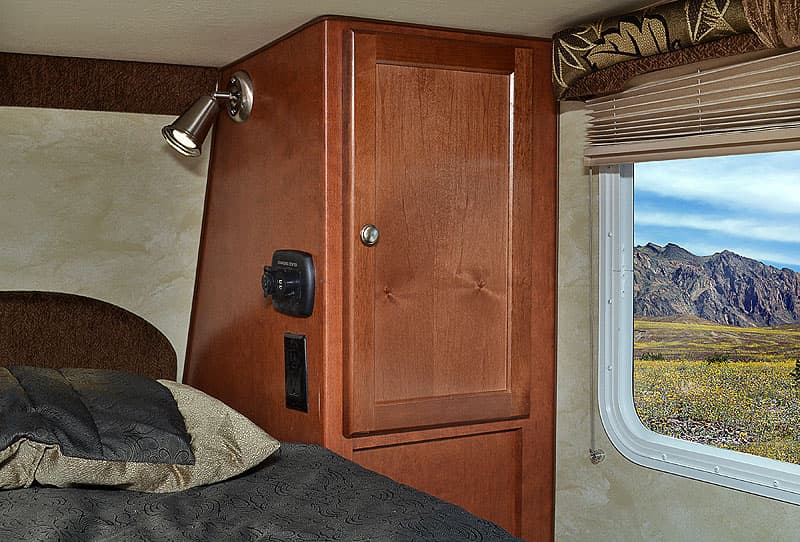 Above: 12-volt and USB charging centers in the cabover
Wolf Creek is in a constant state of evolution where we continue to try to take weight out while maintaining our high quality standards.  We may take a stick out or simplify the cabinets in the cabover, but we aren't going to take our integrity out of it.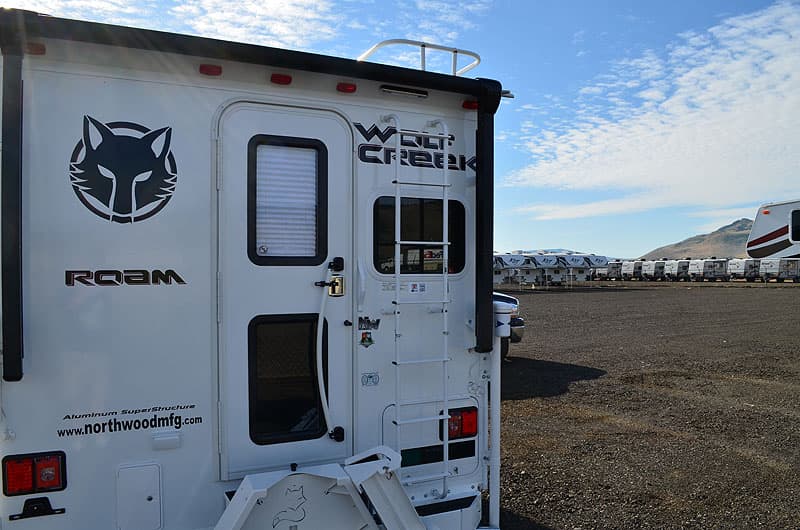 Above: An electric awning on the rear wall is now part of the Wolf Pack
Doug: Until the reintroduction of the non-slide Arctic Fox 865 for 2017, Wolf Creek was our non-slide truck camper line.  The Wolf Creek 850 and 840 are non-slide models.  There is a lot of Arctic Fox in Wolf Creek.  It has the same jacks, one piece nose, and wood-filled aluminum frame.  Both products are Absolute Northwood.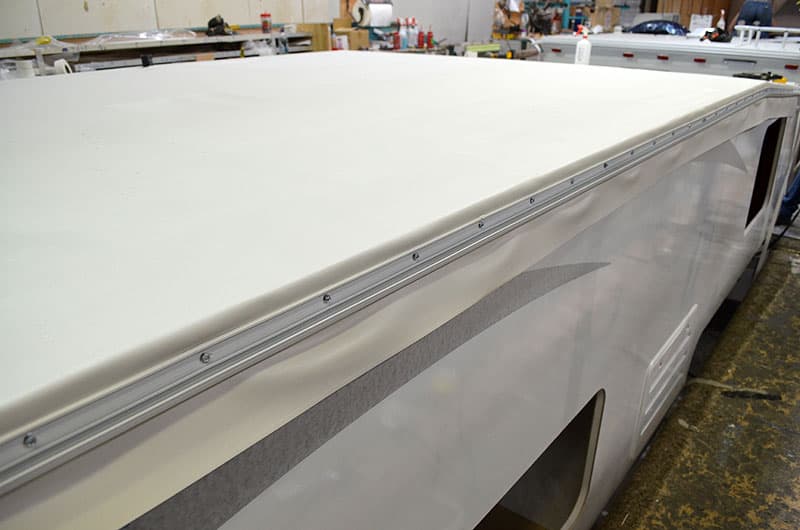 Above: To save weight and cost, Wolf Creek campers feature a flat roof and ceiling
But, over the years, certain people don't want to have all the upgrades.  They want more of a basic, lighter weight camper at a better price point.  Wolf Creek has 1-inch walls versus the 2-inch walls in Arctic Fox models.  Wolf Creek also has the flat roof and ceiling versus the thicker cathedral arch ceiling and roof of the 2017 Arctic Fox line.  That's the main difference.
TCM: Is there anything else that you'd like to add about the 2017 Wolf Creek line?
Donald: We are good at what we're good at.  Our continued excellence goes across all of our product lines.  Our founder, Ron Nash, set the high standards at Northwood Manufacturing.  For my money, we have the best truck camper build team in the world in our camper facility.  We are very excited about the future of Wolf Creek truck campers.
Doug: At RV shows and dealer lots, we listen to customers.  We hear what they like and don't like.  That feedback is how we know we're on target with the 2017 Wolf Creek line.  We're very excited for customers to see the 2017 Wolf Creek and Arctic Fox truck campers.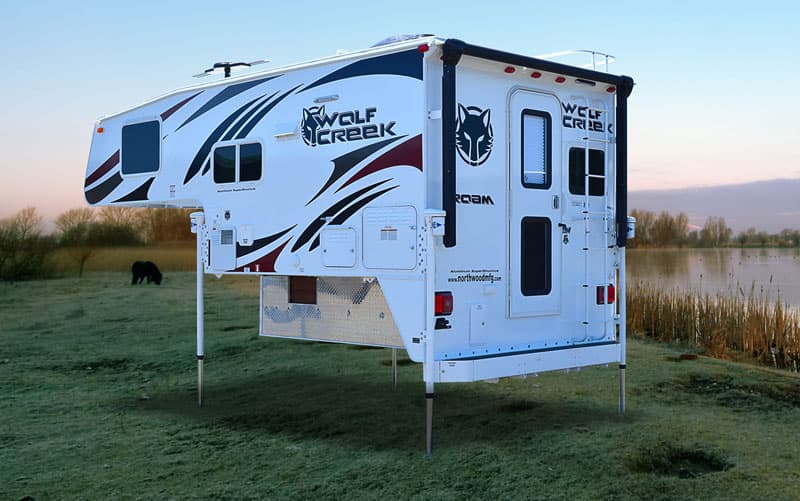 For more information about the 2017 Wolf Creek truck campers, visit Northwood's website at northwoodmfg.com/truck-campers/wolf-creek/.  Click here to request a Wolf Creek brochure.