Above: The center of gravity is marked with a red sticker on every Adventurer camper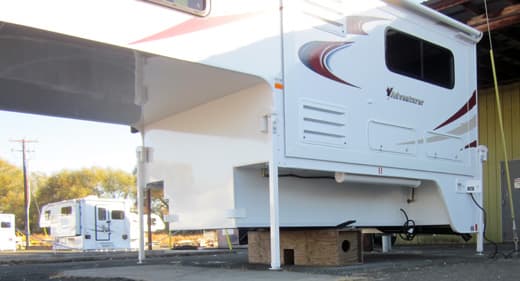 Above: The center of gravity at 51″ on the 910DB
TCM: What is the MSRP for the 2014 Adventurer 910DB with standard build features?
Greg: The base MSRP is $28,525 and the standard build MSRP is $33,394.  All Adventurer campers have a three year structural warranty.
TCM: We often hear from readers who wonder why truck campers cost what they do.  What's your perspective on that?
Greg: I get that question at every RV show.  People will ask me why a truck camper costs as much as a fifth wheel in the next booth over.  The simple answer is that it takes more man hours to build a truck camper.  For example, it takes 225 main hours to build the 910DB.  To put that into perspective, it took 118 man hours to build a travel trailer when I was at Western Rec.  Those additional hours add a lot of cost.
On a travel trailer, fifth wheel, or motorhome you also start with a chassis.  Once the floor is bolted on, a dozen or more guys can work on the same unit at the same time.  With a truck camper, there's no chassis to start, and only a few guys can work at each station.  This means truck campers cannot be built as fast, or as efficiently.
Without the chassis for support, the frame of a truck camper needs to be much stronger than towables and motorhomes, and made from better materials to reduce weight.  The fact that truck camper owners like to tackle more rigorous roads also necessitates a sturdier frame and construction not always required for towables and motorhomes.  Finally, truck campers often have most of the features and amenities found on their larger siblings.  It all adds up.
That said, Adventurer is always striving to be the value leader.  We offer hard side truck campers that start at $14,406.  It's about having the RV that fits your needs and lifestyle, as well as your budget.  Truck camper people understand.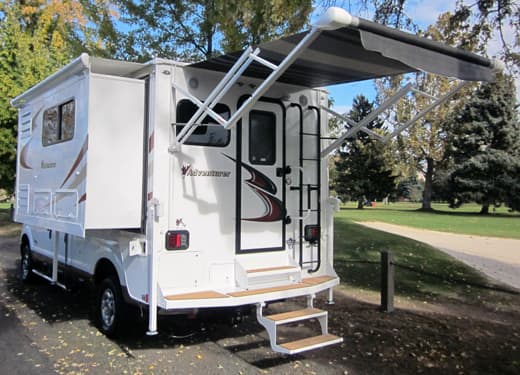 Above: The 910DB from the rear with the power awning extended
TCM: When will the 2014 Adventurer 910DB be available?
Greg: The first 910DB campers was already shipped out to be in the Halifax show November 8th through 10th.  Barber RV, Fraserway RV, and Five Star RV will all have units arriving in the next few weeks.
TCM: Is there anything else about the 2014 Adventurer 910DB that you would like to add?
Greg: The dry bath is really the star.  I think it has more storage than any dry bath in the truck camper business.  It's perfect for towing.  We also put a nightstand and outlet next to the passenger's side of the cabover for anyone that needs to charge a cell phone or keep a CPAP machine running.  Check out our video walkthrough of the 910DB on our YouTube channel.  It takes you through the camper feature by feature.
TCM: Any other news to share from Adventurer Manufacturing?
Greg: We are moving forward with new and innovative products.  Weight and center of gravity are a focus of ours and we continue to make improvements.  We also continue to provide constant improvements to our website so truck camper customers can have a good place to get accurate information to help in making an informed decision.
For more information on the 910DB, visit Adventurer's website at www.amlrv.com.