Cargo Cards, Cargo Weigh, and Cargo Load
Before loading the camper, Angela had created cargo cards titled with the categories of cargo we needed for a truck camping trip.  For example, one cargo card was titled, "Truck and Camper Essentials".  On the flip side of each cargo card, Angela listed everything that should be included with that cargo category.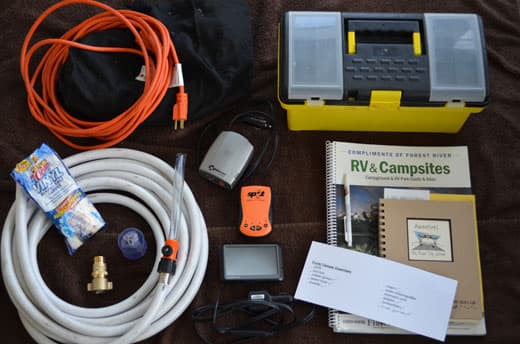 Above: The "Truck and Camper Essentials" cargo card listed the GPS, tool box, rubber gloves, sewer hose, portable 12-volt inverter, maps, water hose and pressure regulator, extension cord, 30 amp adapter, RV chemicals, and truck journal.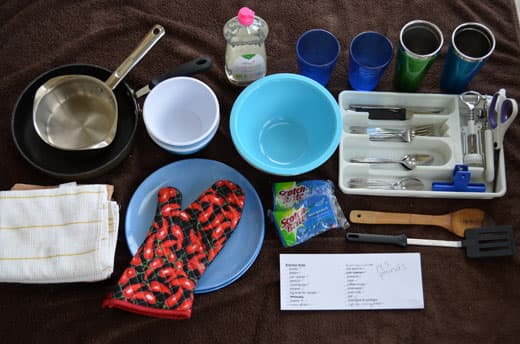 Above: The "Kitchen Supplies" cargo card listed bowls, plates, can opener, spatula, cooking pot, cooking pan, strainer, salad bowl, kitchen towels, oven mitt, bottle opener, silverware, silverware divider, big spoons, scissors, cups, coffee mugs, detergent, sponges, and chip clips.
Using the cargo category cards and their lists, we then filled a laundry basket or fabric grocery bag for each cargo category.  This actually made packing for the trip a snap as we completed each cargo card by filling a basket or bag.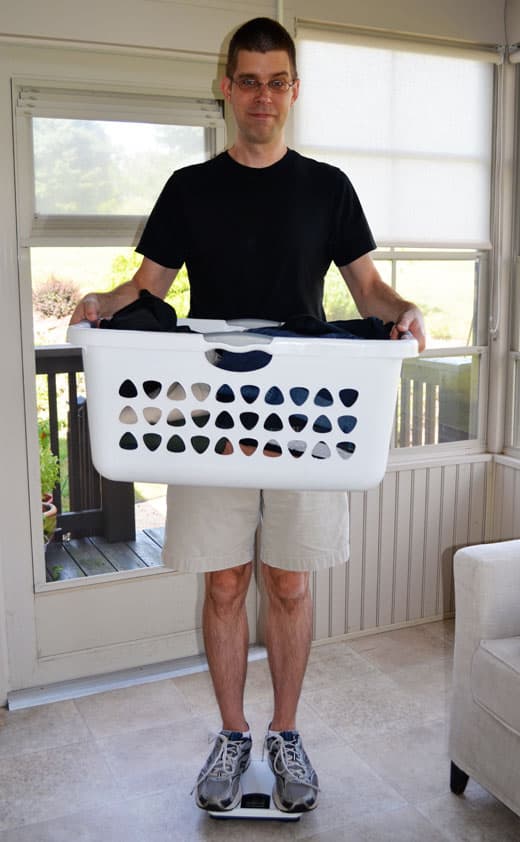 Next we brought out our bathroom scale so we could weigh each and every cargo basket and bag, cargo category by cargo category, and record the resulting data.  We started by weighing me empty handed on the scale.  Then I picked up each cargo basket and bag, one at a time, and stepped on the scale.  Angela subtracted my weight from each weigh and recorded the weight for every cargo category.
It was great fun.  Not only were we working on this project together, but we were learning a tremendous amount about what the different cargo categories weigh.
Here's how the cargo categories broke down:
Food and Bottled Water: 97 pounds
Kitchen Supplies: 15 pounds
Towels: 15.5 pounds
Bedding: 15 pounds
Gordon's Clothing and Shoes: 27.5 pounds
Angela's Clothing and Shoes: 25.5 pounds
Toiletries: 16.5 pounds
Harley's Litter, Stroller, and Supplies: 43 pounds
Backpack and Camera: 10.5 pounds
Computer Bag and Computers: 15 pounds
TCM Papers and Supplies: 8.5 pounds
Angela's Scrapbook: 9.5 pounds
Carpet Runner for Camper: 2 pounds
Truck/Camper Essentials: 21 pounds
Roadside Emergency Supplies: 7 pounds
Turnbuckles: 7.5 pounds
Gordon, Angela, and Harley: 332 pounds
Total Cargo Weight: 668 pounds
Please keep in mind that you may need to add swing out brackets if you're using a dual rear wheel truck, a platform under your camper if your camper doesn't clear the truck cab, and suspension enhancement equipment.  Our 2013 Lance/Chevy rig did not require these items.
CAT Scale #3: Truck Full, Camper Wet, with Options, and Cargo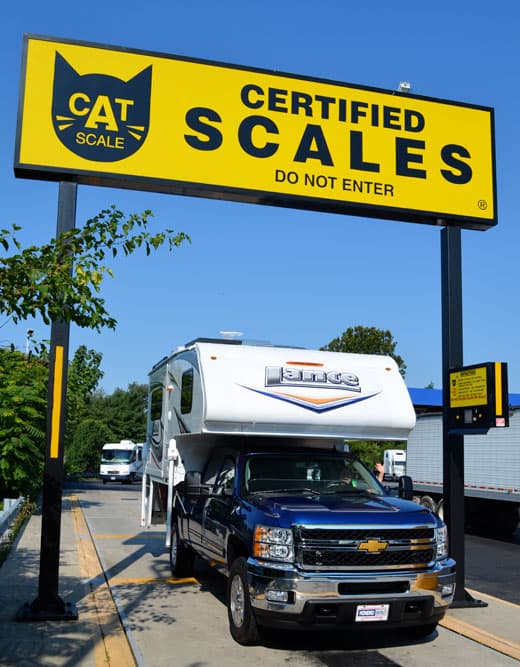 The moment of truth had arrived; the final CAT Scale weigh with truck full of fuel, and camper wet with options and cargo.
After weighing the rig, Angela said, "All we need is a number below 10,800 pounds".  If we were over by a few pounds, we could remove some of our personal cargo to reduce weight, but it would mean some difficult choices.  With fingers and toes crossed, we approached the CAT Scale counter.
I will never forget what happened next.
The lady handed Angela the CAT Scale ticket.  I didn't look.  I would know the result from Angela's reaction.