In contrast, Capri Campers are produced by two man build teams who construct campers from start to completion at a single station.  In the above photo you can see two Capri Cowboy models being built by two of these two man build teams.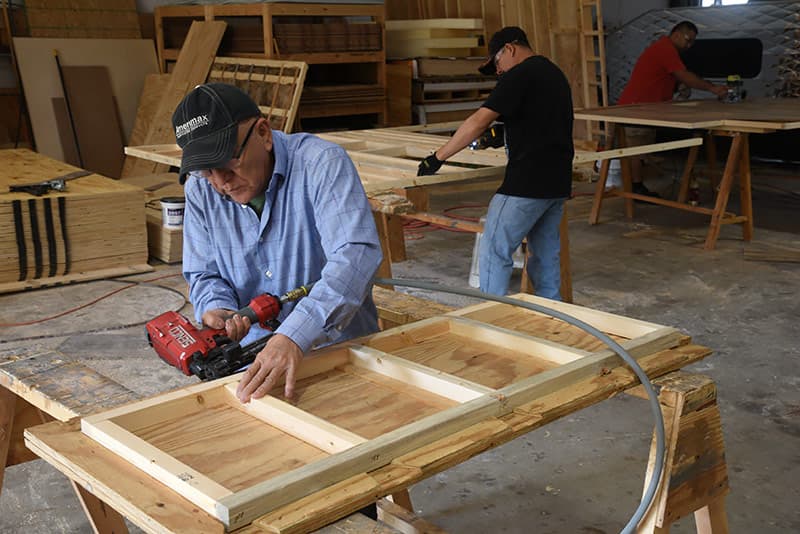 In addition to the two man teams, the wood shop produces competed sidewalls, rear walls, roofs, and floor frames.  There's also a Foreman who supervises the entire process, but he, too, is hands on building campers.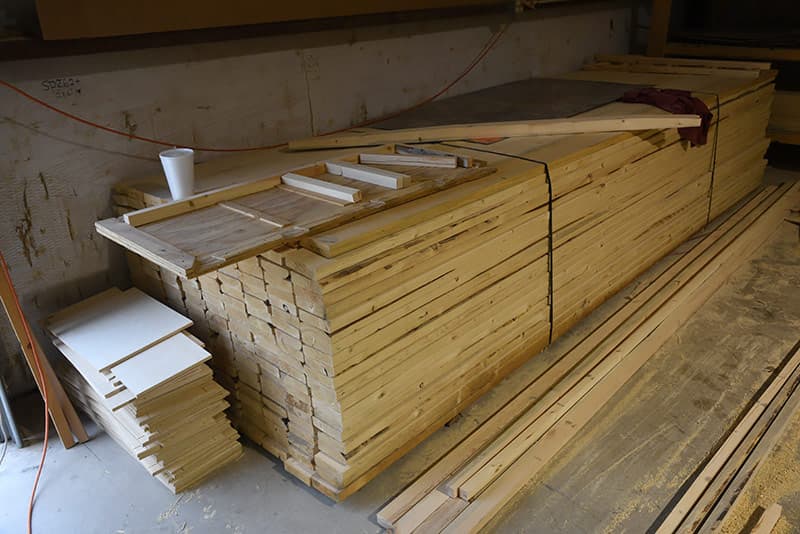 Framing wood starts in the Capri factory as 2×6 yellow pine lumber.  Along the back wall of the building we found a bulk delivery of the yellow pine lumber ready to be processed.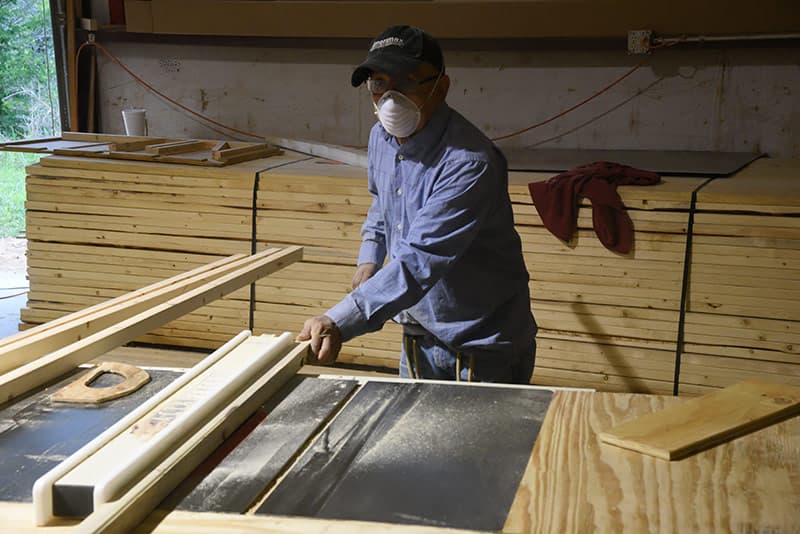 The team member in this photograph is Alvaro Alonso.  Alvaro has been with Capri Campers for decades and is the engine behind the Capri wood shop.  During production hours, he never stops measuring, cutting, and building Capri Camper frames.
Capri campers are framed in 2×2 and 2×4.  To begin the frame construction process, Alvaro checks the 2×6 lumber for quality (clean, straight, and whole) and then cuts the lumber to the required 2×2 and 2×4 dimensions.
Then Alvaro marks the boards for cutting using a series of jigs.  The jigs are essentially pre-measured frame beams for each Capri model.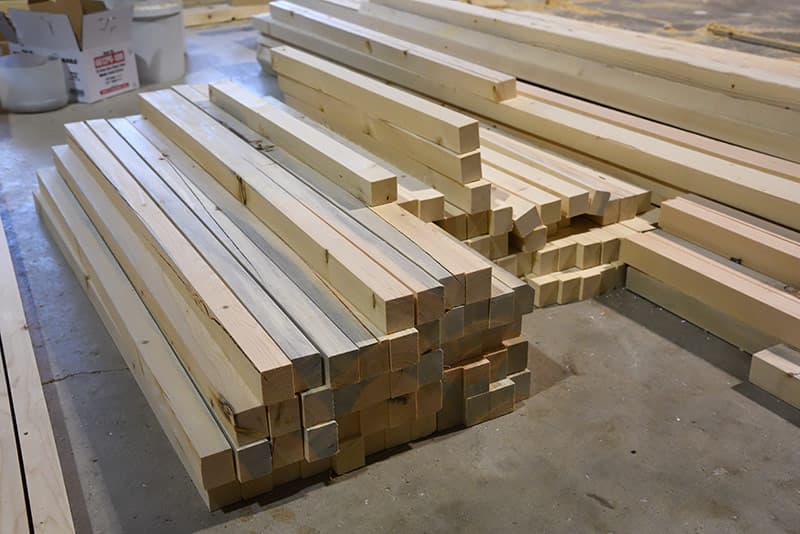 Once the wood is marked with the jig dimensions, Alvaro brings it back to the table saw and cuts it again.  This process repeats until all of the required frame members are completed and ready to assemble into a roof, sidewall, interior wall, or floor.
Here we see Alvaro assembling a roof's frame from the cut lumber.  Note the tapered ends of the horizontal beams to allow water runoff.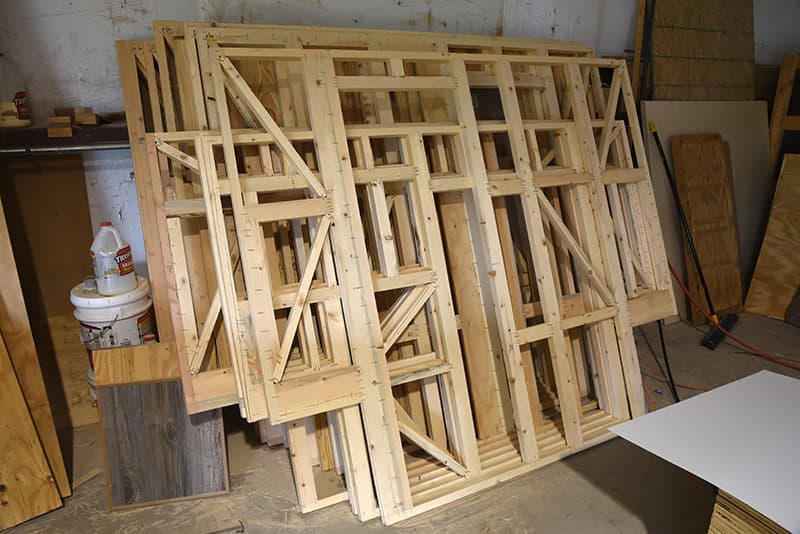 Completed roofs, sidewalls, interior walls, and floors are stacked throughout the plant.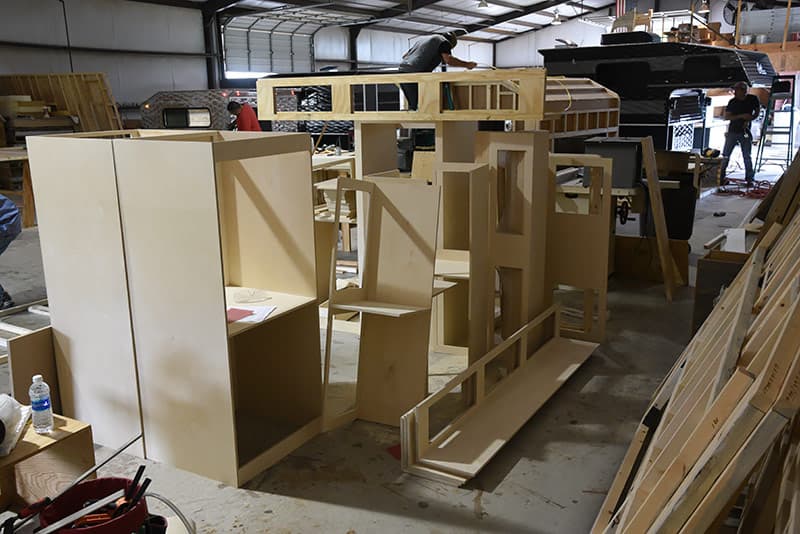 To further speed production, Capri outsources their interior cabinetry to a local Texas cabinet shop.  Once the cabinetry is inspected, it's placed on the production floor with with the stacked camper frames.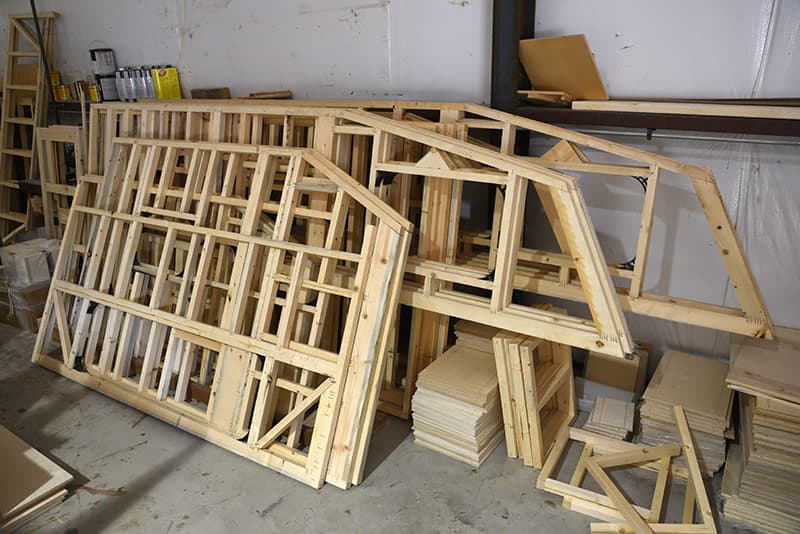 When the build teams begin a new Capri Camper, they pull from the frame stacks and completed cabinetry.  This allows Capri truck campers to come together quickly.