The scale is placed directly under the center of gravity, which is also marked on the units with a red sticker.  The camper jacks are then retracted until the full weight of the camper rests on the scale.  Within a second, the scale gives a reading.  On the particular 2016 Eagle Cap being weighed, the dry weight with options came to 5,204 pounds.
The 2016 Eagle Cap 1165 immediately next to the 1165 being weighed had a number written on its rear window that caught our attention.  It read "5,186 lbs".  I asked the final finishing team what this identified and they said, "We write the dry weight of every truck camper on the rear window before it ships".
After noticing that every truck camper in their storage lot did indeed have their specific weight written on the rear window, I practically threw my Chief of the Weight Police hat in the air and did a happy dance.  In an ideal world, this same weight could be identified on the weight sticker on the back of the camper.  Since that's not going to happen any time soon, writing the real weight on the back window accomplishes the same goal.  Adventurer Manufacturing also puts this real weight on a sticker inside the unit.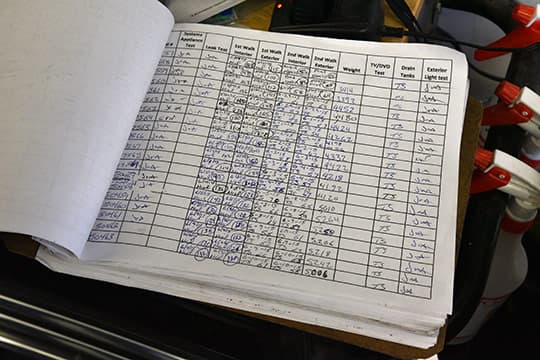 This is the actual book where the quality control checks (systems appliance test, leak test, interior inspections, and exterior inspections) and actual camper weights are hand written and initialed by the quality control and final finishing teams.  This information is then submitted to management where it is entered into the records for each unit.
Finished, weighed, and documented, Eagle Cap campers are then picked up – literally – by Tony Olivera.
Watching Tony scoop up, lift, and move Eagle Cap campers was half fascinating and half terrifying.  To see a 5,200 pound camper angled back, lifted way up into the air, and rolled around is an odd sight.  Tony seems to be in his element lifting campers and putting them into neat rows without hesitation.  I was told that he even lifts the campers above the other units sometimes.  That's talent, and a little insanity.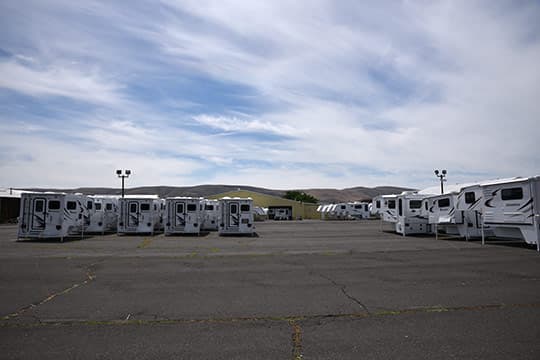 This photograph was taken from the far back of the camper storage yard looking towards the rear of the factory.  According to the management team, most of these units are already sold to the dealers, and a good number of those are already sold to customers.
Wrap It Up
One thing you may have noticed is that Adventurer Manufacturing does not have a separate production line for Eagle Cap campers.  In fact, they build Adventurer and Eagle Cap truck campers on the same production line, usually in runs of ten to twenty (or more) of a particular model.
When we asked about this, we were told that consolidating the two production lines increased efficiency, and allowed the best people to be used for both brands.  For example, they had two teams applying TPO roofs before, one TPO roof team for the Adventurer line, another TPO roof for the Eagle Cap line.  Now they have their best TPO roof team putting roofs on for both.
Another interesting facet of Adventurer Manufacturing's production line was how they had multiple campers at each station.  For example, where they had only one camper at each station before, now they had multiple campers at each station.  This too, as it was explained to us, helps to increase efficiency.
Adventurer Manufacturing isn't done pushing Eagle Cap forward.  During our visit, we were teased about at least one new multi-slide model on the way, and some other advancements in the early stages of consideration.
As a brand, Eagle Cap has always been associated with the high-end luxury market.  This is not an entry level truck camper, by any stretch of the imagination.  As of 2015, Adventurer Manufacturing started to re-define exactly what high-end luxury was for Eagle Cap truck campers.  Based on what we saw in the factory, and the progressive attitude from the management and design teams, that bar will continue to move forward.
For more information on Eagle Cap Campers, visit their website at www.amlrv.com/eagle-cap-truck-campers.