Another change we discovered at Alaskan Campers was the addition of outsourced CNC components.  Bryan said that using a local CNC company was more about improving efficiency than quality.
He explained that the Alaskan team could assemble, rout, and finish wood components at the same quality as the CNC process, but doing the work by hand takes a lot more time.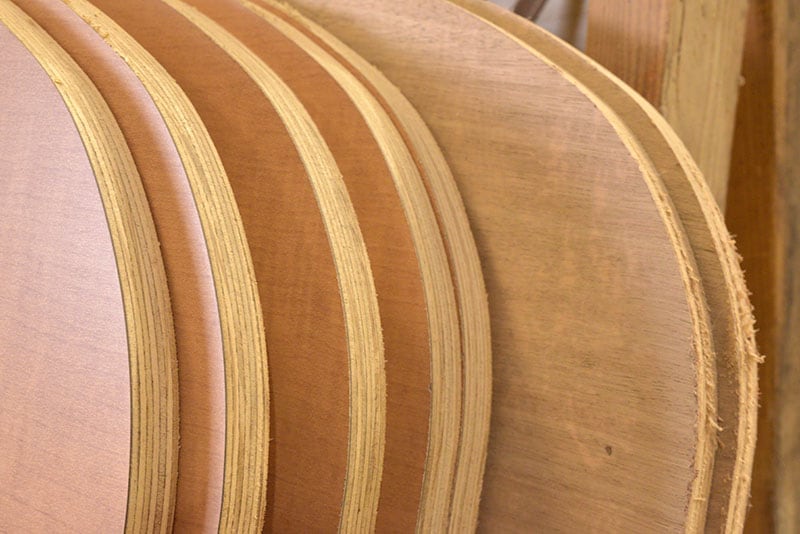 By outsourcing these components to a local CNC company, the Alaskan team could improve production efficiency and focus on the areas of Alaskan Camper manufacturing that must be built and finished by hand.
We have seen this same exact direction at almost every truck camper manufacturer.  Across the board, truck camper companies are actively pursuing multiple ways to cut time and/or cost without sacrificing quality.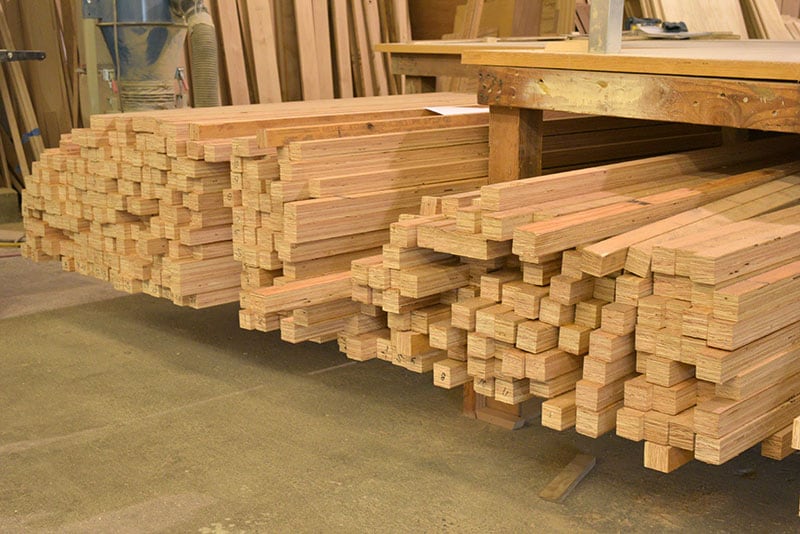 This may seem very obvious, but it's a significant change for Alaskan Campers.  Under the previous ownership there was little investment capital to pursue improved efficiencies.
As a result, the manufacturing culture had stagnated under the guise of tradition.  John's acquisition, factory move, and focus on improving quality and production has shifted that paradigm.  The evidence of this change was everywhere we looked.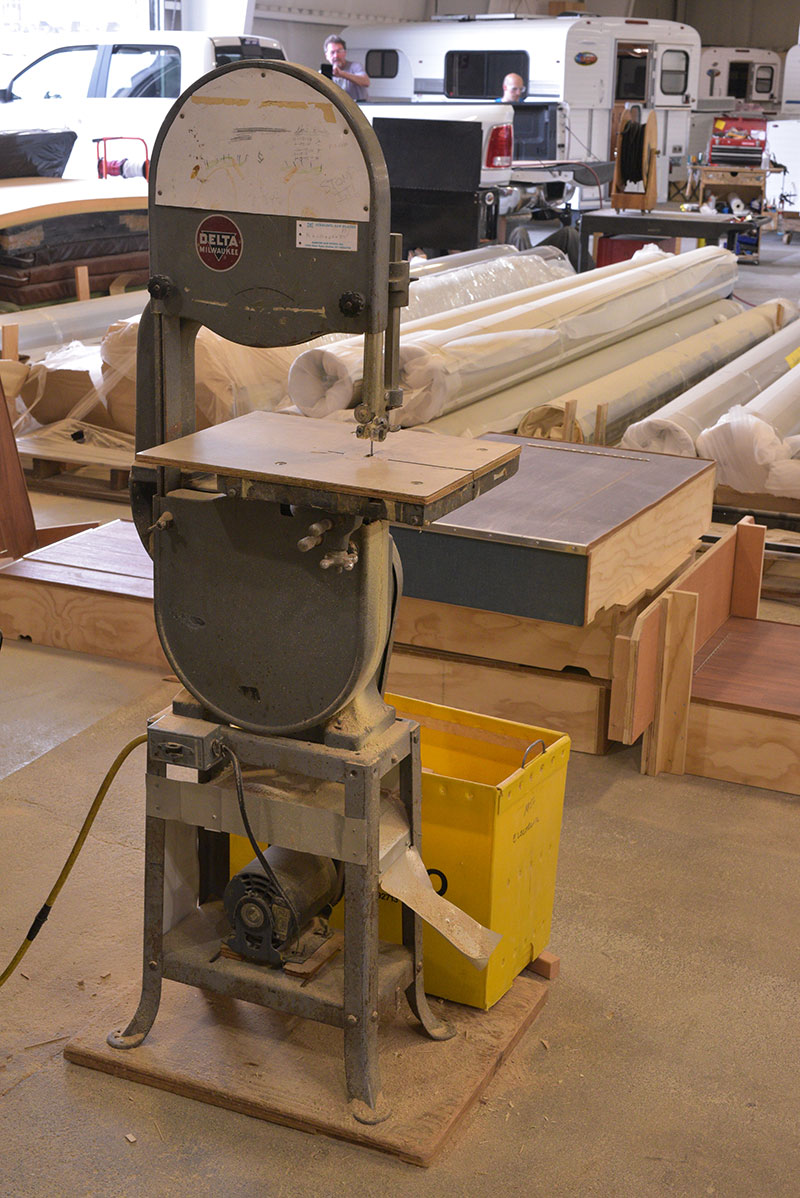 Of course not everything is new at Alaskan.  According to the production team, this 1940's Delta Milwaukee band saw is from the original Alaskan Camper factory.  They believe it might have come from the founder's garage.
If this is accurate (and we have no reason to believe it isn't) that means that part of every Alaskan Camper ever made likely passed through this band saw.  How cool is that?
A New Production Crew
Buildings, tools, and inventory do not build truck campers.   People build truck campers, and that's where this story takes another compelling leap forward; a new and larger production crew.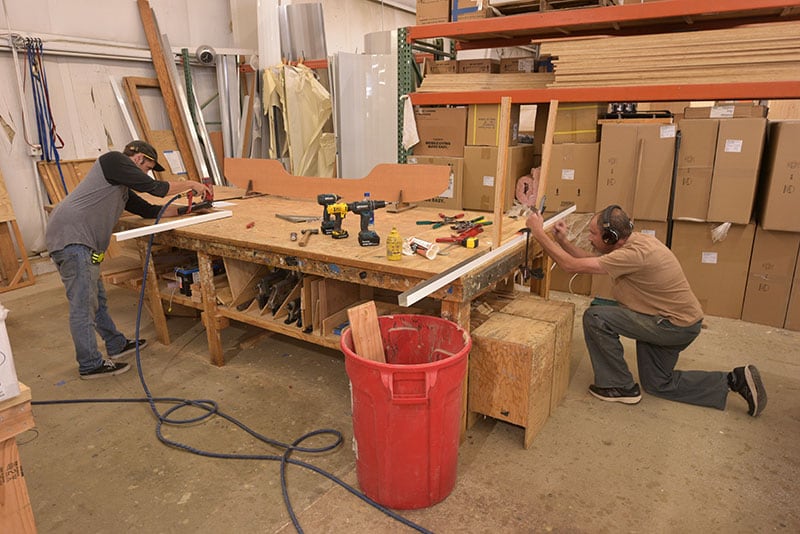 The new Winlock location is about 18-miles from the old Chehalis location.  For some members of the previous Alaskan production team, that was 18-miles too far.  Others were close to the age of retirement and the move was a natural time to make that transition.  There are a lot of new faces on the production floor.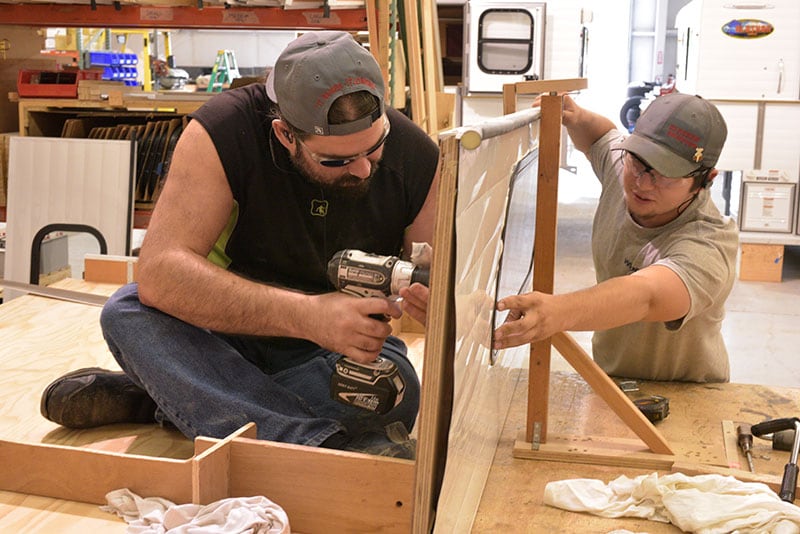 There are also more people.  Where there was just one team member at every station at the old facility, management is now working towards having two.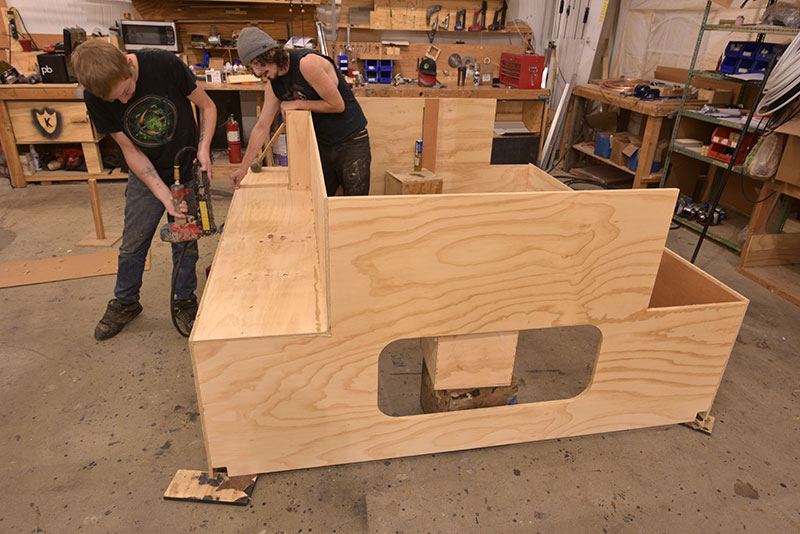 This not only further increases capacity, but also allows for team members to be absent without completely halting production.  At two stations we found a seasoned team member training a new hire.
During our visit, Bryan (above middle) dropped by these stations multiple times to check out their progress and work.  Bryan cares deeply about Alaskan Campers and makes sure to instill that passion – and careful attention to detail – into his team.