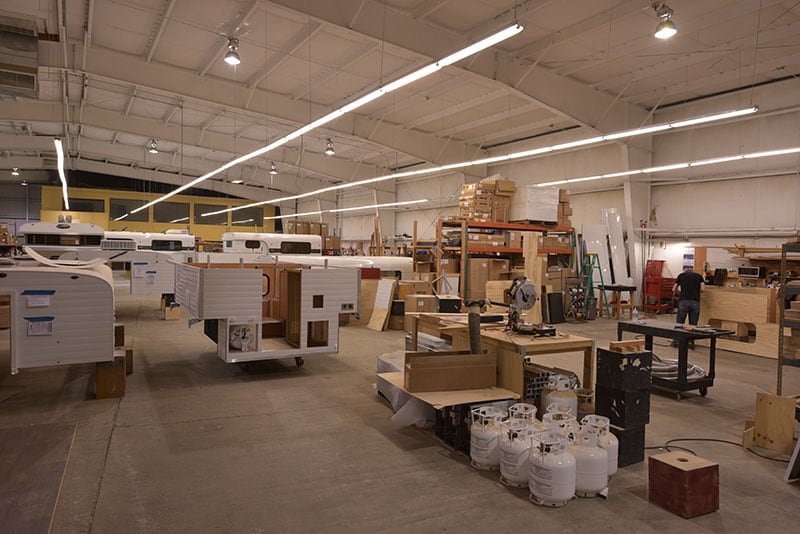 Production areas were always distinct at the previous facility, but now they're much larger with open work and aisle ways, tool areas, and clearly presented inventory.
The new facility is also significantly larger.  While we didn't take measurements of either building, the new building is at least two to three times the size of the former location.  What a huge difference!
A View From The Second Floor
In the old building, the management team was confined to one small first-floor rectangular office at the front of the facility. In the new location, there's not one but two stories of offices with a large office area overlooking the plant.
Guess where the Alaskan management team resides in the new digs?  In one small first-floor rectangular office at the front of the facility.  "I need to be out on the production floor all the time," explained Bryan Wheat, President of Alaskan Campers.
It's true, Bryan is in the plant as much as he is at his desk, and his production team is also in his office with questions now and then.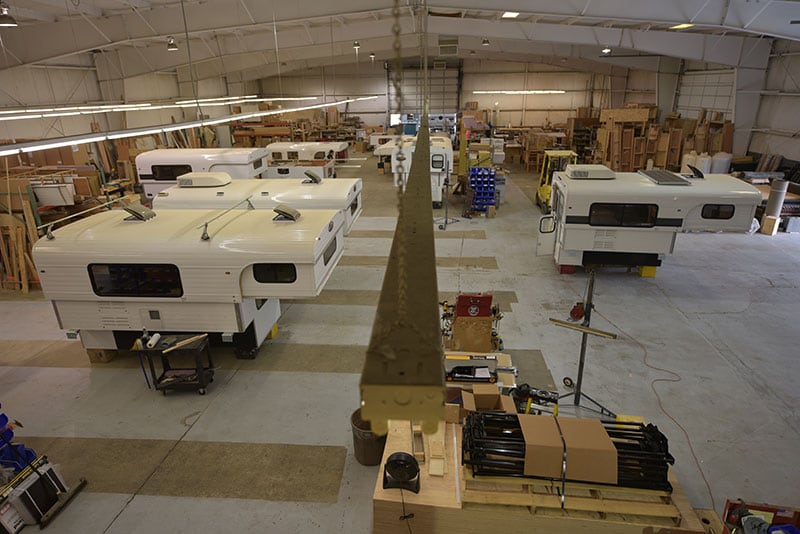 Above: The view of the production area from the second floor offices
That doesn't mean we can't go upstairs!  Noting a second floor balcony overlooking the factory floor, I went up the stairs and opened the sliding glass doors.  The first thing I noticed was how many units were in production.
Where we might have seen a handful at the old location, there were at least a dozen units visible from that vantage point.  No doubt about it, production is up at Alaskan Campers.
Stocked Up and Ready To Roll
Prior to the acquisition, Alaskan Campers was an extremely lean organization.  In fact, it wasn't unusual for the Alaskan production team to run out of a required material or component delaying a camper delivery for weeks.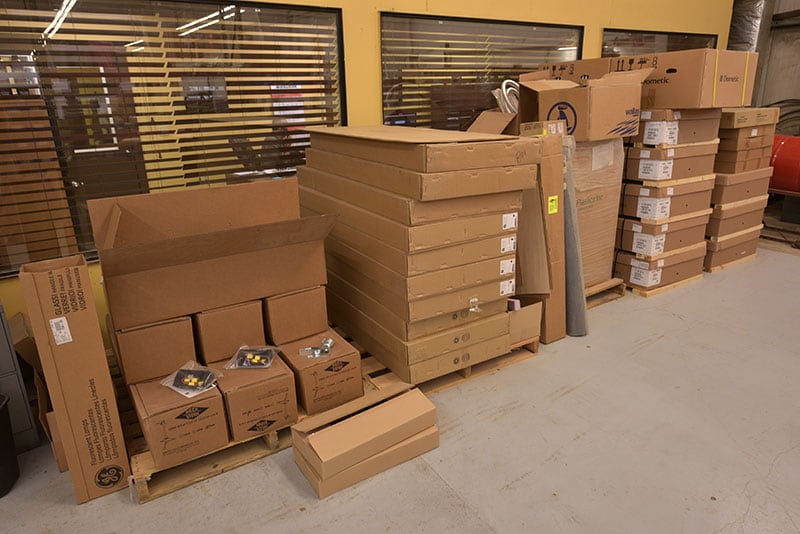 That problem is now history.  After listening to the team about what they needed to build campers with even better quality and efficiency, John instructed management to stock up – on everything.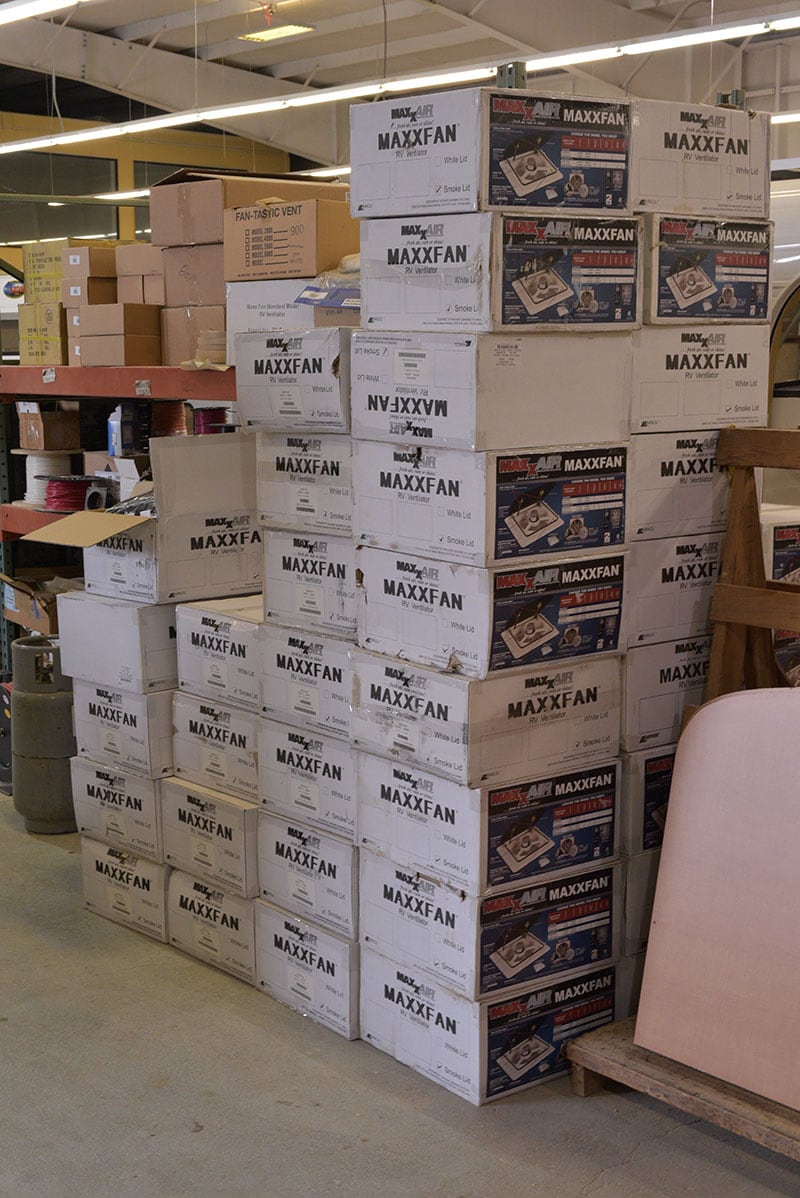 The impact of this decision is on full display throughout the new Alaskan Camper factory.  We saw towers of Maxx-Air vents, stacks of Rieco-Titan jack systems, loads of lumber, and rolls upon rolls of aluminum skin.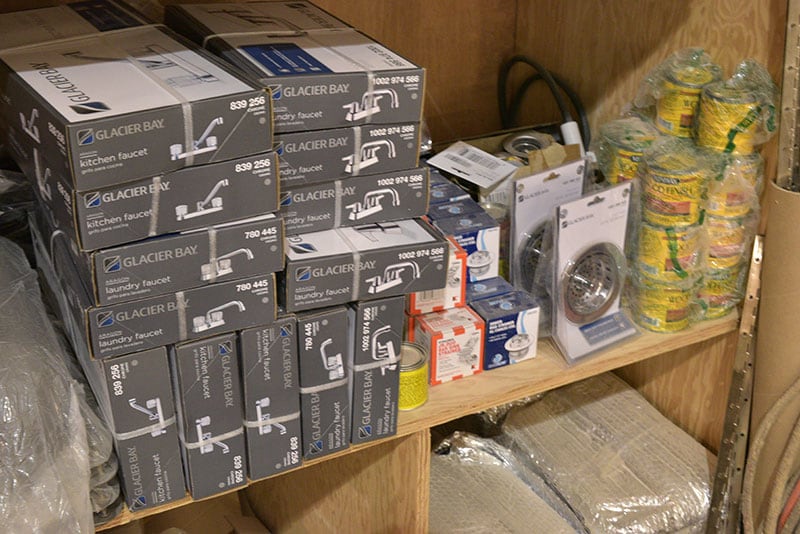 Heck, we even saw a stockpile of sinks ready for production.  Management really did stock up on everything – including the kitchen sinks!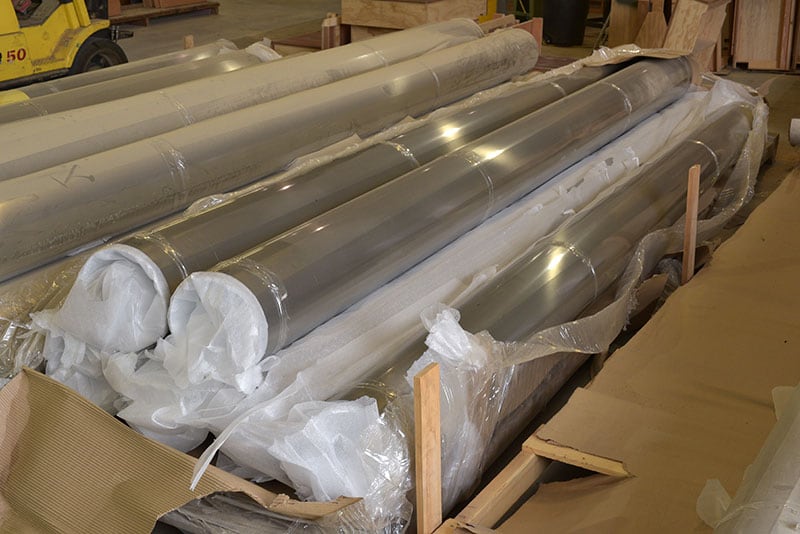 Bryan also explained how purchasing inventory in volume allows Alaskan to cut costs.  The savings for some items can be dramatic, especially when you factor in shipping.  For example, it's a lot cheaper to purchase and ship Thetford cassette toilets by the palette than one at a time.
CNC Outsourcing For Improved Efficiency