CENTER: After the roof vents are installed, Danny and Steve install the rear roof rack and add a final seal around the TPO seam.

RIGHT: Here Danny is applying self leveling Dicor sealant to a roof vent.  Rather than apply the Dicor with individual Dicor tubes, Danny used an applicator connected to a large Dicor drum.  By using the drum and applicator, Danny is able to complete a roof without having to reload with individual containers of Dicor.  Anything that saves time on the production line without sacrificing quality helps Adventurer to reduce costs.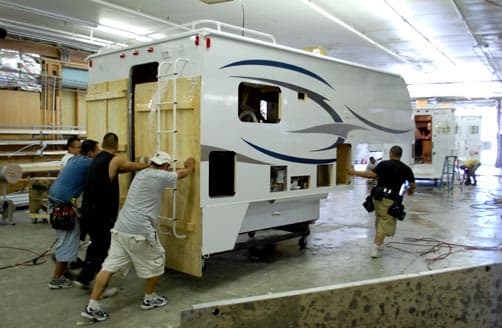 Throughout the day on any truck camper assembly line the campers need to be rolled down the line to next station.  In this photograph the Adventurer production team pushes a 950B toward final finishing.
LEFT: At the end of the production line, Daniel Sanchez in final finishing inspects the seals around the Happijac jacks and takes care of any issues identified by Miguel with red squawking tape.
CENTER: Final finishing is also where an Adventurer gets it's comfort-step bumper.  More than any other feature on our 2010 Adventurer 90FWS, the comfort-step bumper gets the most compliments.  We like how the comfort-steps are spaced like residential steps and feel solid when entering or exiting the camper.  The comfort-step system is also very quick and easy to fold up before traveling.  If you're someone who's ever been frustrated with camper steps, be sure to check out Adventurer's comfort-step bumper.
RIGHT: Another detail added at final finishing is the rear camper logo.  Chris Leingang is responsible for adding all of the exterior graphics at Adventurer and he completes his task at various points on the production line.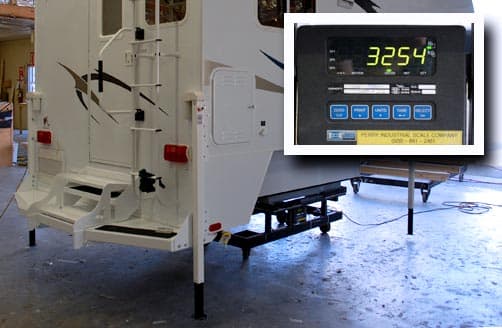 Every camper that comes off the Adventurer production line is individually weighed on a GSE 350 industrial scale.  Once again we are very happy to see a truck camper manufacturer weigh each and every camper that leaves their factory with options.  The camper in this photograph is a 2010 Adventurer 950B and the dry weight with options was 3,254 pounds.
Even more exciting than seeing each and every camper weighed as it comes off the production line is seeing that weight clearly posted on each and every camper.  Adventurer posts their standard dry weight on the outside of their campers and the weight with options on an inside kitchen cabinet.
LEFT: For the 2010 truck camping season we are using a 2010 Adventurer 90FWS.  We have really enjoyed our camper and it's been our home since we left Pennsylvania on April 12th.  Our Adventurer's exterior weight sticker lists the weight of the camper at 3,096 pounds with full water (38 gallons / 316.9 pounds) and full propane tanks (2x 20 pound tanks / 40 pounds).
CENTER AND RIGHT: The inside weight sticker lists the weight of the unit at 3,244 pounds dry with options.  Add back in the water (38 gallons / 316.9 pounds) and the full-propane tanks (2x 20 pound tanks / 40 pounds) and you get 3,600.9 pounds.  The difference is 504.9 pounds of options.
It was very good to see Adventurer Manufacturing doing so well in Yakima, Washington.  If we didn't know the company had moved 250 miles south from Canada just two years ago, we would have had no idea.  All of the proverbial moving boxes have long since been unpacked and the team is clearly focused on designing, building, and selling truck campers.  Full steam ahead.
So what's the real story here?  Adventurer's new vision.  With the move behind them, the new management team has taken a fresh look at every aspect of the forty-one year old company and is charting a new course forward.  After talking with Burk Morgan, Dave Frampton, and Dave Catron, we expect to see plenty of innovative new camper designs, new dealerships coast-to-coast, and, most importantly, a renewed passion to make Adventurer truck campers a strong and compelling value in the marketplace.