Here's a sample budget for one month of traveling around in Central America in 2014:
Gas and car expenses: $630
Miscellaneous (toll roads, laundry, park and museum admissions, border crossings): $440
Groceries (including eating out and dog food): $350
RV parks: $305
Insurance: $286
Total spent that month: $2,011.
We didn't quit our job to spend our days living like beggars. We like to think we always ate well; slept in safe places; visited the tourist attractions along the way and even ate out a few times per week (usually in the local municipal markets where the locals eat at street vendors' stalls to sample the 'real' local food).
It's simple math really: if you have $10,000 set aside for a road trip, you can easily spend $5,000 per month and spend all of your money on a two month vacation. In our case, we chose to budget our living expenses to $2,000 per month. That meant going on a five month road trip!

How to read this book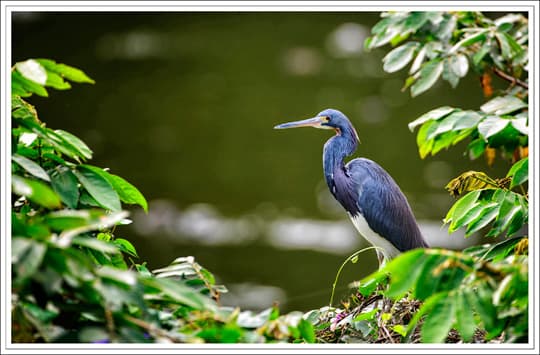 Above: Catemaco, Mexico is a great place for birding
For every location we visited in Central America, we included a short write-up with our recommendations of what to see or do; where we camped; the driving distance from the previous location, the GPS coordinates of the campsite, and the altitude. Why do we include a campsite's altitude? You'll know why when you get there. The altitude is a very important aspect to be able to predict whether the weather upon arrival will be hot and humid, or deliciously chilly at night!
This book is written as a first person narrative of our travel experiences in all of the wonderful places that Mexico and Central America have to offer. You might take our word for it and follow our advice to go see the special places that we mention or avoid certain places (or you might be curious and go anyway!). Hopefully, you'll follow in our footsteps and sooth that burning desire to go out and explore. We hope you enjoy reading our story as much as we enjoyed living it.
The second half of the book comprises of the author's favorite travel photographs.
How to Order Follow Your Bliss
Follow Your Bliss; Road Trip Into Central America is available in three formats: eBook PDF for iPad, Nook, PC, and Mac for $5.49, ebook Kindle format for Amazon Kindle devices for $5.99, and in print.   The print version consists of two separate paperbacks, one with the text for $19.95, and one with the full color photography for $19.95.
To order a digital or print copy of Follow Your Bliss (304 pages, 127 full-color photographs), click here.