In hindsight, there are a few things we would change about our trip.  For example, we should have visited Uruguay.  Due to the heat being incredibly intense in Buenos Aires and Cartagena, it may also have been better to start our South American journey in October or November, rather than January.
Our trip would have been further enriched is we had a better grasp of Spanish.  While we got to know quite a lot of commonly used words and phrases, our lack of Spanish speaking skills hampered our interaction with people.  Liz carried a Spanish/English dictionary in her handbag, and we used an Apple app to translate anything important.
Finally, we would have fared better with a smaller and lighter truck camper.  Many of the access roads were just too narrow for the size of our camper.  For towns with the more complicated road systems and/or detours, we hired a local taxi driver to take us to our camping location.  As long as we agreed to a price first, that approach worked out well.
We had problems navigating in a lot of towns and villages and a smaller rig may have been helpful in those situations.  Driving in larger towns and cities can only be described as exciting and hair raising at the same time.  There was a lack of what we would call common road courtesy and an abundance of testosterone-filled Latin American drivers, all of which made for an exhausting driving experience.
Important tip: If there are two lanes through a town in South America, always use the left one.  This will keep you out of the way of motorcycles, taxis, and mini buses.
Thank You, South America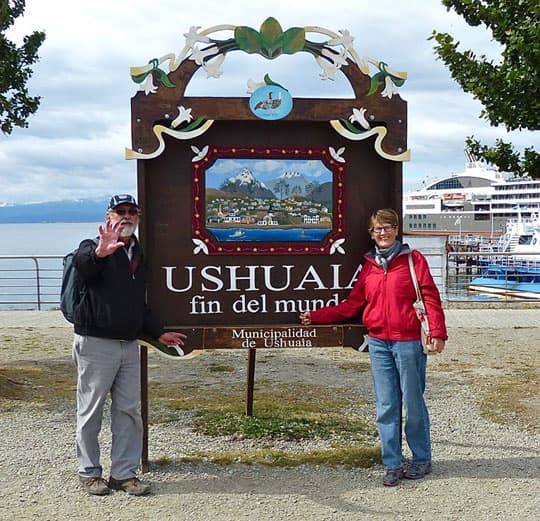 Above: Gary and Elizabeth in Ushuaia, Argentina
We would like to conclude our remarks by saying that at no time in the six months in South America did we feel unsafe or threatened.  We used common sense and, where we could, asked permission to park, and were security conscious at all times.
For further details of our trip, please visit our travel journal at capepacific.com.
The people of South America made our experience special.  Their kindness and generosity knew no bounds.  They were also ways ready to assist or advice us during our adventure.  Other than the drivers, they were also incredibly patient.  Thank you, South America.

Have you traveled to South America with your truck camper?  Please share your story about traveling to South America.