TCM: Tell us about the storage boxes/railings on the side of your truck.
Irwyn: We have a flatbed truck with three gates.  We take the back gate off and clamp it to a side gate when the camper is loaded.  Then we replace it when the camper is unloaded for the truck to operate normally.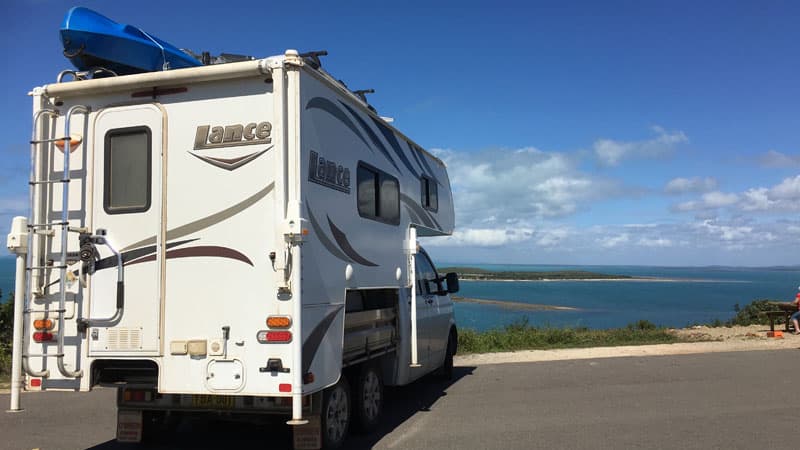 Above: The back gate is removed when the camper is on the truck, Bowen, north Queensland
We don't have any storage boxes, but we utilize the side space for loose storage.  So far we haven't needed lockable storage as we have the dual cab to keep things secure.

Above: Chinchilla Dam, Queensland
TCM: What's the bar structure in front of your camper and behind your cab?
Irwyn: The bar structure is the original loading board on the tray, and the space came about when the tray had to be moved back about 180 millimeters (7 inches) to balance over the axles.  This space then allowed us to store two spare tires.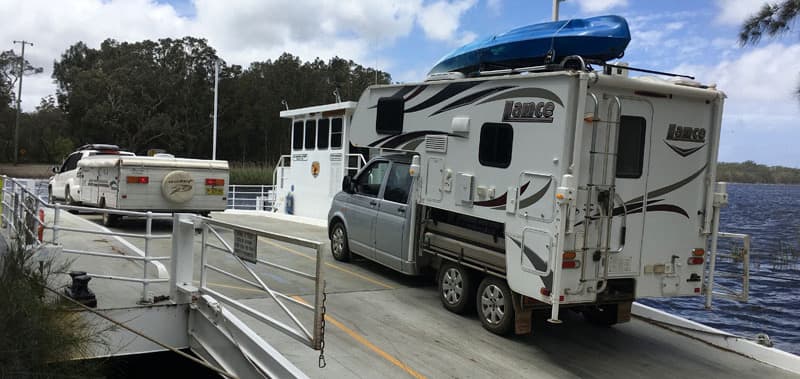 Above: Ferry crossing at Myal Lakes, New South Wales, Australia
TCM: What led you to choose the Lance 825?
Rosemary: With the original single axle arrangement we were concerned about weight, so we chose the Lance 825.
We also liked the floor plan of the 825 because it had better kitchen bench space than some other models.  We have found that the overall size of the 825 is quite adequate for two adults.  It was also important for us to have toilet and shower.  Not having a dry bathroom area has not been a problem to us.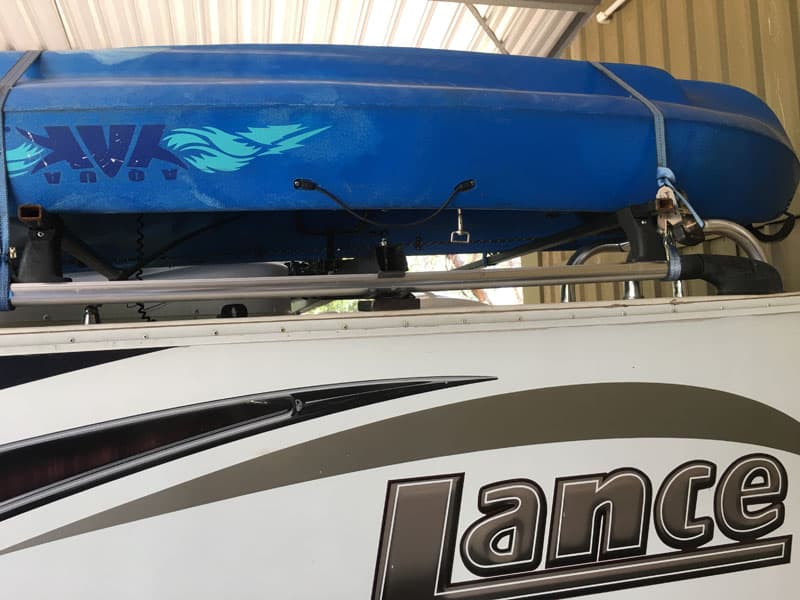 TCM: I notice that you bring along a kayak.  How do you secure it to the camper?
Rosemary: We have a kayak that rides on the camper's roof rack and it doesn't seem to have made any difference to our fuel consumption.   We just have to remember that we have it on as it makes us a bit higher.
Getting the kayak on and off the roof was a concern that we needed to address.  So Irwyn built a detachable frame that clips on the roof racks allowing the kayak to slide up and away from the camper using a small electric boat winch.