Above: The fountain at the entrance moves to music
Getting back to me being a grump, Angela will tell you that I have more pet peeves than LP record albums, which I dispute, and then I proceed to buy more records just to make sure I'm right.  One of my biggest pet peeves is how almost everything is becoming needlessly more complicated.  For example, the ticket options at Kennedy Space Center reminded me more of a SAT math problem than theme park ticket choices normally do.
Thankfully, general admission was clearly marked at $50 per person.  In addition there were multiple extended tour opportunities at $40 a piece.  These tours were given by NASA veterans and gave in-depth access to the iconic buildings and facilities of Kennedy Space Center including the Vehicle Assembly Building and the launch pads.  At first blush, I was ready to put down the credit card and go for the full experience.
In previous moments like this, Angela and I have "cheaped out" and walked away from pricey things we now regret missing.  Yes, these prices seemed relatively high.  And yes, many times these opportunities aren't worth the prices folks are asking.  That's part of the "being a tourist" game.  We have learned to give these choices a second thought, especially if there's a chance we may never be at that place again.  This lesson was running through my mind as I stared at the multitude of ticket and extended tour choices before us.
The crowds we had been concerned about had yet to show up and we were one of a couple dozen folks in line.  When we got close enough to the booth to hear the conversation, we learned that the extra tours were sold out, at least until the next day.  Well, that solves that.
"I'll take two General Admissions for $100, Alex."  I could buy a lot of record albums for that kind of money.  This had better be good.
Rocket Garden to Atlantis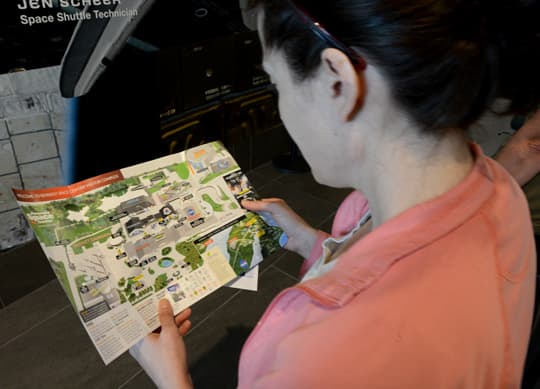 Above: Angela checking out the map of the complex
Angela and I tend to be very goal oriented.  We only had a day to explore Kennedy Space Center and we were determined to get our Benjamin's worth.  Before we even stepped foot inside the complex, Angela asked which features were the most popular.  She wanted to hit those attractions first and beat the possible rush.  That information sent us directly to the Space Shuttle Atlantis building.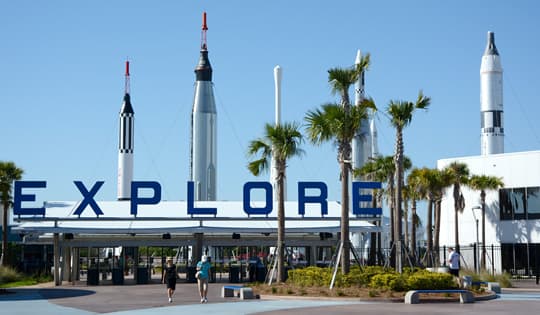 Above: The entrance at Kennedy Space Center
Map in hand, we B-lined past the Rocket Garden, IMAX theater, and Astronaut Memorial and went straight to the Atlantis Building.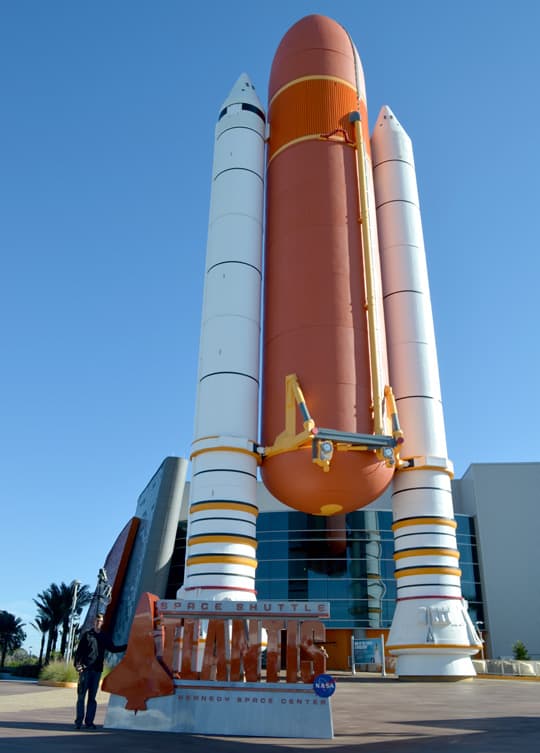 Above: Gordon (on left) in front of the Atlantis building
I don't want to spoil the surprise for you, but I can confidently say the $100 million 90,000-square-foot Atlantis building is one of the most impressive indoor facilities I've ever experienced.  Opened in June of 2013, it's easily up there with the Gettysburg National Military Park Museum and Visitor Center – another absolute stunner.  If all there was at Kennedy Space Center was the Atlantis building, I'd be praising it as a must-see.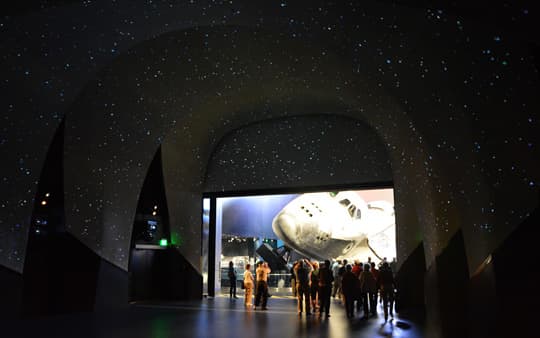 Above: The reveal of the Space Shuttle Atlantis

Above: The Space Shuttle Atlantis (click to enlarge)
Above: Crawling around the space station (click to enlarge)