3. Blacktail Butte and Oxbow Bend
At the south end of Antelope Flats road (just south of Mormon Row) is Blacktail Butte.  It is an awesome, but very tough, hike to the top.  The views are incredible!  It does not take long to do.  Oxbow Bend in the Tetons is a great place to be at sunset.  It's also incredible in the fall, but great in the spring, too.
Nearby Bonus: Merry Piglets in Jackson Hole
If you like Mexican food, Merry Piglets is awesome in Jackson Hole.  There is a parking lot just north with room to park a truck camper and you can walk there.  On the way be sure to stop at Mangelsen's photography studio a couple doors down.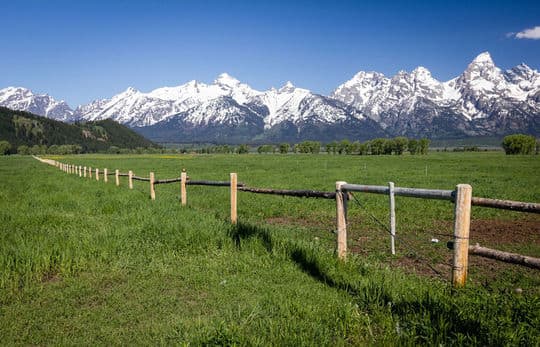 Above: View of the Tetons from Mormon Row
Above: Mike's Eagle Cap 1160 with the Tetons near the northern entrance
If you come in, or go out of, the south of the Tetons do not discount the drive.  We always leave out of the south and there is some incredible views along the rivers.  We have never stopped at any of the campgrounds, but the drive is beautiful.
App Tip: The Photographer's Ephemeris App
As a photographer, there is an app I use to help plan when to go to a particular place for the light.  The Photographer's Ephemeris app ($8.99) is helpful for taking pictures anywhere you travel.
Dave Ruane
2008 Chevrolet Silverado 3500HD
2006 Northstar TS1000
There are many ways to get to the Grand Tetons from the east.  I highly recommend the route that takes you over Togwotee Pass in DuBois, Wyoming.  Check out the Brooks Lake area near that pass.  There are incredible vistas, fishing, and camping opportunities.
4. 287/89 Turnouts and T.A. Moulton Barn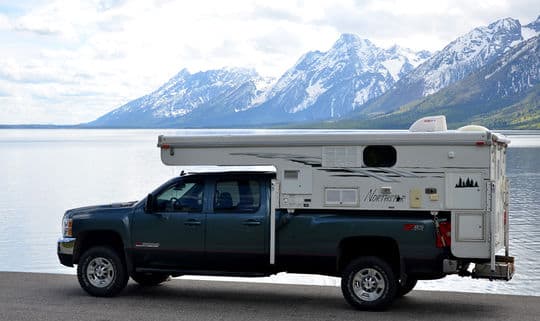 Above: Great turnouts all along Highway 287/89, especially by Jackson Lake's north end.  Incredible photo-ops are there.
I recommend that you stop at the great turn-outs all along Highway 287/89, especially by Jackson Lake"s north end.  There are incredible photo opportunities there.
Above: The T.A. Moulton barn in Grand Teton National Park
No visit to the Grand Tetons would be complete without a visit to the T.A. Moulton barn, which is probably the most photographed barn in the world.  There are actually two barns.  The more classic one is on the westerly one on Mormon Row.  Access it from Highway 287/89, to the Antelope Flats Road, to Mormon Row Road.
5. Gros Ventre Slide Hike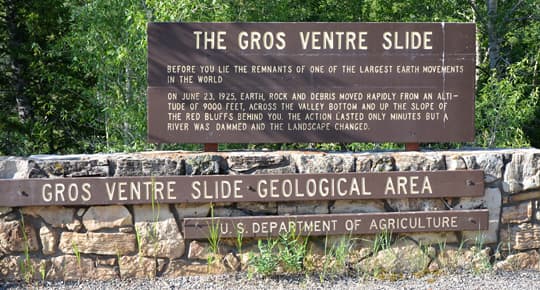 Above: The Gros Ventre Slide Area