The town was full of people on ATVs enjoying the many trails in the area.  I spotted a gas pump with the old spinning numbers like a slot machine outside one of the many old buildings.  So I topped off and headed south out of town – too many people for me.
My destination is an area south of Jarbridge called Copper Basin.  I plan to camp here and dig for fossils in the morning.  I turn off the main road and head down a steep trail and come to an off camber section.  Steep I can handle.  My truck has electric locking axles and will climb a wall.  But off camber is scary, especially with a camper's high center of gravity.  At around twenty degrees on the inclinometer, I start getting nervous. At twenty-three degrees I'm starting to suck up the seat cushion, but I get through and set up camp near the dig.  On the next ridge over is a large flock of sheep.  Miles today; 139.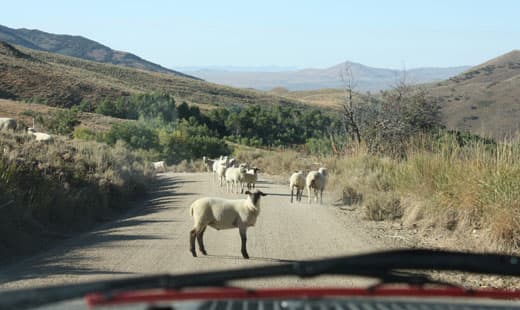 Tuesday morning, after digging for an hour and finding one leaf fossil, I decide this is more like work and less like vacation.  So I pack it up and head back to the main road.  Soon I come to the flock of sheep and get an escort by a good looking sheep dog.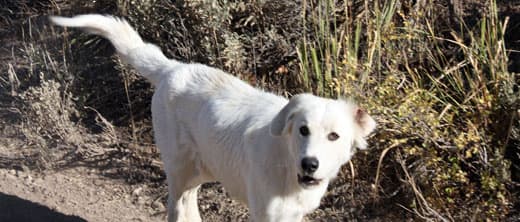 I thought about getting out and giving the dog a scratch behind the ear, but you never know.  One or both of us could have lost an ear.
Further down the road towards the town of Deeth, I stop and pick up some Jasper alongside the road.  Now that's easy rock hounding.  I'm getting my fossil and rock sites out of the book, "Rockhounding Nevada" by William Kappele.
Above: Metropolis, Nevada
At Deeth, I went east on the interstate a short distance to Wells, Nevada.  I headed north out of town for several miles looking for the ghost town of Metropolis.  I found it without much difficulty and spent an hour or so looking around.  The story of Metropolis is interesting and can be found by googling "Metropolis, Nevada".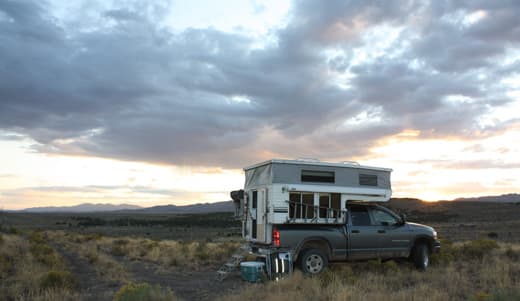 Above: Camped on the California trail
I went back to Wells for lunch and gas and then headed north out of Wells on Highway 93.  After twenty-six miles, I turned right onto a dirt road.  This road is a BLM "Back Country By Way" called the California Trail.  It's ninety miles total and the first forty miles follow the route the wagon trains took to California.  You can get off the main road in places and get on the actual two track trail they used.  I did exactly that here and made camp right next to the wagon trail.  It was a beautiful evening, seventy-three degrees and no wind.  178 miles today.  An owl woke me up a 3am hooting up a storm.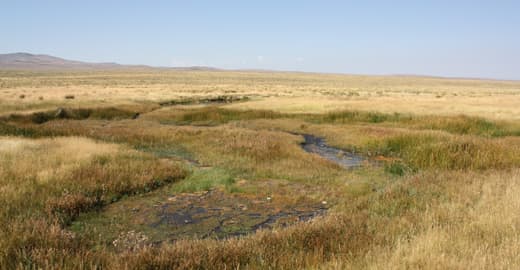 Above: A hot spring on the California Trail near Jackpot, Nevada
Wednesday morning.  I continue following the trail northeast.  It goes almost to the corner of Nevada, then turns Northwest, then eventually west to the town of Jackpot.  I made a short half-mile side trip to check out this pretty hot spring.
A car can drive this by way during the dry season.  There was one creek crossing, but it's very shallow.  I gassed up in Jackpot and headed back east into the desert.  There are some old mines to visit and some rockhounding to do.
First stop is an old mine to look for malachite.  It has a green color that is easy to see.  There were a couple of old jalopies here which always complement an old mine.
I go further east, then south along Trout Creek Road to an Onyx mine.  I hike the last quarter mile up to the mine and go through some tailings.  I find enough examples to move on to the last site of the day.  It's a small hill covered in Junipers and there are several diggings where you can find opalized wood.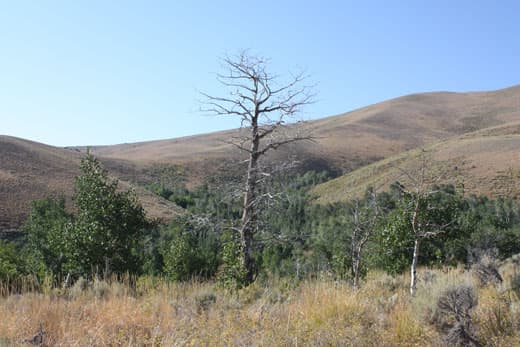 Above: Texas Springs where I spent Wednesday night