The Island hop was next.  We arrived at North Sydney late in the afternoon and were unable to catch the last ferry to Port aux Basque, Newfoundland.  Again, the truck camper provided us with comfortable shelter and sleeping quarters while waiting in line for the next departure.  Boarding started at 3:00am.  I kept thinking how comfortable we were next to all those people sleeping in cars.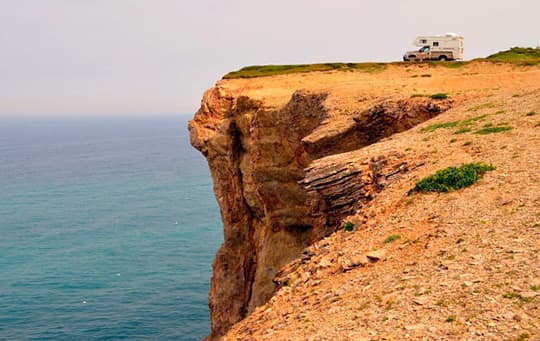 Above: Cape St George, Newfoundland
After a foggy ferry ride, Port aux Basque came into view.  It proved to be an exceptional place to visit.  The island coast line is rugged with cliff views far exceeding anything that we have seen so far on this trip.
Above: Cape St Mary's Ecological Reserve, Newfoundland
The birds migrate and nest here in the summer by the thousands.  Cape St Mary's Ecological Reserve is off the beaten path and has a large parking lot, but the park attendant said no overnight camping.  He also said, "I leave at 5:00pm and return at 7:00am.  Don't let me catch you here at 7:00am".  We didn't gamble and headed for a turnoff close to the main road and parked for a quiet night.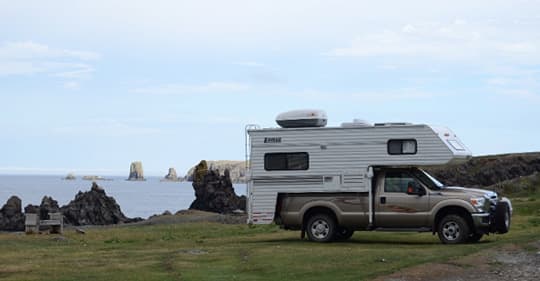 Above: The north shore of Newfoundland
After spending a couple of weeks in Newfoundland, we realized that a whole other trip could be planned for future discovery.  We didn't see the Northwest part of the Island up towards Saint Anthony's, the area that the Vikings inhabited.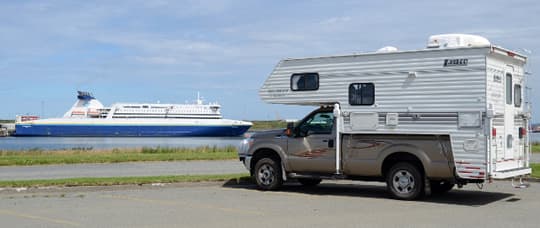 Above: Their return trip – Argentia, Newfoundland was the start point of a 16 hour ferry ride to North Sydney, Nova Scotia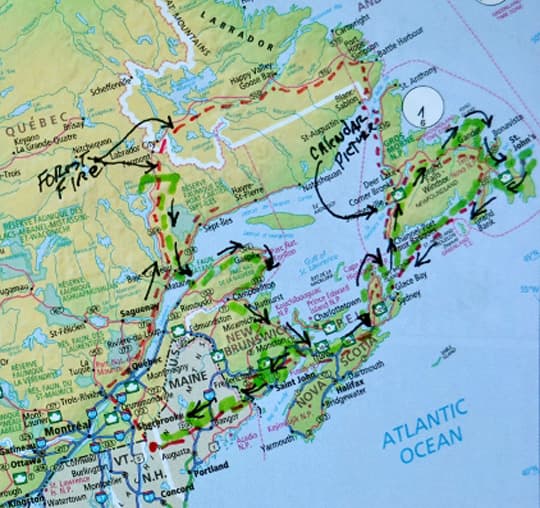 Above: The route that Lucien and Helen took throughout eastern Canada
2 Boomers On the Move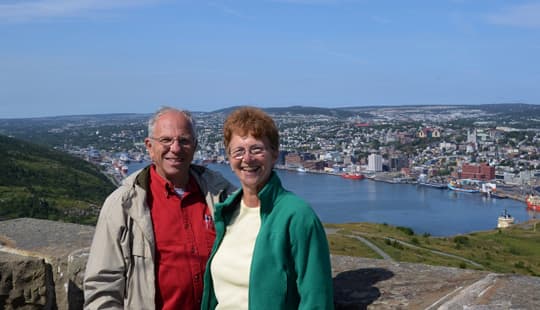 Above: Lucien and Helen in St. John's, Newfoundland
I write a daily blog, http://2boomersonthemove.blogspot.com adding a few pictures and telling of our close encounters or our newly found friends on the road.  I don't always have the capability of publishing online, but sooner or later we find internet access.  I surely love to blog and relive our trips and people that have crossed our paths.
Many an evening in the camper is spent sitting at the dinette table talking to each other or reading a good book with a cup of coffee.  Laptops also play an important part of our adventures.  We often spend time in the evenings tapping on the keyboard recalling the day's happenings.
Baby Boomers are not quite ready for that recliner yet.  We have the spirit and will to travel and explore.  The truck camper is the ideal tool to bring us to that adventure.  The other thing that we've noticed is that the truck camper has brought us closer together.
Have you traveled in Canada with your truck camper?  Please share your story about your Canadian truck camping travels.