Our next trip, and the main subject of this article, was for a circle tour of Labrador, Newfoundland, and Nova Scotia, Canada.  The jaunt would bring us on a stretch of gravel road from Labrador City, Church Hill Falls, and Happy Valley/Goose Bay to Port Hope Simpson.
Eleven hundred miles of newly constructed roads would be pretty isolated.  It is so isolated that the Canadian government will loan you a satellite phone.  The phone is setup to call the RCMP (Royal Canadian Mounted Police) for help.
Gas is available along the route.  The farthest distance between gas stations is 250 miles.  This trip was definitely a two spare tire trip.  I added, to my existing front receiver hitch, a mount for that extra spare tire.  I had studied this route for quite some time and was itching to get started.  We were packed, loaded, and on the road by July 6th.
A few local fishermen here in New Hampshire had told me stories of how remote this trek could be.  Of course, they had only traveled north as far as the Hydro Quebec Dams indicated on the map by a circle of water around an island.  We would go 2,400 miles further on a giant circular arc with multiple ferry crossings.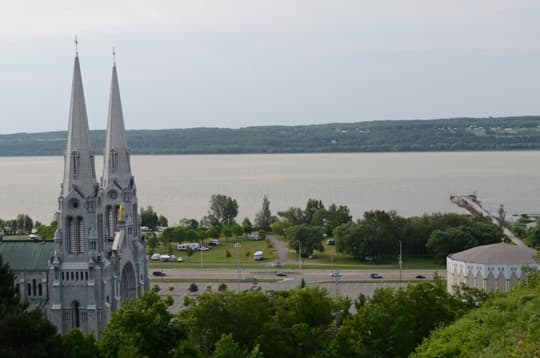 Above: Sainte Anne de Beaupre campground is in the distance
We left July 6, 2013 and made our way into Canada's Quebec Province for our first night stay in the small town of Sainte Anne de Beaupre.  We stayed in a community campground right across the street from a large cathedral, actually a shrine.  The campground was on the shore of the Saint Lawrence Seaway and had limited amenities.  That was alright with us.  The following night we were in a town off the Bay Comeau.
In the morning we headed north and away from the Saint Lawrence Seaway and towards the great Hydro Quebec Dams.  They were named Manic I, Manic II, and Manic III.  Manic IV was never built and finally Manic V the largest.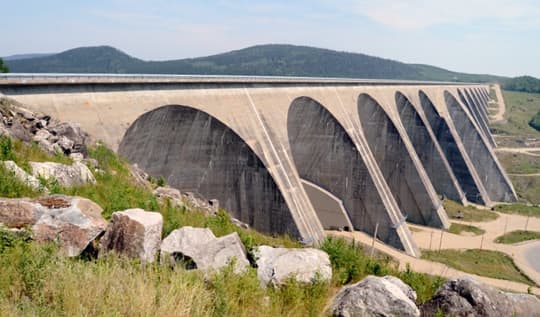 Above: The Manic 5 Hydro Quebec Dam
Manic is short for, "Manicouagan" a reservoir formed by a meteorite crater.  This dam is the world largest buttress dam being a mile across and 702 feet high.  Fortunately for us, the Hydro Quebec people offer a free tour of the hydro facility.  Besides a visit to the generator building, we were given a tour into the dam structure itself.
It was a little creepy to think of all of the water being held back with us inside this concrete coffin.  And yes, there is water that seeps and creates a small pond just below the largest buttress as seen in the picture.
This multiple-arch-and-buttress dam is truly unique.  Its construction, spread over a ten-year period, required 2.2 million cubic meters of concrete, the equivalent of a regular sidewalk linking the North and South Poles.
At 12:30pm, the tour was over and we asked how the road conditions were going up to Labrador City.  The tour guide said, "Just a minute and I'll call the Trans-Canadian Highway Department and check".  The highway department said the highway was open and good with very little construction.
We headed north above the dam and the road soon turned to gravel.  The radio stations were now gone and so was the cell phone reception.  At approximately 2:30pm, we arrived at a general store (Relais Gabriel) with the main road gated shut.  A girl in a pickup truck said, "The road is closed because of a forest fire".
"How long will it be closed?" I asked.
"Don't know", she answered.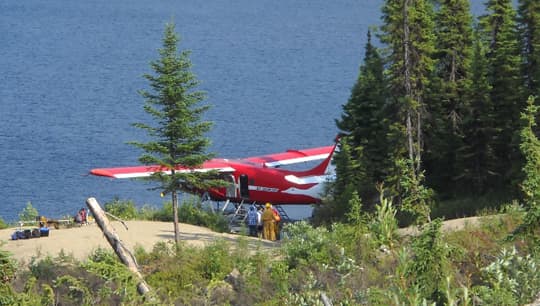 We parked the truck camper next to the general store and then the excitement started.  First thing was the arrival of a Huey helicopter with one of those large water buckets sling loaded below.  This was followed by a water bomber and an "Otter" float plane with "smoke jumpers" (firefighters) inside.
Did I say I wanted adventure?  I could hardly control myself.