Above: Nancy next to the Arctic Ocean in Tuk
We were there on September 13th. Someone in the general store said that winter was already there to stay. It was -2 degrees Celsius (28 degrees Fahrenheit) during the day and -4 to -6 degrees Celsius at night (24 to 21 degrees Fahrenheit). The temperature doesn't fluctuate much from day to night because the ocean keeps it constant.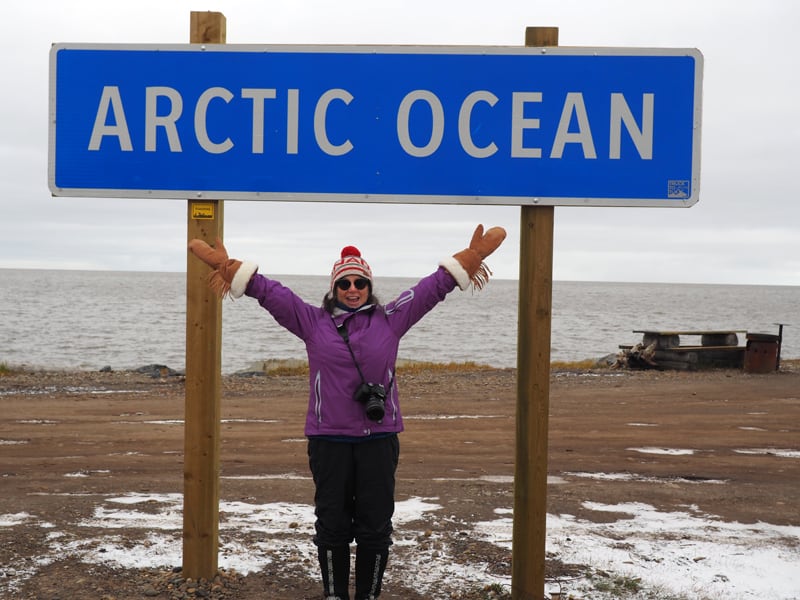 The ground is so soft there that it's hard to find anywhere to pull off the road to boondock. From Inuvik north you have to stick to the road or you could get stuck.
We were in Inuvik on September 11th and they had closed the municipal campground that morning. Inuvik has a lovely municipal campground with a dump, water, and electricity. Because it starts freezing so early, they close it down. We ended up getting water from the fire department.
That's cold! Why did you choose to go there in September?
We like traveling in September because of the fall colors. The mosquitoes are gone. The campgrounds have a lot less traffic because the kids are back in school. And there is less tourist traffic.
Someone at one of the visitors centers told us Tombstone Park got 22,000 visitors last year and this year they got over 60,000. The opening of the road brought people from around the world to rent an RV and travel there.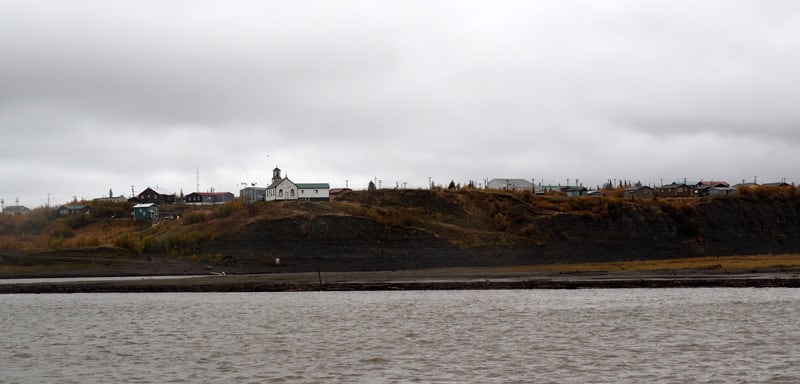 ABove: The town of Tsiigehtchic at the Mackenzie River Crossing
I can't imagine attempting the conditions you described in a rental RV.
A lot of people did wind up turning around because of the road conditions.
We lucked out because people earlier in the year were waiting for the Peel River and MacKenzie River ferry for several days because the landings were washed out.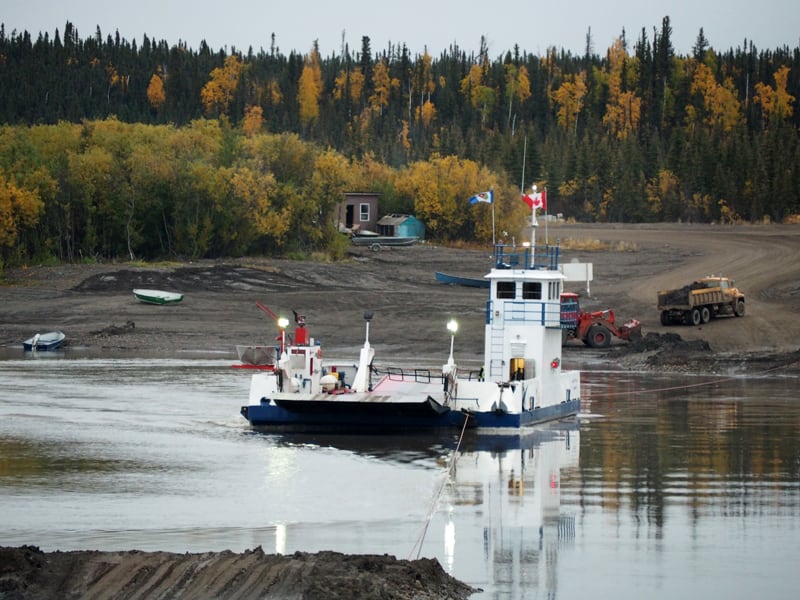 Above: The Peel River Ferry, note the muddy landings
When we were there, big front end loaders dropped fresh dirt on the muddy landings so we could put our truck in four-wheel drive and waddle onto the ferry.
Above: The view from Nancy's kayak, Arctic Ocean
That sounds like an ordeal. Overall, was the 900-kilometer trip what you had hoped it would be? Was it worth it?
If you have an adventurous spirit, it is more than worth it. The scenery is gorgeous! It is an adventure just to get there.