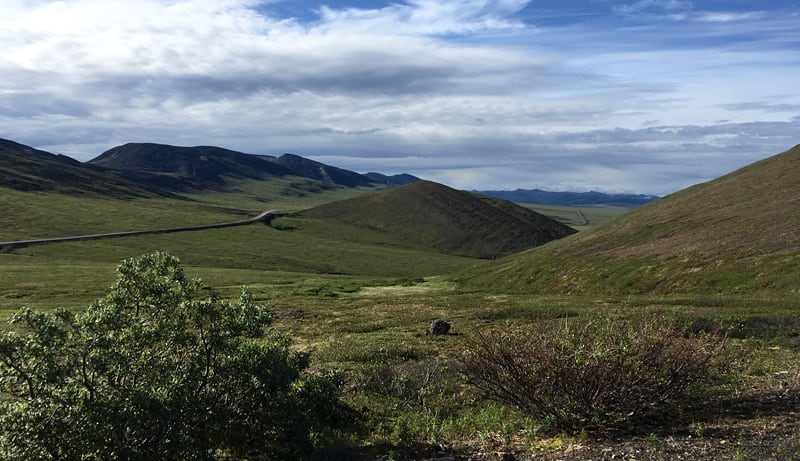 Above: Dempster Highway just south of the Yukon and Northwest Territory border
Mary: I would also recommend connecting with family through a SPOT Satellite GPS Messenger. We told family that if they didn't see us move for seven days, call somebody. With the SPOT, they could watch us as we were traveling. They knew where we were at all times.
Steve: The SPOT service was useful because of the lack of cell service. You only get cell service in the Yukon and Northwest Territories in the far flung communities. The SPOT is good for nervous family members at home. In southern Canada you can get cell service almost everywhere.
Mary: We were also concerned about access to fresh vegetables and fruits in the remote areas. Our daughter-in-law gave us a dehydrator for vegetables and fruits, which made taking fruits and vegetables easier. The dehydrated fruit and vegetables were light and easy to rehydrate.
Steve: For power, we have one 75-watt solar panel and one Group 31 battery. We were only plugged in one night out for the entire trip. For our power needs, the single solar panel and battery were perfect, particularly given you eventually get 24 hours of daylight.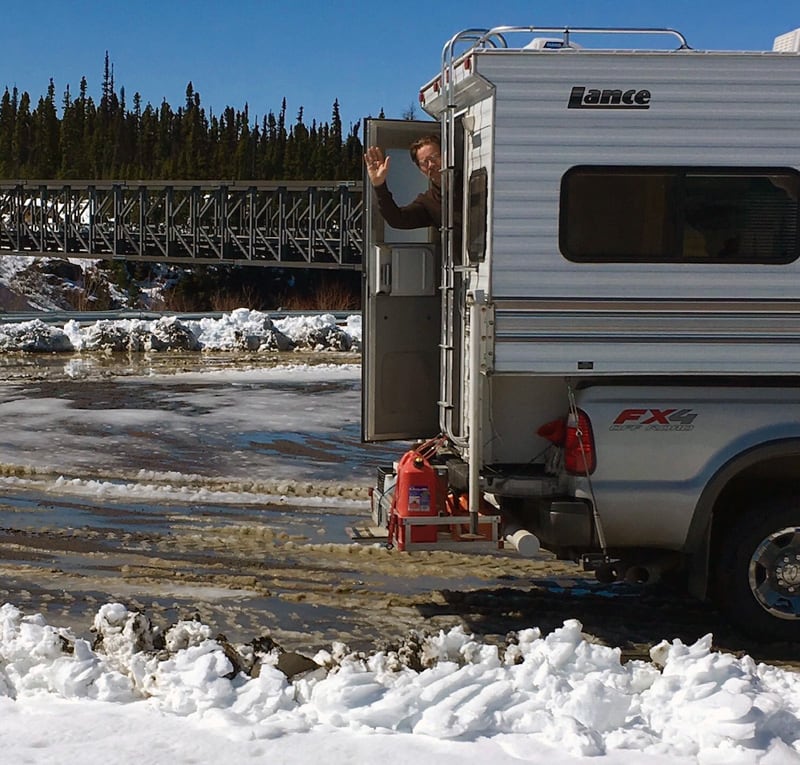 Your adventure has put quite a few new destinations on our bucket list. Is there anything else you would like to add?
Mary: Get out there and do it while you can.
Steve: Do some planning ahead of time and be flexible. Leave yourself lots of time to do the exploring you want. We were lucky to have three and a half months on the westerly part of the trip, so we didn't rush. We lived in the moment.
Mary: There were so many great moments. We would go around a corner and be so glad we took a road. The most memorable place in the Yukon was the town of Faro. We had no idea that it would be such an interesting spot. We stayed three days in the tiny town instead of driving straight through. It was different from anything we had seen. Faro is a small ex-mining town striving to come back.
Steve: Those unexpected things are such a treat. We are so lucky that we've had the opportunity to travel.
Steve and Mary's Rig
Truck: 2008 Ford F-250, extended cab, short bed, diesel, four wheel drive
Camper: 1999 Lance 815
Tie-Downs/Turnbuckles: Torklift Tie-Downs and XL Turnbuckles
Suspension: Firestone Airbags