Don't even think about tackling the spectacular Dempster Highway without reading Martin Spriggs' critical list of do's and don'ts.  He also shares critical lessons from multiple accidents he encountered along the way.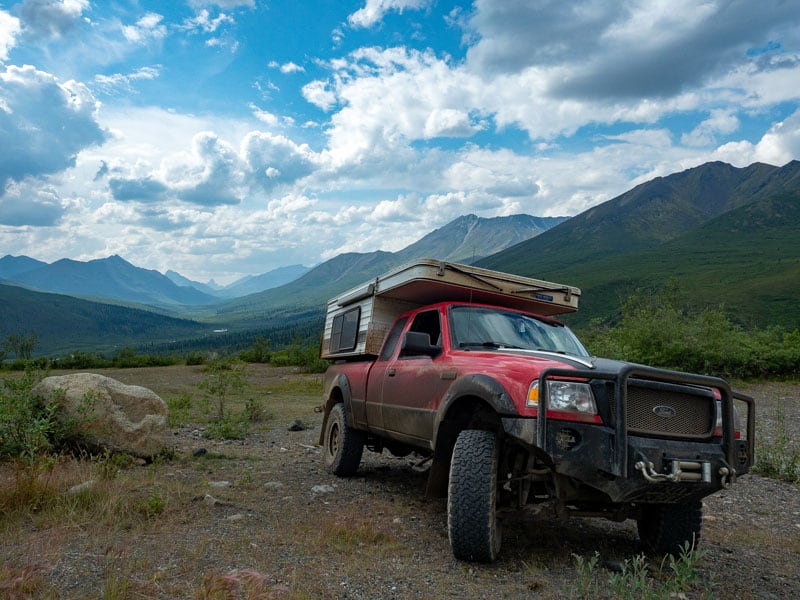 Above the Arctic Circle lies a destination which should be on every truck camper's bucket list: the Dempster Highway.  The Dempster Highway was officially completed in November 2017 by linking Inuvik to Tuktoyaktuk, Northwest Territories (NWT), the entire stretch of highway from Dawson City, Yukon, to the Arctic Ocean.
The highway was named after Corporal William Dempster of the Royal Canadian Mounted Police (RCMP).  Corporal Dempster is credited with discovering the fate of, "The Lost Patrol" during his journey by dog sled from Dawson City to Tuktoyaktuk, in 1911, but that is another story!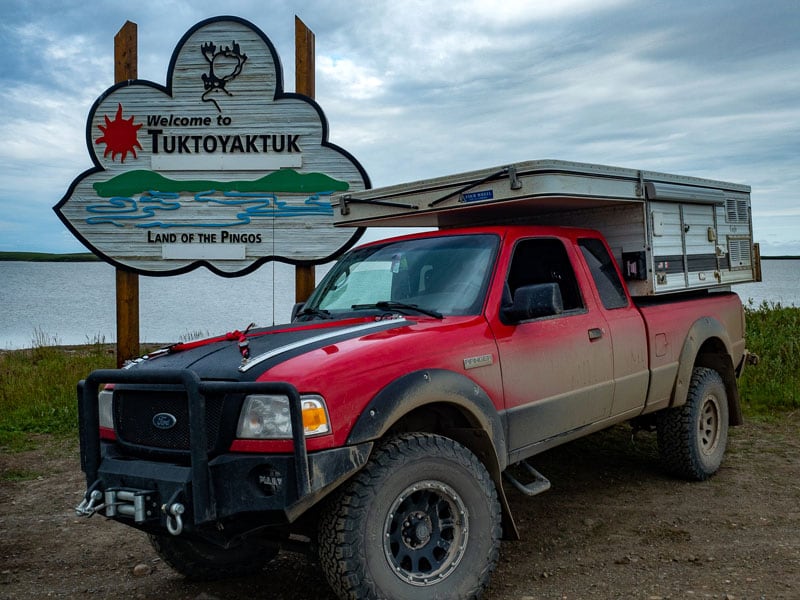 Above: Martin's Four Wheel Camper rig on the hamlet of Tuktoyaktuk on the Arctic Ocean at the northern tip of the Dempster Highway.
Prior to completing the Dempster Highway, the little hamlet of Tuktoyaktuk, or 'Tuk' as it's known to northern Canadians, was one of the many fly-in/fly-out communities in the territories dotting the landscape along the Northwest Passage.  Today, the Dempster Highway links Tuktoyaktuk with Inuvik and all points south through Dawson City, Yukon, by road.
The Dempster Highway traverses through some of the most pristine arctic landscapes available for ordinary travelers to experience.  Truck campers wanting a truly unique northern experience are treated to breathtaking views of northern wilderness along its entire 737-kilometers.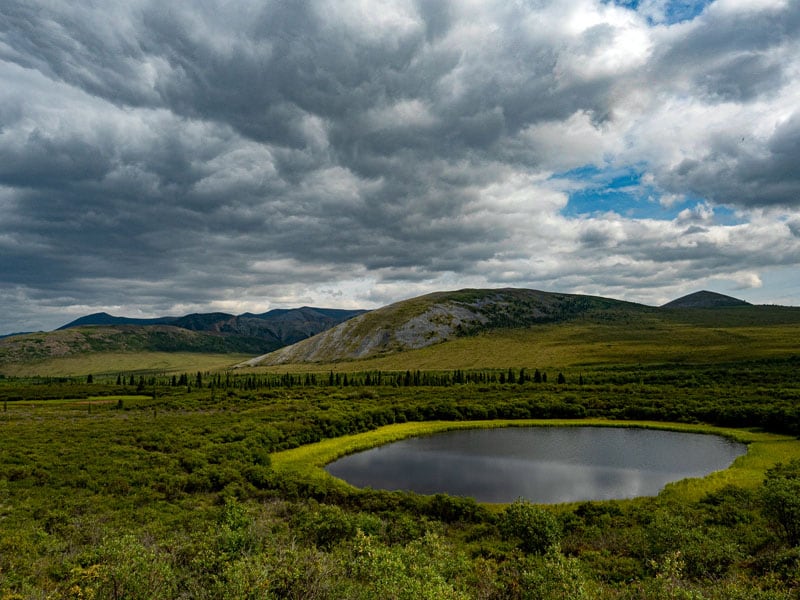 Above: Pristine Arctic landscape awaits travels all along the Dempster Highway
The land which the Dempster Highways transits is home to several traditional First Nations and Inuvialuit people including the Trondek Gwitchin, Tetlit Gwitchin and Nacho Na Dun. All share rich traditions and I encourage travelers to stop and talk to the local caretakers of the land.
Don't feel as through First Nations and Inuit people are not paying attention to you if they lower their eyes or even look away when spoken to. They are a humble and shy folk, but they have much to offer if you take the time to listen to their softly spoken words.
Dempster Trip Preparation
Driving the Dempster Highway requires a high degree of preparation, but don't let that dissuade you.  As you would for any long distance trip across barren country, ensure that your truck is in top mechanical shape prior to the journey.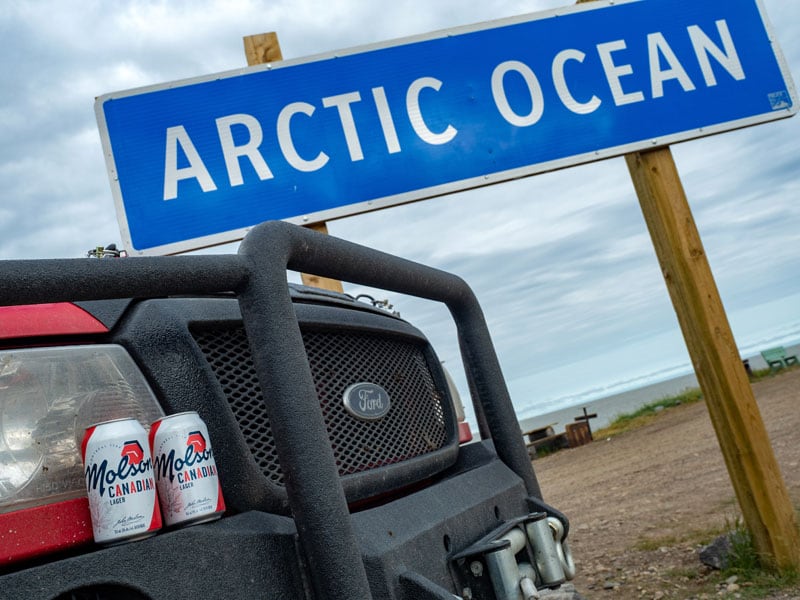 Make sure your suspension and drive train systems are in serviceable condition.  The Dempster is far from any local repair shop!
Just before the start of my Dempster adventure, my truck needed new front-wheel bearings.  I was hesitant to delay the trip so I rolled the dice.  I was able to complete the Dempster Highway without issue and installed new wheel bearings in Fairbanks, Alaska.  Thank you, NAPA Auto Parts!
I also recommend carrying safety equipment including a first aid kit, tire repair kit, basic tools and a 72-hour survival kit.  From experience, be sure to carry accident triangles or flares for signaling accidents to other oncoming drivers.
I came across three separate accidents during my summer in Alaska and the Yukon.  At all three accident scenes, no one had signaling gear.
As a former emergency medical technician, I am embarrassed to say this included me.  At one accident scene on a blind corner, we improvised and made a warning symbol from leveling blocks to slow semi-trailers before they reached the accident scene.  Improvise, adapt and overcome – words to live by.
If you are an experienced truck camper, you will probably wish to air down your tires to at least 25-pounds for the entire highway.  You will benefit from an air compressor to refill tires once you reach the tarmac.
Many sources I read before driving the Dempster recommended a second spare tire.  From my experience, this is overkill and unnecessary.  Unless you are extremely unlucky, one full-size spare tire on a full-size wheel will suffice for traveling the entire Dempster Highway.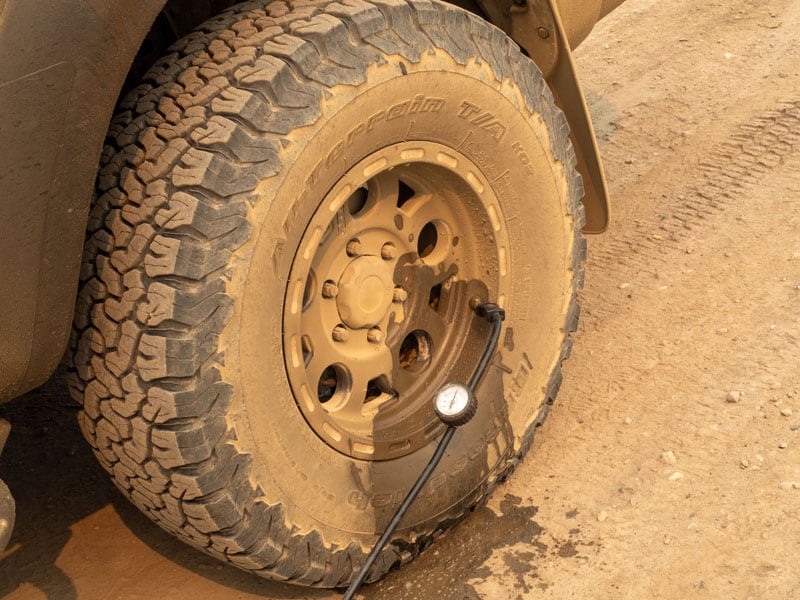 Above: Airing down is definitely worthwhile to maintain vehicle control and prevent tire and suspension damage
The highway sees many different forms of camping from tents to full-size RVs, but I feel a truck camper definitely provides the best platform for traveling the highway.  A truck camper gives you added flexibility to maneuver off-road to explore backcountry camping sites and security against the elements when the weather turns inclement.
I'm very biased towards Four Wheel Campers and I love my truck.  It was the perfect rig for the Dempster.  Having said that, all hard side truck campers, with or without slide-outs, should have no issues on the Dempster.  I passed many truck campers that had no difficulties traversing the highway.
Although four wheel drive is not required to drive the Dempster, it is certainly a benefit if you take the opportunity to explore backcountry camping.  Four-wheel drive will also be helpful when the highway turns into mud.
An extra jerry can of fuel is a must for this trip to ensure you arrive at the next fuel stop.
For all the truck camping fishermen who dream of catching a Grayling, Dolly Varden or Salmon in northern Canada, two fishing licenses are recommended; one for the Yukon and one for the Northwest Territories.
Lastly, you will appreciate a good insect repellent to deter the omnipresent squadrons of mosquitoes craving truck camper's blood!  The worst spot I encountered for mosquitoes was in a backcountry campsite at Eagle River Crossing just a few kilometers north of Eagle Plains.  It was a pretty location and a moose went splashing past in the river, but the mosquitoes attacked in droves!
Several excellent online resources are available to aid in planning your Dempster adventure including dempsterhighway.com and themilepost.com.  Multiple videos are also available on YouTube to help steer your planning.  Just search Dempster Highway and pick your poison.
Getting To The Dempster
There are really only three ways to get to the southern tip of the Dempster at Dawson City.  The first is to fly into Whitehorse, Yukon, rent a vehicle and drive northwest to Dawson City to begin the Dempster Highway.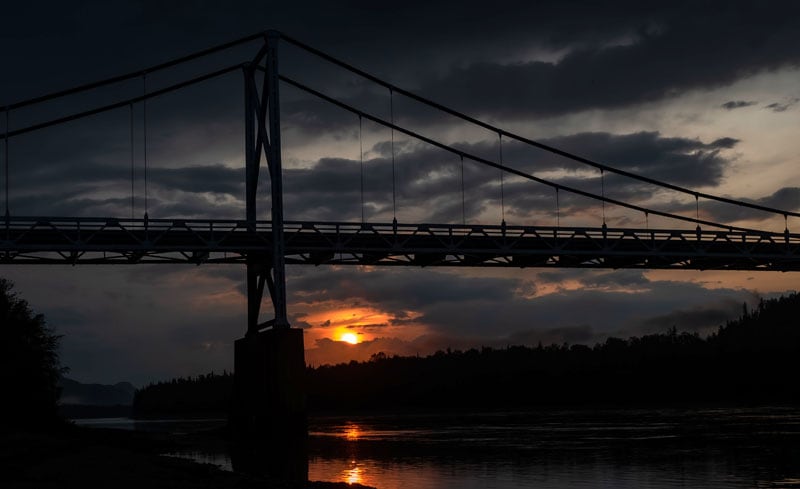 Above: The Alaska Highway crosses the Liard River in British Columbia
Several airlines including Air Canada and Air North provide flights into Whitehorse from large metropolitan centers including Calgary, Edmonton, Ottawa and Vancouver.  In the summer, access by air into Whitehorse is expanded with direct flights from Ottawa and Europe.  Local companies in Whitehorse rent everything from overland Jeeps to RVs.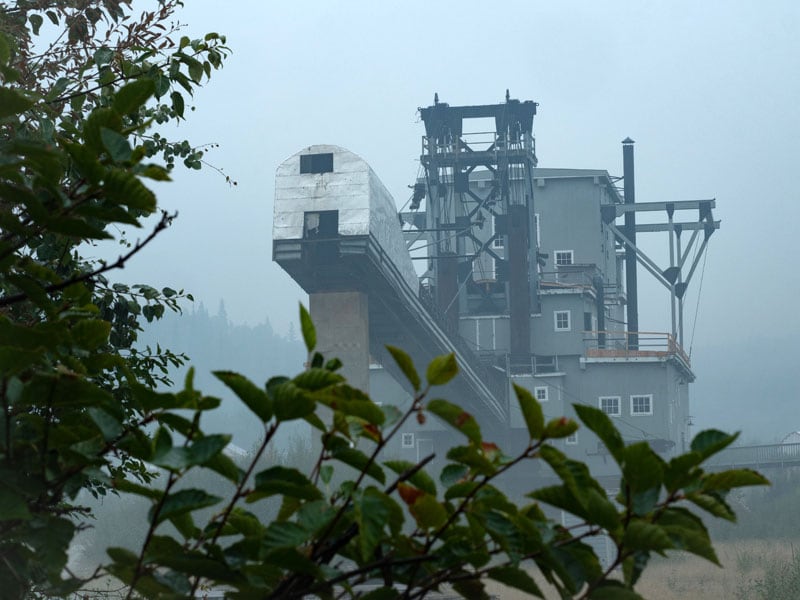 Above: Dredge #4 in Dawson City, Yukon
The second and recommended way to reach the Dempster is to drive to Dawson City in your own truck camper.  Both the Alaska and Cassiar Highways snake north from Alberta and British Columbia and become part of the adventure not to be missed.
Thirdly, the Dempster can be reached from driving the Top of the World Highway from Alaska to Dawson City.
The Dempster Highway's Road Conditions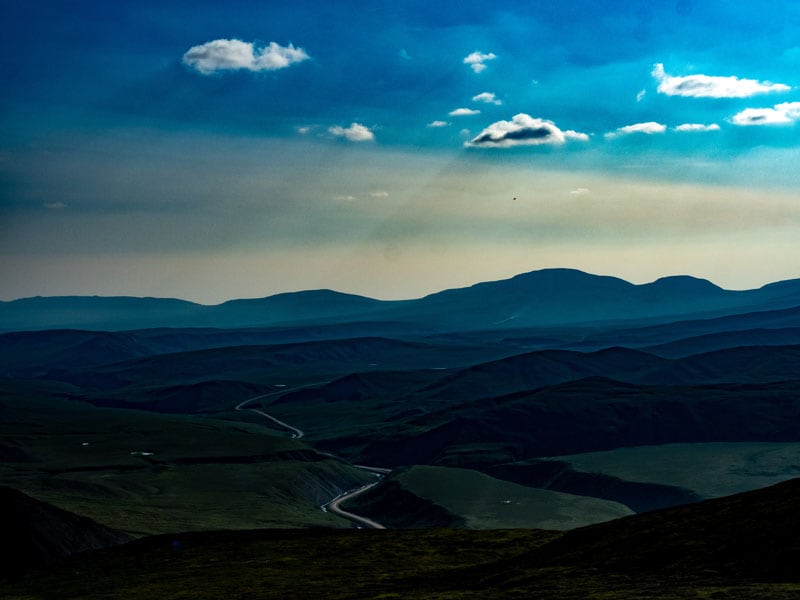 The Dempster Highway is essentially a dual lane dirt road.  Sections in the Yukon are better maintained than in the Northwest Territories, but wet weather has a detrimental effect on the condition of the road in all areas.  I still have Dempster mud on my truck months and multiple washes after my Dempster adventure!
Some sections of the highway are nothing more than shale rock protruding from the ground, but these sections are easily traversed without difficulty – especially if your tires are aired down.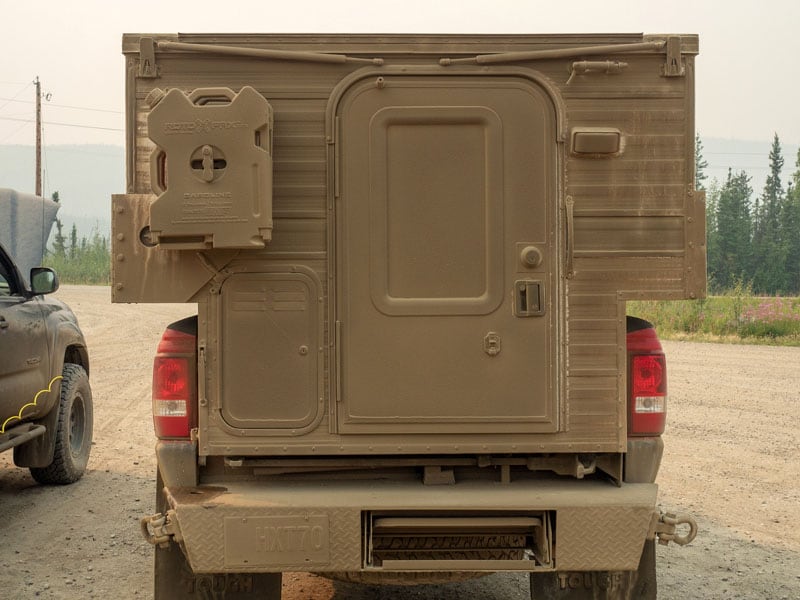 Above: Post Dempster, mud is everywhere
Roadside Rest Stops
Roadside rest stops dot the Dempster Highway at regular intervals but are reduced in number north of Inuvik.  Most rest stops have restroom facilities as well as interesting geological or historical information boards.  They are also an ideal and permitted place to park a camper overnight.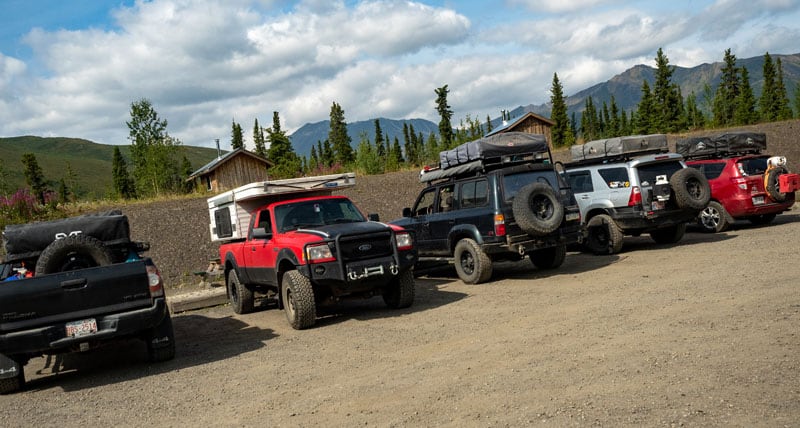 Some lodging is available on route but limited in number and amenities.  Tired drivers usually end up in trouble on the Dempster, so rest stops should be utilized.
One of the three accidents I came across on my Alaska/Yukon summer was an RV driver who fell asleep at the wheel and ended up in the ditch.  The RV was a complete write off where a truck camper would have fared slightly better.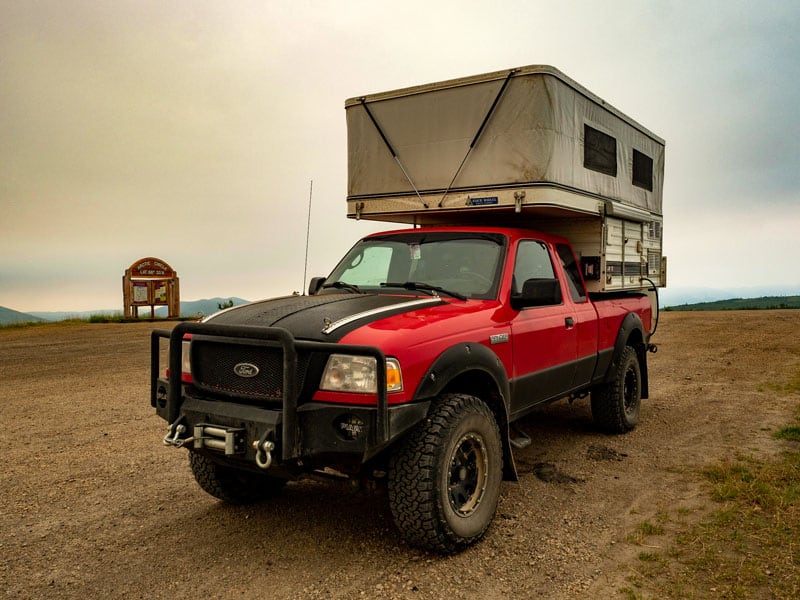 Above: One of the many road side rest stops; this one at the location of the Arctic Circle.
Dempster Driving Safety
Vehicle speed is clearly marked on the Dempster Highway, especially in the Yukon.  If you adhere to the recommended speed limits you will be fine.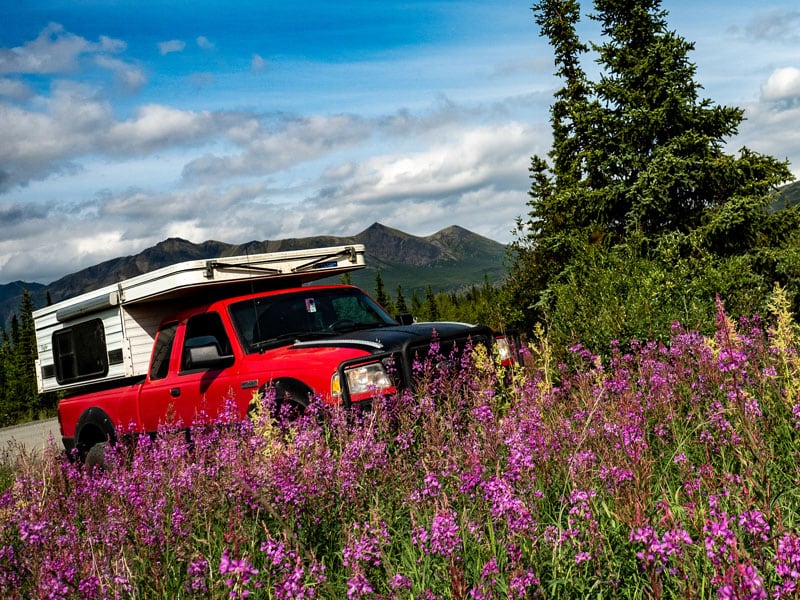 Law enforcement along the entire highway falls under the jurisdiction of Canada's federal police force, the RCMP, or "Mounties" for short.  Be advised; there is no calling 911 here due to the lack of cellular service.  In case of a serious accident, news of an accident usually reaches the RCMP and ambulance service by way of word-of-mouth from passing travelers.
Emergency medical services are provided in large part by volunteers from the local communities who are qualified emergency medical responders.  However, injury accidents are often initially attended to by passing motorists with medical qualifications.  These humanitarians are protected in Canada by provincial Good Samaritan's Acts.  Ensuring you have enough supplies for an unexpected 72-hour roadside stay, will serve you well.
Traffic along the Dempster Highway ranges from horses (not kidding!) to semi-trailers.  All modes of transportation including bicycles, motorcycles, cars, crossovers, sport utility vehicles, trucks and RVs use the highway.
During the winter months, snowmobiles and all-terrain vehicles are also on the road.  In northern communities, it is not uncommon to see a family of three or four traveling down the road on an all-terrain vehicle all year long.
From personal experience, accidents on the Dempster usually involve motorcyclists who lose control of their bikes on loose gravel or the weary traveler who falls asleep at the wheel.
The occasional accident is caused by a bear darting out in front of oncoming traffic.  Someone has yet to invent a way to teach wildlife to look both ways before crossing the road and, tragically, these situations usually end in a lose-lose scenario for both parties involved.
One accident I encountered was a motorcycle versus black bear where both lost.  Amazingly, the rider walked away with minor injuries whereas the bear was killed and the bike was totaled.
This is one of the reasons truck campers are ideal for driving the Dempster.  Although they won't prevent an accident, trucks do provide a degree of protection in case of an accident which most motorcycles and cars don't have.
Fuel Economy
As previously mentioned, it is a good idea to carry a spare jerry can of fuel if you drive a gasoline powered truck.  Diesel powered truck owners need not worry as their fuel economy usually gives them greater range.
Depending on where you fill up, the stretch before you reach Eagle Plains, Northwest Territory may require a top-up from a jerry can depending on the fuel efficiency and usage of your truck.
Most modern truck campers are able to travel the 405-kilometers (251-miles) between Dawson City and Eagle Plains without topping off but, if you are running your engine to heat your camper or exploring off the highway for any length of time, be forewarned and have some spare fuel ready.
Wildlife Opportunities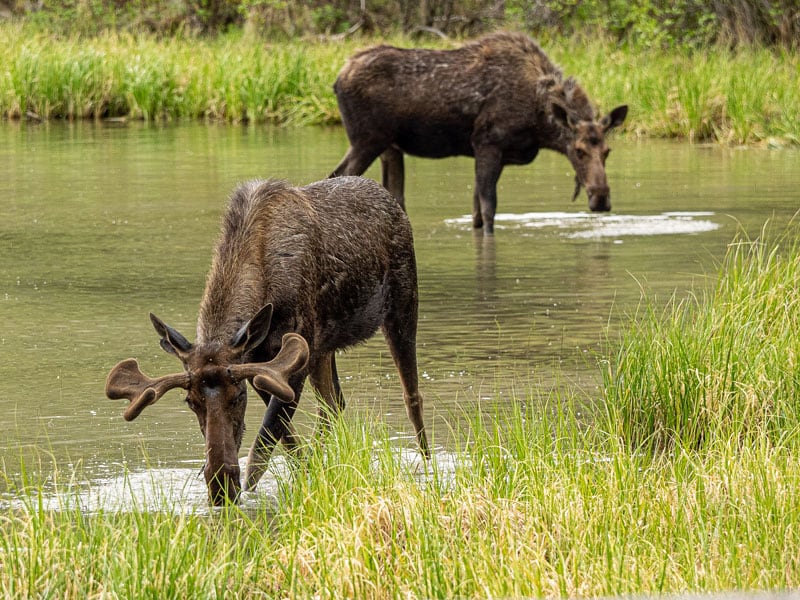 For wildlife enthusiasts, the Dempster is a gold mine.  Every form of northern mammal can be observed during the drive from migrating birds, to large herbivores to apex predators.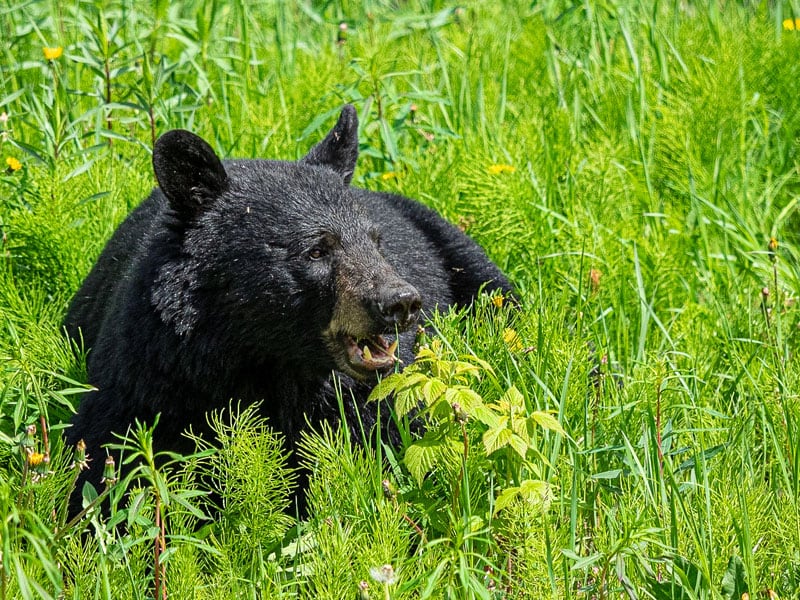 The Alaska and Cassiar Highways are also rich in readily observed wildlife.  This makes the Dempster even more attractive for the truck camper who chooses to drive the entire route from the south.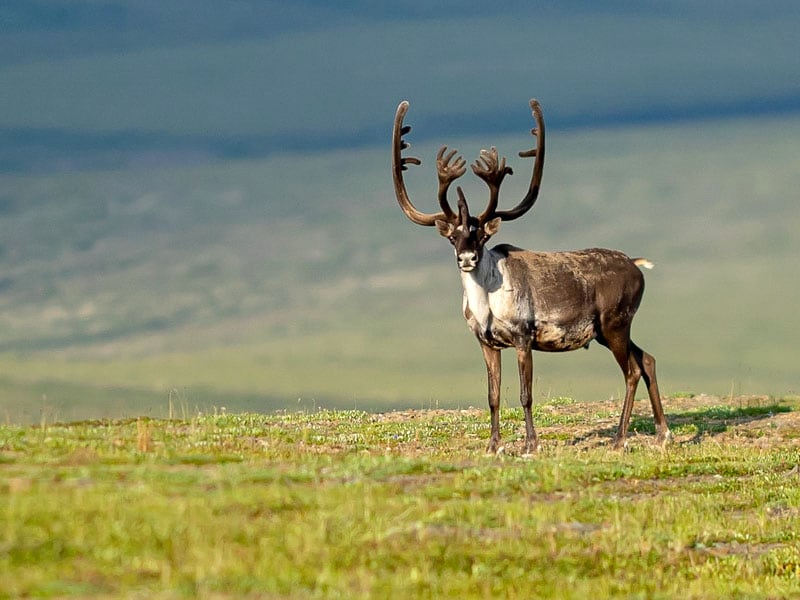 Wildlife viewing along the Dempster is spectacular.
Topography

Above: Tombstone Territorial Park in the Yukon, known as the "Patagonia of the North"
If the Dempster is a gold mine for wildlife enthusiasts, the same can be said for landscape photographers or topography enthusiasts.  From Dawson City north, the land morphs from boreal forest into subalpine mountain meadows into tundra, rolling across hills and horizons.  It is truly a remarkable study in three of Canada's biomes.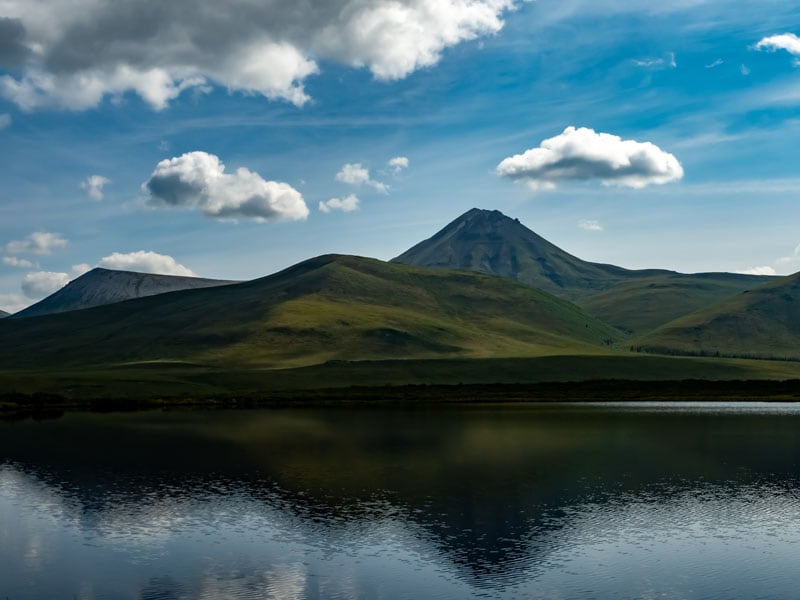 Above: Stunning landscapes greet the traveler at every corner of the Dempster.
Three Free Ferries
There are three ferry crossings on the Dempster.  The first is a quick crossing of the Yukon River at Dawson City, Yukon Territory.  The second is crossing the Peel River close to Fort MacPherson, Northwest Territories.
The third is crossing the mighty Mackenzie River at Tsiigehtchic, Northwest Territories.  The ferry at Dawson City runs 24-hours a day and the ferry schedule for the Peel and Mackenzie Rivers are available at inf.gov.nt.ca/en/ferries.  All ferries are free and no reservations are required.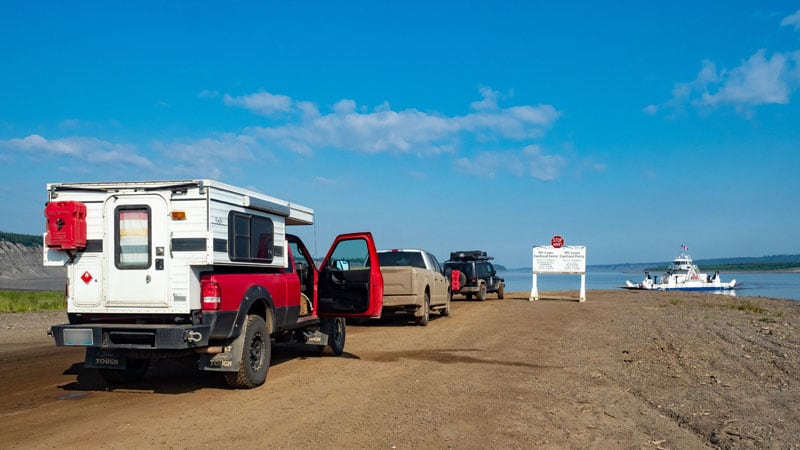 Above: The ferry crossing the fabled Mackenzie River
Top Recommendations
Tombstone Territorial Park is simply breathtaking.  I cannot understate this point.  The topography in the area of the Yukon/Northwest Territories border is amazing and certainly warrants an overnight stop somewhere close.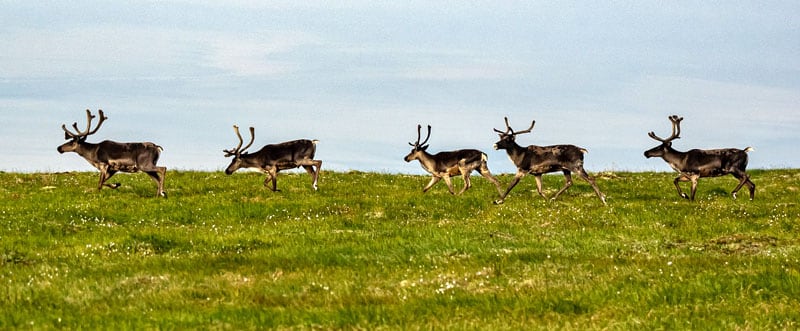 Here, lucky travelers may be rewarded with scenes of caribou from the famous Porcupine herd migrating across the tundra.  It's truly a once in a lifetime experience few will soon forget.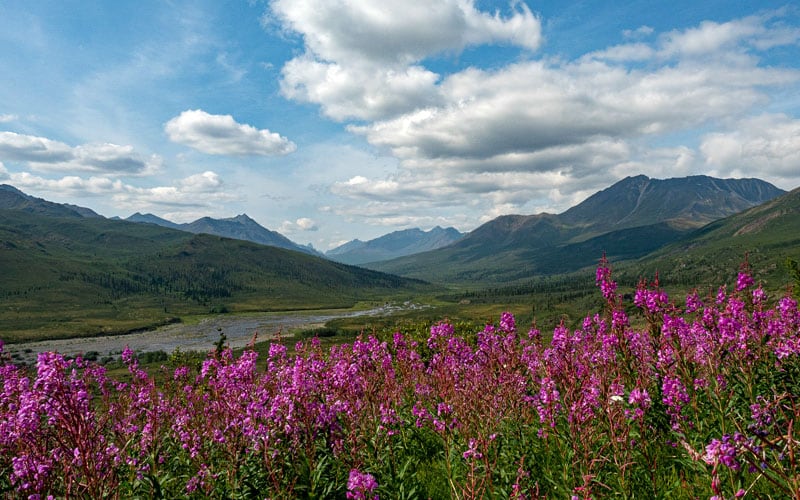 Above: Tombstone Mountains from the highway
There are a few dirt trails in the border area leading from the highway that give way to incredible views when explored.  You are able to free camp here in the backcountry and I recommend doing so.  Ensure you adhere to the, "pack in and pack out" or, "leave no trace" principle of backcountry camping and you will be fine.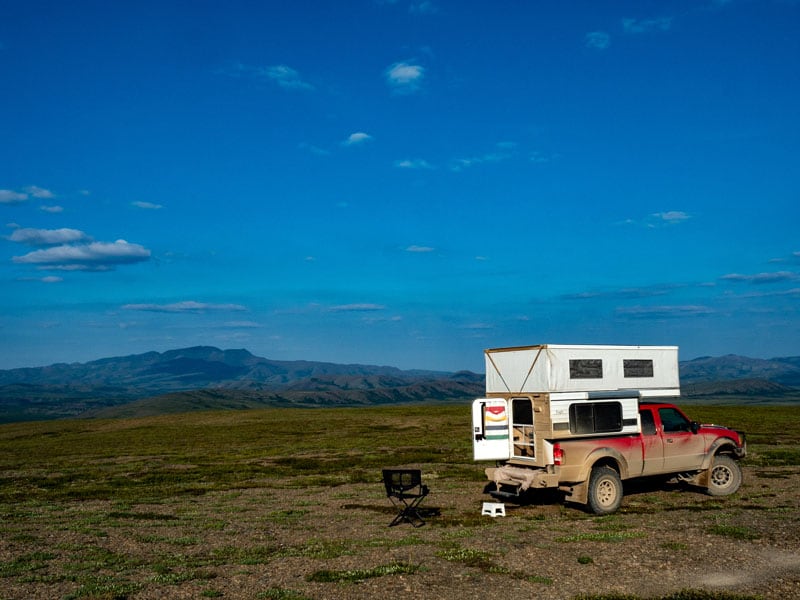 Above: Backcountry camping along the Yukon/Northwest Territories border
You are pretty much guaranteed a windshield kiss or two from passing vehicles!  Unless your windshield is severely damaged, I recommend not changing it until you return from the Dempster Highway.
I'm not what you would call a "techy" but two apps that were definitely useful on the Dempster were iOverlander and maps.me.
iOverlander is an app which displays campsite locations on a map and information on the sites.  The information includes whether the campsites are formal or backcountry, and if they have any on site facilities.  Maps.me is a cartography app that works in conjunction with iOverlander.  Both were really helpful.
Airing down your tire pressure will not only make for a smooth ride but will prevent undue wear and tear to your suspension system.  I aired down and I did not experience any suspension related issues.  Airing down is strongly recommended.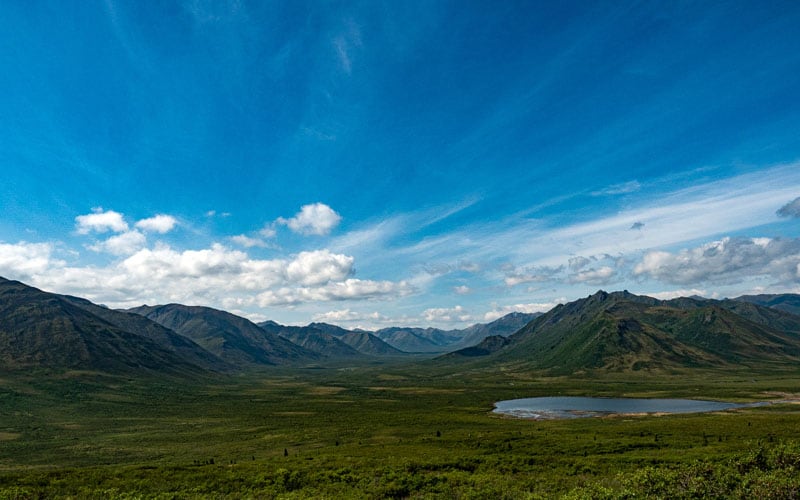 Bring a camera as you will want to record this adventure.  If you are not a photography enthusiast, use your mobile phone to record your trip.  Modern cellular phones have amazing picture quality and are basically a point and shoot camera with integral editing tools.  Take a camera.  You won't be disappointed.
Lastly, I recommend you just go.  As the Nike commercial says, "Just do it".  From novice to experienced overlander, the Dempster Highway can be tackled by all levels of truck camper.  Drive the Dempster Highway and you will not regret it.  Life is too short not to check driving the Dempster off your truck camping bucket list!
To visit the Four Wheel website, go to fourwheelcampers.com. Click here for a free Four Wheel brochure.