TIP: If you are by yourself, as I was for most of the trip, don't forget to bring a remote for your camera so you can get in the pictures.
We had a sign made up before I left and I put it up at the Sign Post Forest in Watson Lake.  You can spend a long time wandering the aisle of signs that are up.  It is amazing to see how far away people have come and how ingenious some of the signs are.  We had ours made for thirty dollars, but it was definitely worth it since I am not adventurous enough to go out and steal an actual DOT road sign, which a few people obviously did.
The Sign Post Forest is a pretty nice place to stop and relax.  The town of Watson Lake put up the posts and you can put your sign up free of charge.  Just bring the screws and nails to get the job done.
Honorable Mention
Native Alaskan Center in Anchorage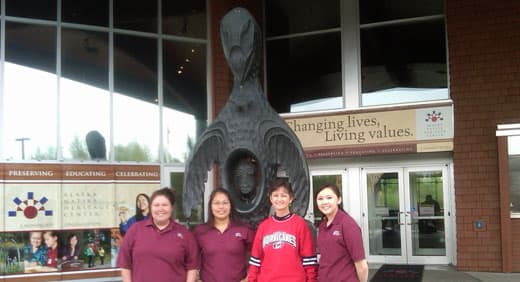 My wife would be the first to tell you that I am not big on museums, but the Native Alaskan Center in Anchorage turned from a one hour stop to an all afternoon stop.  It is a fascinating place and the young ladies in the picture with Hope were from all parts of Alaska.
The young lady on the left of the picture told us she came from a remote fishing village north of Barrow, Alaska and said she remembers swimming in the ocean during the summer.  Check out where Barrow, Alaska is and then tell me you would go swimming in any month of the year, because I know I would not.
The stories, the native dancing show, the artwork, and the various home sites shown on the property will not only take you back in time, but will have you saying, "Wow" a lot.  If you thought you were creative, you have not seen anything until you see this place.
Homer, Alaska
Go down to the end of the famous Homer Spit and see all the people fishing.  If you are lucky, like I was, you will see an Eagle swoop down like it is going to land, come very close to the water, drop its talons into the water, and carry away an eight to ten pound fish.  It was amazing to see.
Seward, Alaska
Seward has an aquarium that has many types of ocean animals, including injured dolphins and sea lions that they are nursing back to health.  It's worth a visit if you are in the area.
Alaska Pie
I know it sounds silly, but every restaurant that I stopped at in Alaska had the best pie I have ever had.  If you are going up the Haul Road, you have to stop at the Hill Top Restaurant and fill up with gas.  It's the last stop for gas until you get to the Yukon River.  Then go in for breakfast.  I had the best bacon, eggs, hash browns, and toast, and two pieces of pie.  Needless to say I didn't eat for the rest of the day.  My trucker's breakfast carried me through.
The People
I guarantee you will meet the nicest people in Alaska.  Go out of your way to go to non-tourist spots and meet true Alaskans.  I liked to stop at a local bar for a beer.  You ask what is so great about this area and you can spend the rest of the night learning about stuff you can't find in any tourist book.  And if you offer to buy a round, the stories get better.  Not all may be true, but they are fun nonetheless.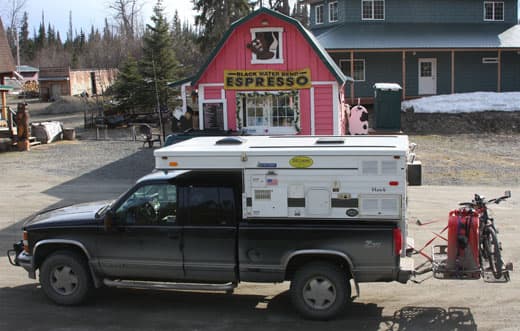 I stopped at a place that I had seen on Google Maps which I called, "The Starbucks of Alaska".  It's called Black Water Bend Espresso and it is about five miles outside of Homer, Alaska.  I only had a smoothie, but it was great and the people were amazing.  Because it was before the real tourist season (notice the snow) I got a chance to talk and visit and learn about them, the store, how long they had been in Alaska.  Like I said, go out of your way and you will have a blast.
Summary