TIP: You can carry a firearm in a National Park, however, you are not supposed to discharge it.  I'm not sure how that works if you are confronted with an angry bear.  And never get between a moose cow and her calves or a mama bear and her cubs, because they may attack in that situation.

6. Denali Highway / Wildlife
The Denali Highway is approximately sixty miles long.  About ninety-five percent of it is dirt road.  It was a wet rainy day when I drove it and the road was somewhat treacherous.  It's narrow in spots and, depending on traffic, you need to be cautious going around curves.  If you stop to take pictures, be aware of where you are stopping.  You don't want to come around a sharp curve and find someone parked, no more than they would.
The vistas from the Denali highway are different from the Haul Road or the Top of the World Highways, but incredibly beautiful.  This highway, like the Top of the World Highway, is a seasonal highway, so early or late in the season may be muddy and treacherous.  On all of the dirt roads, dry or wet, a four wheel drive vehicle is very useful.
TIP: Early in the spring, is the best time to see Alaska's amazing wildlife as they come out of hibernation looking for food.  I was in Alaska from early May to mid-June and was able to see almost every conceivable type of animal, some a little closer than I might have liked, but always at a safe distance.  Learn all you can about the wildlife and how to deal with them before you leave.  What you learn could save your life.

7. Exit Glacier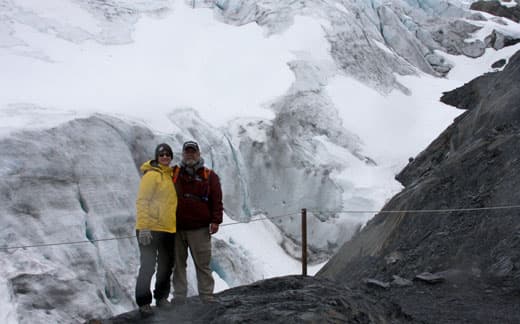 The Exit Glacier is about four miles east of Seward and is well worth the hike to see it.  We walked through about two feet of snow for almost two miles to get there.  The walk was tiresome but what a view when we got there.
As I walked up close to the glacier, the temperature dropped maybe twenty-five degrees and there was a mist of snow in the air.  The glacier actually generates its own weather, almost like Mount McKinley/Denali, but not quite as severe.
If you don't want to go all the way to the face of the glacier, there is another route that takes you to the valley below with a good view up to the glacier.
8. Skagway / Haines, Alaska / Haines Hwy
Driving down to Skagway from the Alaska highway is a beautiful trip unless there is a blizzard like there was when I went to Skagway.  But even that was fun.  At one point I actually drove through a snow drift that hit the front of the truck and exploded up over it.  The blizzard was not expected at the time, but that's what four wheel drive is for.
TIP: Skagway is worth visiting.  After your visit, take the ferry to Haines and head back up the Haines Highway.  Then drive back onto the Alaska Highway.  This route means you will miss a small section of the Alaska Highway, but the Haines Highway more than makes up for it.

9. University of Alaska – Museum of the North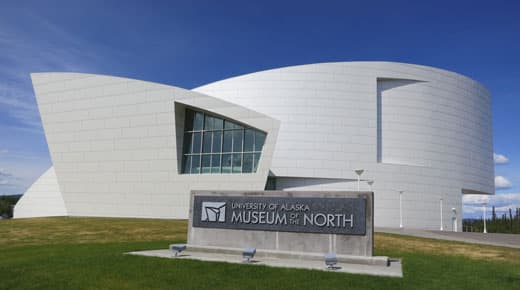 There are spectacular views from the University of Alaska.  On a clear day you may even be able to see Denali.  The campus is beautiful and the Museum of the North is a great experience.  You can easily spend several hours there, if not the whole day depending on how much you want to see, read, and learn.
On the second floor of the museum is a room that literally lets you sit and hear the earth move.  They have put microphones all over Alaska and in this room you get to listen to them as they pick up the sounds the earth makes.  It's almost musical.  There is also a movie on the Aurora Borealis (Northern Lights) that is amazing.

10. Alaska Highway – Watson Lake, Yukon Territories, Canada – Sign Post Forest
The Alaska Highway is why many of us go to Alaska.  You get to drive this magnificent road built in the early 1940s by some extremely brave people.  You will have numerous 'Oh My Gosh' moments, too numerous to count actually, as you drive this road.
Early on I kept stopping and taking pictures every few miles, but soon realized if I continued to do that then I would never actually get to Alaska.  I became a little more selective, but not much.  And when you get to cross the line from the Yukon Territories into Alaska, you get to stop and celebrate standing next to your truck.