First, you need the manufacturer's 12-volt adapter for your CPAP machine (if one is available).  Running a CPAP from 12-volts is usually significantly more energy efficient than running it off 110-volts.
Second, you'll need to turn off the CPAP humidifier.  CPAP humidifiers are notoriously power inefficient and sometimes don't operate on 12-volts.  Also keep in mind the higher the water pressure setting the higher the amp-hour draw.
Let's say a given CPAP machine running at 10cm water pressure with the humidifier turned off requires 2 amp hours on 12 volts.  That's 2 amp hours multiplied by 12-volts for 24 watts.
Since the Goal Zero stores 400 watts, we divide 400 watt hours by 24 watts: 400Wh/24 = 16 hours.  At 2 amp hours, the Goal Zero Yeti Lithium 400 would run this particular CPAP machine for about two 8-hour nights.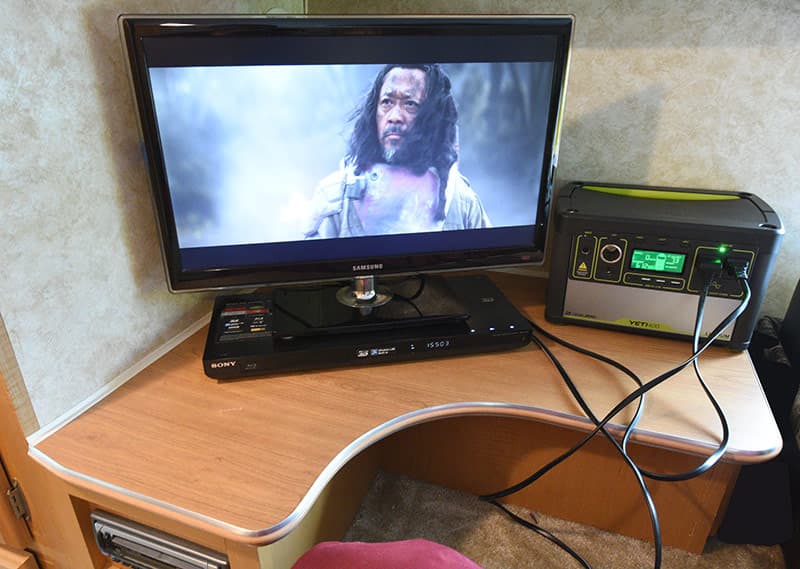 Above: Watching Star Wars: Rogue One on Bluray with the Goal Zero providing the 110-volt power.
Further exploring the use of the Yeti in the cabover, Angela and I have a 110-volt Samsung 24-inch HDTV and a 110-volt Sony Blu-ray player in our cabover.  When we're off-grid, we have used a small 12-volt 175-watt Duracell inverter to watch television and movies, but recently this small inverter has been cutting out mid-movie.
We have a 600-watt Zamp inverter tied directly into our Group 31 AGMs, but that's a lot of power to use for a two-hour film.  The Goal Zero 400 Lithium is a much better solution.  Last week we watched the movie Star Wars: Rogue One (133-minutes) off-grid on the Goal Zero without a hiccup.  The Goal Zero cooling fans turned on twice, but that was it.
Question of the Week
This week's Question of the Week is actually two questions.  First, "Does a product like the Goal Zero Yeti 400 Lithium make sense for truck camping?"  And second, "If it does, what would you use the Goal Zero for while truck camping?"
While we are sold on using the Goal Zero Yeti 400 Lithium for our truck camping lifestyle (and hobbies), we are interested in your take.  Perhaps you have an on board generator and don't see the need for a separate back-up system.  Or maybe you too have a 110-volt hobby that the Goal Zero could power on the road.
CLICK HERE TO ANSWER THIS WEEK'S QUESTION OF THE WEEK.